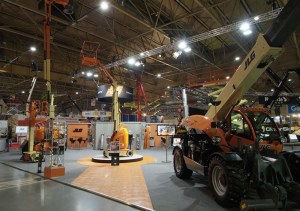 The seventh APEX aerial platform exhibition promises to be a record breaking event again, with over 100 exhibitors already confirmed and the exhibition almost fully booked. Many of the world's access equipment manufacturers will launch new machines at the show.
APEX which takes place in Maastricht, the Netherlands on 14 – 16 September 2011, is supported by the International Powered Access Federation (IPAF) and by Access International magazine.
All the world's big name manufacturers will be present at the show. But one of the attractions of APEX is also the presence of the dozens of smaller manufacturers who show an enormous range of specialist access equipment as well as component suppliers and rental software. A provisional list of exhibitors can be found on the website www.APEXshow.com.
"Ruthmann is going to exhibit at this years APEX, because it is the only international event in the aerial platform sector in 2011", says Mr. Uwe Strotmann, Head of Sales at Ruthmann GmbH & Co. KG. "International events are very important for Ruthmann in these times, because we have expanded our worldwide network of sales and service partners constantly during the last years. However shows and events are providing good possibilities to meet and greet with potential further candidates and particularly with national and international customers."
Furthermore Ruthmann will present the brand new truck mount platform: the STEIGER T 330. This STEIGER provides 33 m working height and up to 21 m outreach on chassis with 7,49 t GVW an up. When it comes to achieving maximum performance data in the 7.49 t (and up) truck-mounted aerial platform category, the RUTHMANN STEIGER T 330 is a top-performing world champion.
Furthermore Ruthmann is going to present innovative hard facts that are focussed on international customer needs.
Ruthmann is also going to present their medium-term platform projects.
Mr Rudie Beverwijk, Sales Manager Export at Altrex: "For many years, the APEX trade show has offered Altrex an excellent opportunity to present its innovations internationally. This has included innovations within our range of suspended platforms such as the Altrex the successful Bisomac hoists. Once again this year many innovations will be on display, including ranges of suspended platforms and mobile scaffold towers, ladders and step ladders. Experience has shown that many international customers and prospective customers come to Maastricht."
inspHire International will be demonstrating its Rental Management Innovations at APEX. InspHire offers applications to suit powered access business of all sizes – from start-ups to multi-depot organisations and gives the user a comprehensive view of the business, tracking equipment, customers and trends.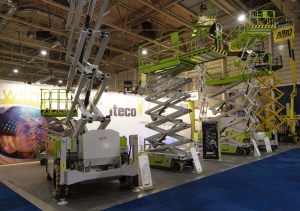 Since the last APEX Show SCANCLIMBER has continued to develop their wide range of products further. Construction hoists can now be provided with payloads of 3200 kg and running at 54 m/min in both single and twin cage versions with even heavier payloads and higher speeds in the product programme. The extensive range of mast climbing work platforms now have an 8000 kg capacity unit in the form of the SC8000, capable of carrying 4500 kg as a single mast machine. For stone and brick laying projects this machine offers huge advantages and cost savings as does the machine's 46 m deck length.
There will be product introductions from e.g. Hinowa and Cela. Hinowa will presenting the new tracked aerial platform Goldlift 14.70 IIIS. And Cela will launch the DT21, a new aerial platform on a truck.
Alexandre Saubot the chief operating officer of French access equipment manufacturer, Haulotte will be making the keynote speech at this year's Europlatform aerial platform rental conference. He joins a list of other eminent members of the industry who have given the address in past years including Craig Paylor, the former JLG president, and Tim Ford president of Terex AWP (aerial work platforms).
Also confirmed as a speaker is Kevin Appleton, chief executive of Lavendon group, who will address the topic of generating sustainable returns in the access rental sector, and in particular will focus on financial measures such as ROCE (return on capital employed), an index much used in general business but not widely in the rental sector.
The conference, being held in Maastricht, The Netherlands on 13 September, the day before the start of the APEX exhibition, has the theme of Financing Growth. Other topics in the conference will cover trends in availability of asset finance, making successful acquisition and incentivising sales staff. For more detailed information: www.europlatform.info
Source:  Apex Show Press Room