As a city of more than 15 million dwellers, Dhaka has subsequently experiences a lot of traffic jams on the roads. Unplanned urbanization and killing off once abundant water bodies left Dhaka's transportation system in tatters. Inception of modern subway metro system is one the best possible solutions. However constructing a low-cost alternative can be a well designed flyover in a busy intersection.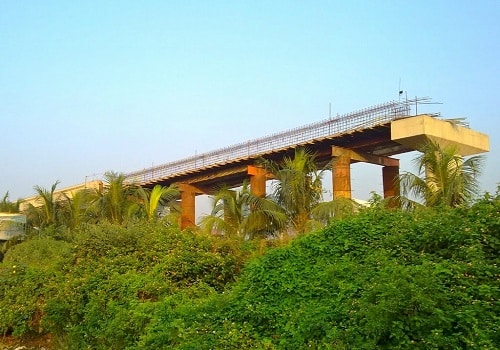 Kuril Flyover construction in Progress (span- Shaora end)
Image Source: Panoramio image ID 60279850
Kuril flyover is 3 km long and connects many neighborhoods in Dhaka. There are mainly 3 exits in the kuril flyover. One is near Dhaka's main international airport and other two exits flow traffic to Badda-Rampura region and Cantonment-Mirpur regions. The project was designed by a local Design consultant named DDC (Design and Development consultants Ltd) and monitored by Bangladesh Army.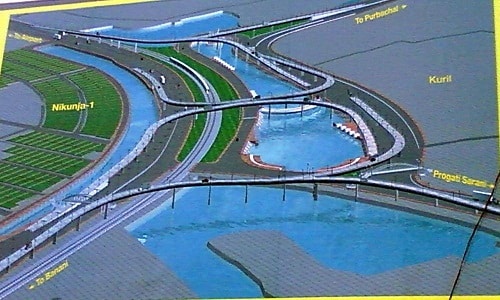 Kuril Flyover Layout – Image Souroce: Panoramio image ID 35005707
There are lots of piers and footings beneath the roadway pavements. Parts of the areas are recent landfills. Deep excavations for driven piles are done by modern automatic excavators. Mixing of concrete mortars is done by large volume concrete mixtures. Unlike small projects, welding of rebar joints was properly maintained. Leveling of large, curved girders were performed by digital leveling machines. Vibration controls were managed by shock absorbent damping pads.
This project has many impacts on Dhaka's daily life. Northern suburb areas became easily accessible from Dhaka's main parts. Even the visitors in this country now can smoothly come in to the main city. Waiting time at various rail-crossings can now be avoided using this elevated way.
Kuril flyover is a wonderful example of infrastructural development where modern construction technologies have been adopted and implemented. The introduction of these modern technologies can accelerate infrastructural i.e. total development of the country.

Author:  Abdullah Al Arafat
Abdullah Al Arafat is a civil engineer from Bangladesh. Mr. Arafat has worked for notable Bangladeshi civil engineering companies for more than 7 years. Now, he is pursuing higher studies in Canada. He has keen interests in new forms of structural and geotechnical designs and researches