The "Lego House" has begun construction in the Danish town of Billund, home of famous toy giant the Lego Group. Construction began with the laying of six foundation stones designed to resemble the company's iconic Lego bricks.
The six foundation stones were laid by members of the family that own the Lego group, and were inscribed with values the company wishes to represent such as "quality," "creativity," and "learning." When completed, the structure will cover an area of 12,000m2 and be 23m tall. The building is intended for use as an experience and activity centre, providing a wide range of Lego-themed attractions for enthusiasts.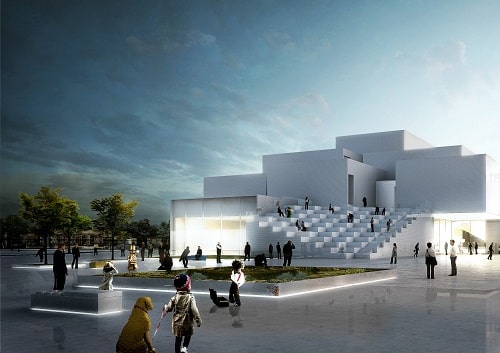 The influence of the familiar Lego brick shape will extend beyond the six foundation stones. The finished building is planned to use architectural shapes which are evocative of Lego designs. The building is intended to be finished in a range of bright colours, further accentuating the resemblance to a Lego structure. On top of the building will sit a single giant Lego brick.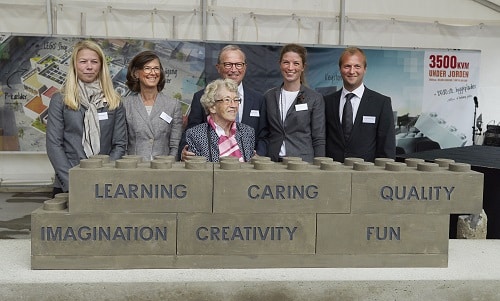 The Lego House was designed by Bjarke Ingels, a founding partner of the BIG-Bjarke Ingels Group. Speaking about the design of the planned structure, Ingels said: " We have been inspired by the modularity of the Lego brick to create the Lego House. It will appear like a cloud of interlocking Lego bricks that form spaces for exploration and exhibition for its visitors within. On the outside the pile of bricks form the roof of a new covered square as well as a mountain of interconnected terraces and playgrounds."
The Lego House is intended to provide what has been described as a "hands-on minds-on" experience for Lego enthusiasts of all kinds. It is planned that children and adults alike with a love of Lego will be able to use the centre for experimentation with Lego's products, socialise together, and be challenged by meeting fellow Lego builders and enthusiasts from across the globe.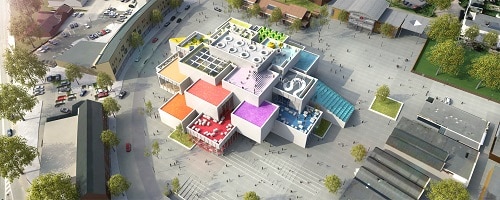 Many of those involved with the project emphasise the values that underpin the Lego brand as central to their plans for Lego House. Bjarke Ingels said that "For me the Lego brick embodies the notion of systematic creativity – that the rigour and rationality of the Lego brick allows children of all ages infinite possibilities to create their own worlds and to inhabit them through play."
Similar sentiments were expressed by Kjeld Kirk Kristiansen, the current owner of the Lego Group and the grandson of the company's founder. Regarding his view of the values behind Lego, Kristiansen said: "For my family and me, the Lego Group has always been much more than just a company and our products more than just products. I am very passionate about play and how children learn through playing with Lego bricks." He went on to say that these values are "essentially the Lego idea and what the Lego House is all about. I look forward to seeing the long-time dream of having one place where anyone can experience the Lego idea come true."
Author: Matthew Scott
Photos: Courtesy LEGO System A/S