NEUMÜNSTER: – The biggest compact exhibition of construction in Northern Europe presents itself this year with brand new exhibition halls. When the 59th NordBau starts in Neumünster (September, 10.-14. 2014) the reconstruction and modernization of the Holstenhallen will almost be completed. Furthermore, the North German tradefair takes place from Wednesday to Sunday as of 2014.


Two additional conference rooms, which have been constructed in the course of the redesigning of the new hall, make it possible that around 40 seminars and construction related events will be hosted during the new week days. This year again the exhibition halls and the open-air areas have been booked since the beginning of the year. It is very important for the trade fair organizers and the organizers of the seminars to maintain and develop further the high quality standard that the exhibitors as well as visitors expect from this North German construction trade fair.
Contributing especially to this will be the new attractive forum hall where associations and central contact points are present to answer all construction related questions. Amongst the Bauindustrieverband (Confederation of the German Construction Industry), training centres, VDBUM (Association of the Construction Industry, Environment and Machine Technology), Landesbetrieb Straßenbau (Federal Institution for Road Construction) and the Bau BG ((Institution for statutory accident insurance and prevention- Building and construction industry), visitors will now find also a large information booth of the "ARGE zeitgemäßes Bauen" (Institute for Sustainable Constructions) with Investitionsbank (Investment Bank) and Verbraucherzentrale (Consumer Association) to answer all questions regarding house building and healthy construction materials.
A further centre of attraction at the Northern German trade fair will be the presentation of the machine technology. Neumunster is known for the biggest and most comprehensive exhibition of construction- and municipal machines and extraction technologies in Germany this year. Some exhibitor of the civil engineering and road construction have announced to present brand new machines, that have never seen the light of a fair exhibition. As always, the number one topic on the exhibition grounds for building contractors and craftsmen, will be the effectiveness of construction sequences and use of equipment, optimising productivity whilst reducing costs and saving fuel whereby not only the latest drive technology is important but also the variety of service of the machine manufacturers and service partners. This time a special focus will be on the accessory equipment. Great emphasis is placed on functionality and resistance to wear of the machines and equipment. The service includes meanwhile comprehensive support for the client's contract, so that he can concentrate on the order and project execution.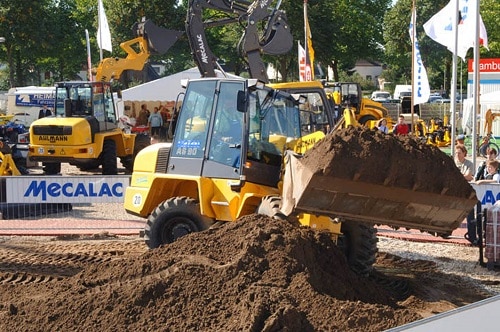 Attic conversions is going to be the this year's trend topic in the fair halls, in conjuction with energetic renovations of old buildings and creation of additional living space, it addresses mainly craftsmen, property owners and housing companies. Roofers, carpenters and industry are revealing how the roof functionality has changed over time. Increasing building costs, technical innovations and a changed living awareness lead the house owners to realise that the attic space could be used more efficiently and transformed into rooms or even in complete flats. Furthermore the building land is practically already there. Therefore, the newly gained living space is fairly low-priced. This is not least interesting for people who want to live in the inner city or near their work place. However, also students in the Northern German metropolises, who are in urgent need of such student rooms of flats, profit from attic conversion. For Alexander Blažek, chairman of the Haus & Grund Schleswig-Holstein, it is an interesting topic to create additional rooms and even entire appartments under the roof. Especially in homes but also houses in the city he sees a lot of possibilities in the designs and implementations.
"Fire Protection for Tunnels" is one of the topics of the accompanying conference programme. During the attic conversion seminar of the Architektenkammer (Chamber of Architects) and the Holzbauzentrums Schleswig-Holstein, speakers will also talk about the experiences of the city Copenhagen and their modernization program. The VDBUM will tackle for the first time in a seminar the topic Construction "Free of Explosives". Prevention in the forefront of starting to work is equally important as constant caution during the construction work, as well as the possibilities of increased safety measures on the construction machinery and for protecting the employees.
All together around 3500 to 4000 participants are expected to join the seminars and conferences.
Especially the Chamber of Architects and Engineers and the Fachhochschule Bauwesen in Lübeck (Lübeck University of Applied Sciences) will use the NordBau for their yearly meeting of their members and students, among others, with a lecture and a lounge evening on Friday of the fair, and on Saturday for the second-term students of this university.
Commercial vehicles on the construction site will be extensively discussed during a training course for craftsmen and building contractors. In the course of this training the most important legal regulations, practice tips for safety and cargo securing for driver and holder will be explained.
The Landesverbände ( National Associations) of the Garden- and Landscape designers, painters and varnishers as well as roofers offer specially for their member companies this educational service during their visit at the fair. Solutions for the safe and theft protected transporting of chainsaws, accesssories, oils, paint and the secure lashing of equipments and small machines, will be shown by the commercial vehicles exhibitors and accompanying suppliers.
On approx. 69.000 m² outdoors and over 20.000 m² exhibition hall grounds the industry platform in the north offers space for over 900 exhibitors in order to present the most complete insight in the current trends and innovations of the construction industry, including new construction material, municipal machines and commercial vehicles for construction and skilled trades as well as new energy technology.
Source: Nordbau