"…the stonework of the site remains as one of the world's great examples of the use of a natural raw material to provide outstanding architecture which is totally appropriate to the surroundings."
~UNESCO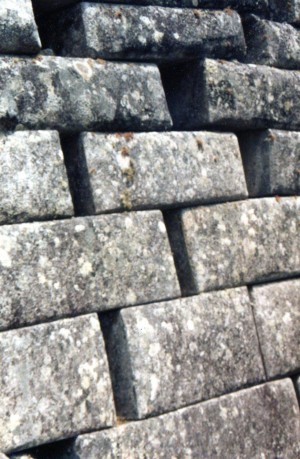 Author's Own Photo – Mary Bon 1995
The Incas were masters of the ashlar polished drystone masonry technique in which regular polished blocks of stone are cut to fit together tightly mortar-free.  
Peru is highly seismic and mortar-free construction is more earthquake-resistant.  Dry-stone walls can move slightly and resettle without collapsing.
Inca walls had a number of design details to protect them against earthquake collapse such as trapezoidal doors and windows that tilt inward from bottom to top, rounded corners, inclined inside corners and L-shaped blocks to tie outside corners and offset walls.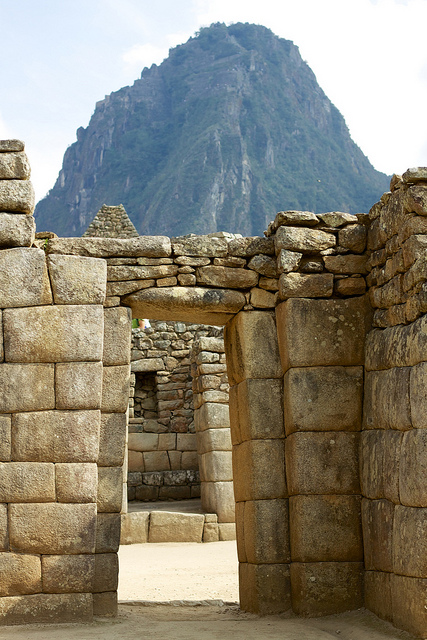 Machu Picchu  – doorways and doorways by McKay Savage
The city of Machu Picchu was constructed with regular white granite from a quarry onsite. Drystone walls were formed in curved terraces, the ruins of which survive today.  In spite of the lack of iron tools, the Inca were able to work this notoriously hard stone.  A clue to how they did this lies in the quarry adjacent to the site. The majority of construction stones on the site are rather small, unlike other Inca cities such as Ollantaytambo and Sacsayhuamán, suggesting this was to ease their transportation.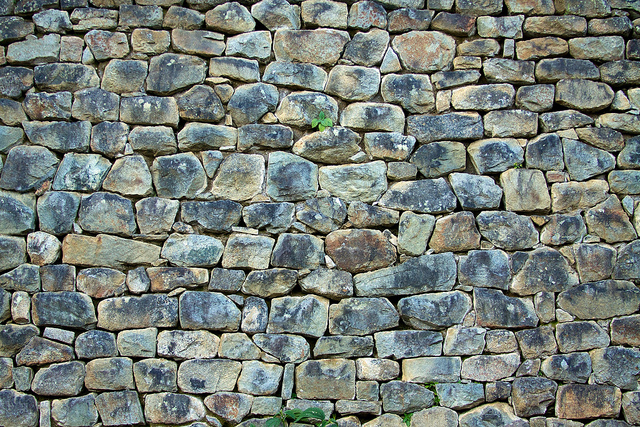 Machu Picchu  – stone wall by McKay Savage
A basic method the Inca are understood to have used to cut the rocks was by creating a neck in the block and then causing it to fracture by direct hammering.  With the rough blocks, they started with a large tool and then they gradually used the smaller tools to give it a strong, smooth surface.  Finishing work was done on site.
Another method they are understood to have used ​ was with the wooden wedge technique. Holes were drilled into the rocks, wet wooden wedges inserted into them and then left to freeze so that the ice, having a bigger volume than water, forced the rock to expand and creates fissures.
Steps in the city were often completely carved out of a single piece of granite.  In this way few components were used which has led to their endurance over time.  The city has more than 100 flights of stairs, some with over 100 steps. Likewise, window openings had carved jambs to act as sills and drainage grooves and channels were often hand carved into stone as necessary to facilitate drainage run-off throughout the city.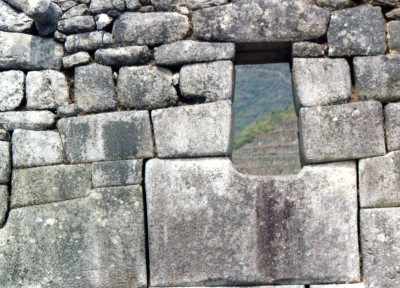 Author's Own Photo – Mary Bon 1995
Interestingly, the Incas never used the wheel in its construction.  The lack of working animals as well as steep terrain and dense vegetation may well have rendered it impractical.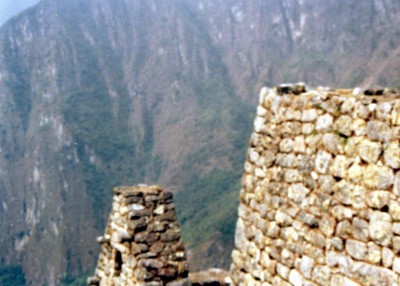 Author's Own Photo – Mary Bon 1995
It remains a mystery as to how the enormous blocks of stones were they moved and placed, although the belief is that hundreds of men pushed them up inclined planes.  Knobs on a few stones remain indicating that they could have been used to lever them into position.  It is believed that after the walls were erected, the Incas would have sanded the knobs away but that a few were overlooked.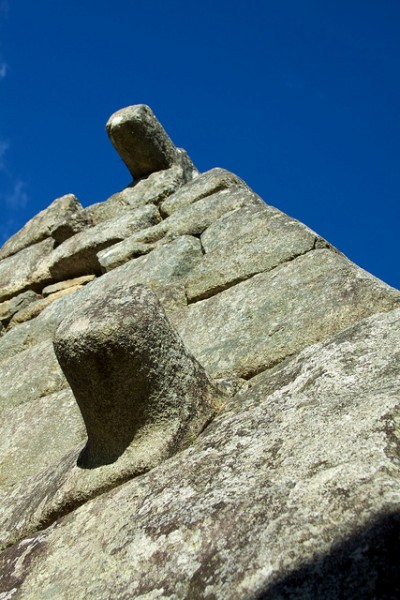 Knobs on stones by  McKay Savage
Once the cutters had roughed a stone out, they put it on log rollers or mud and pulled it close to the construction site. The final steps were to move it into place and match it to the edge of the rock below it via an indentation.  Each would be held up by a wedge until the two surfaces were shaped to match then the wedge is removed and the two stones would fit together perfectly.  They used brace points to push blocks into place and beams to lift stones up. Once stones were in place, these points were beaten.
The original roofs of the stone buildings throughout the city are understood to have been thatched.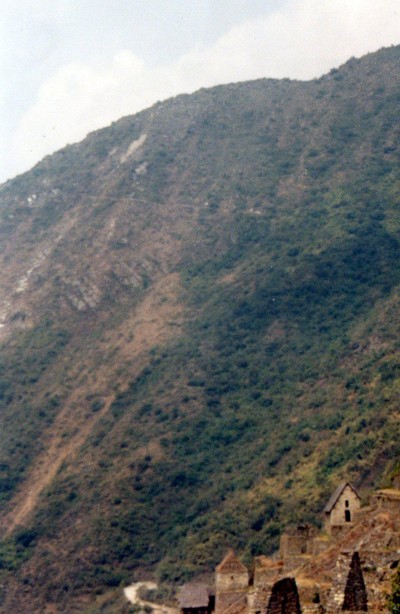 Author's Own Photo – Mary Bon 1995
Part 1: https://constructionshows.com/machu-picchu-the-lost-city-part-1-city-planning/278306
Part 2: https://constructionshows.com/machu-picchu-the-lost-city-part-2-engineering/058323
Author: Mary Bon
Mary is an RIBA accredited architect with international experience in the field as well as proven research and writing experience for both established clients and innovative start-ups in the construction industry worldwide.  She is now based in France and orientated towards bridging the gap between landscape and architecture whilst supporting the causes of local, national and international built and natural heritage.



This post is part of a series of City heritage and development articles, you can find all of the articles here:
Machu Picchu – The Lost City : Part 1 : City Planning
Machu Picchu: The Lost City – Part 2 : Engineering
Machu Picchu : The 'Lost City' – part 3 : Stonework
Machu Picchu: The Lost City – Part 4 : Construction Heritage Significance
Valparaiso : The Seaport City – Part 1: City Planning
Valparaiso : The Seaport City – Part 2:: Urban, architectural and landscape development
Valparaiso 'The Seaport City' – Part 3: Port and Transport Infrastructure, Earthquake and Fire Resistance
Valparaiso : The Seaport City – Part 4: Heritage Threats
Marseille : Phocaean City : Part 1 : City History and the Rade
Marseilles: Phocaean City : Part 2 : Heritage within the Urban Framework and Multi-Modal Transport System
Marseille Phocean City: Part 3 : EuroMéditerranée Project
Marseille: Phocaean City: Part 4 : Le Vieux Port
Cape Town : Mother City : Part 1 : Settlement History
Cape Town : The Mother City : Part 2 : Geological Construction Influences and associated Infrastructure
Cape Town: The Mother City: Part 3: Historic Architecture
Cape Town : Mother City : Part 4: Historic Design Figures and Historic Waterfront Renewal
Melbourne: Garden City: Part 1 – Historical Development
Melbourne: Garden City: Part 2 – The Hoddle Grid, C19 and C20 Architectural and Landscape Heritage
Melbourne: Garden City: Part 3 – Public Transport Facilities
Melbourne: Garden City: Part 4 – Urban Sprawl Issues