With its history, architecture, culture and beaches, Marseille is now one of the most visited cities in France and ranked 86th in the world for business tourism and events.
The number of congress days hosted on its territory increased threefold from 1996 to 2011. They take place over three core sites, Le Palais du Pharo, Le Palais des Congrès et des Expositions (Parc Chanot) and the World Trade Center.
Several urban schemes under the umbrella of the EuroMéditerrannée project aim to make the city more attractive. New parks, museums, public spaces and real estate projects aim to improve the quality of life in the city centre (including the Parc du 26e Centenaire, La Joliette as well as the Vieux Port) to attract firms and people.  The local government also aims to develop the city as a regional hub for entertainment in the south of France.
The Euro-Méditerranée Project 


[Image Source] via  http://www.mp2013.fr
EuroMéditerrannée is a comprehensive urban renewal project.
The agreement for the establishment of a Urban Development Agency was signed in 1994 and the Etablissement Public d'Aménagement Euroméditerranée (EPAEM) project was launched in 1995, by Robert Vigouroux, former Mayor of Marseille with the French government.
The budget of the project amounts to €7 billion, of which €5 billion is private investment.
It was declared an Opération d'Intérêt National (a town planning scheme of interest to the country as a whole, protected by special legal status) and aims to make it one of the top Southern European cities, capitalising on European funding.
The project was originally based on redeveloping 310 hectares of land in the city centre between the centre, the commercial port and the TGV railway station.  Since 2007 Euroméditerranée Acte 2 extended the scope to include an additional 170 hectares to the north.
The scheme has 5 strategic aims:
to reassert the city's vocation as a port (cross-Mediterranean freight traffic focused)
to restore its urban landscape
to establish new businesses (new technology focused)
to attract foreign investment
to facilitate a social mix
It fulfills these aims via 5 programmatic categories:
1. City planning: 
Major urban works including infrastructure (roads, tunnels and networks), facilities (tram system, schools, gymnasiums) and public spaces (squares, green spaces, road layout) are under way.
2. Property development: 
Projects in partnership with promoters and investors, aiming to construct or renovate offices, housing, shops, hotels and cultural and leisure facilities are under way.
3. Economic and employment development: 
Marketing studies, promotion, PR and canvassing in order to make the city appealing, to attract companies, investors and international organisations and to create new jobs is being carried out.
4. Quality of life: 
Slum clearance, housing renovation aid, construction of social housing, improvement of public spaces, creation of sports facilities and development of community services is being implemented.
5. Culture and Nature:
Promotion of 30 museums, 25 theatres, 10 concert venues, an opera house and new arts and music arenas such as the Friche Belle de Mai and the Docks des Suds is occurring.
Promotion of the natural heritage (the Calanques and the Frioul archipelago including the Château d'If) is being carried out.
Parc du 26e Centenaire:



Parc de la 26e Centenaire, Marseille – Yves Tennevin [Image Source] 
The Parc du 26e Centenaire is a new 18 hectare public park costing around 15M euros, on the former site of the Gare du Phado in the East of Marseille.
Work by Sem Marseille Aménagement started in 1999 and it was inaugurated in 2001, with work continuing until 2004. It was designed by landscape architect Bernard Huet who chose to base the layout on the grid of the ancient railway installations and organised the park in a geometric manner around the former railway, reusing some of its former elements.
It stitches together the urban fabric of the Rouet, Menpenti and Capelette quarters.  It is classed as a Jardin Remarkable de France by the Comité de Parcs et Jardins de France and there is a 3000m2 lake, a canal with 26 fountains, 4 thematic gardens (english, african, oriental, provençal) in homage to the multi-racial population of the city, with 300 different plant species and a belvedere.
Water jets, a children's play area, an allée and the Monument des Justes destroyed in 2010 for the construction of the Prado Sud tunnel have had to be reinstalled.
There is a fountain is at its entrance, and there inscribed on the paving stones are the names of citizens under an emblematic sculpture, the Arbre de l'Esperance.
In time further improvements will be carried out to respond to user demand, such as a sports area including a basketball court, boulodrome and cycle tracks.
The Marseille-Provence European City of Culture 2013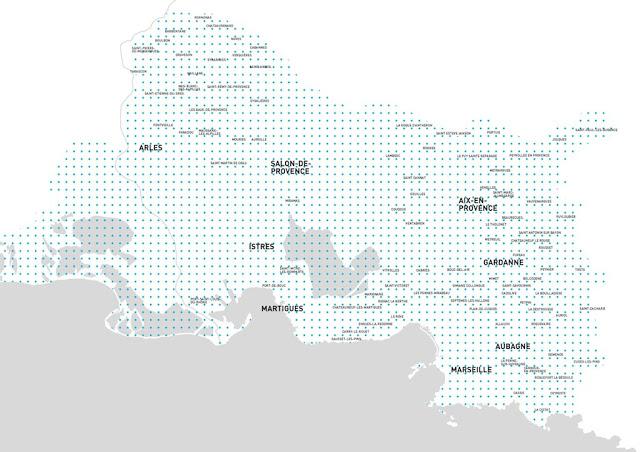 [Image Source]  via http://www.mp2013.fr
In 2013 the Communauté Urbaine Marseille Provence Métropole forms part of the Marseille-Provence European City of Culture vision, as part of the EuroMéditerranée
project.
The regional dimension is key to this as it combines as many local communities as possible.  Themed installations, itinerant projects, simultaneous events in multiple locations and art in the public arena are included.  It demands the invention of new ways of showcasing the region through collaboration with the local people.
Thanks to the influence of the project, the city is undergoing a profound transformation. Since 1995, its downtown is being expanded and beautified. Little by little, distinct neighborhoods are emerging to give the city a new image and scope.
Rather than rebuilding neighborhoods from scratch, existing urban areas are being renovated, rebuilding a "city within the city," incorporating contemporary principles of sustainable development whilst retaining many historic sites.  As major military, religious, industrial and residential buildings are carefully renovated and developed, so are smaller historic sites including architecturally-significant industrial warehouses, often condemned because of their low density, that welcome new businesses that are compatible with the buildings historical use.
Rue de la Republique
The project includes Agence Nationale de l'Habitat (OPAH) Programmes d'Amélioration de l'Habitat (Housing Improvement Programs) such as the restoration of the Rue de la République which will return life to formerly isolated neighbourhoods.  These involve the upgrading of typical three-window Marseillais building to the large residential complexes built in the 1970s.  Pedestrianisation and the creation and restoration of 20 hectares of public space will further improve quality of life for residents.
By awarding flagship projects to internationally renowned designers, Euroméditerranée is establishing the city's position among the most creative European cities, and strengthening its international allure. Further to the development of the Parc de la 26e Centenaire to the East among the iconic architectural sites to the West are the CMA CGM Tower by Zaha Hadid; the Quais d'Arenc by Jean Nouvel with Yves Lion, Jean-Baptiste Pietri and Roland Carta; the Regional Center of the Mediterranean by Stefano Boeri, the Euromed Center by Massimiliano Fuksas, and to the South MuCEM by Rudy Ricciotti and Roland Carta and the Vieux Port Pavilion by Foster + Partners with Michel Devisgne Architectes. Hadid and Nouvel are both winners of the Pritzker Prize for Architecture for their project building designs.
The CMA CGM Tower: 2004-2011


Tour CMA-CGM, Marseille [Image Source] 
The CMA CGM Tower is the headquarters for CMA CGM, a major shipping firm and serves 2,200 employees previously spread over seven sites.
Hadid was selected to design the building in 2004. It has intentional visual relationships with historic city landmarks such as the Château d'If and the basilica of Notre-Dame de la Garde.  Built by Vinci subsidiary GTM Construction, 147m tall, the building has 20 lifts to service its 33 floors and was completed in 2011.
The CMA CGM tower juxtaposed with Notre Dame de la Garde and the Cathédral de La Major significantly changes the cityscape when viewed from the sea.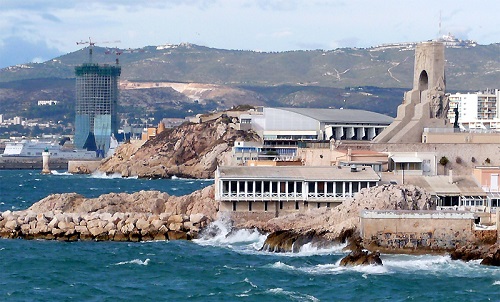 ​Tour CMA-CGM Marseille [Image Source] Quais d'Arenc:
The Quais d'Arenc developed by the French based Constructa Group comprises four high-end mixed use seafront buildings totaling 120,000m2 that include suspended gardens.  The whole is unique in France.
The underground parking levels are to all extensive purposes now complete and the first of the buildings is coming 'out of the ground.'  Constructa comment however that working on the site is complex due to the urban density and the 'fatal' reduction of open space, as well as the proximity of the multi-modal transport interchange.
Le Baltazar:
Le Baltazar is an office building, 31m high and by Roland Carta.  It is owned by AG2R La Mondiale (who will relocate within it) with Vinci and Constructa as tenants, taking 25% each.  It comprises 8900 m2 over 8 levels with 2 retail units and 150 parking spaces and the primary structure is more or less complete.
La Marseillaise:
Conceived by Jean Nouvel, 135 high over 31 floors, La Marseillaise includes 35 000 m² of office space, 2800m2 of business restaurant space, 3 retail units, 350 parking spaces.  Negociation is in progress with developers. MPM has signed a lease for 16 000 m². Work on the foundations for this building is commencing.
La Tour Horizon:
The Tour Horizon is destined to provide hotel accommodation and is designed by Yves Lion who proposes a complex 113m high, 35 floors, 200 hotel bedrooms and 150 tourist rooms. Negociations are being carried out with hotel groups and 4 million euros have already been invested.
H99:
Jean-Baptiste Pietri has designed a speculative apartment complex with panoramic views of the city and sea, 99.9m high, over 27 floors, with 149 apartments,  2 duplex apartments and 317 parking spaces.  Work on the foundations for this building is expected to start shortly, once 20% pre-construction sales for the accommodation has been achieved.
Regional Centre for the Mediterranean (Villa Méditerranée)
This 10,000m2 building, by Stefano Boeri, costing approximately 50 million Euros is located on the J4 Esplanade in La Joliette.
It is dedicated to hosting cultural events, deemed to be a centre of dialogue and exchange.
It hosts about a dozen visiting designers for stays of three months to one year each.
The structure is divided into 3 areas in a C-shaped design evoking a port facility: reception and entertainment (cafes, shops, auditoriums, exhibition halls); housing (3,100m2 including a concourse of 600m2); and offices (conference rooms, resource center.).  Its lower part is submerged under water a 40m cantilevered viewpoint and  10,000 m2 of external terraces.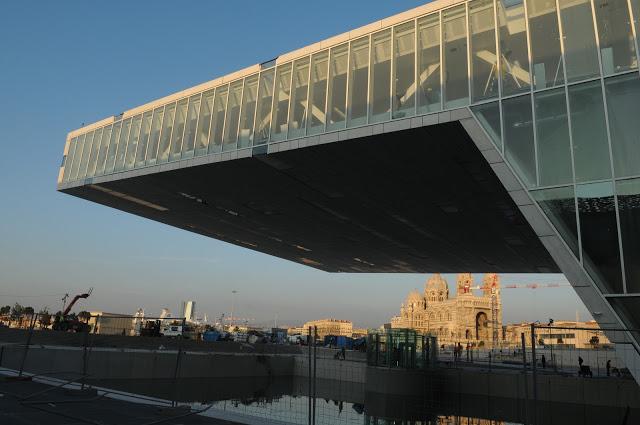 Villa Méditerranée, Marseille [Image Source]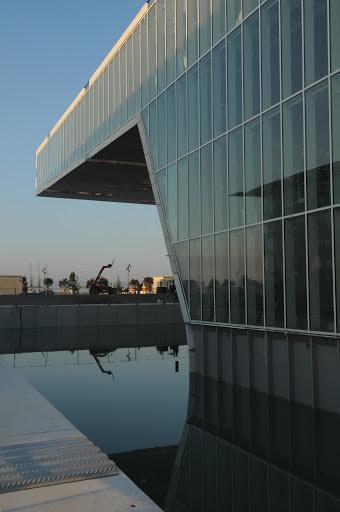 Villa Méditerranée, Marseille [Image Source]
EuroMed Center:
The EuroMed Centre, by Maximiliano Fuksas, once complete, will offer contemporary high quality mixed use space, predominantly for the tertiary sector.  From 2015, 48000m2 of flexible, differentiated office space should be available in four separate complexes of between 9 700 à 14 200 m² named Astrolabe, Calyspo, Floréal and Hermione.
These sites contribute to the creation of new landmarks for the city,  complementing those of the Rade de Marseilles, within the backdrop of protected natural surroundings.
Author: Mary Bon
Mary is a RIBA accredited architectural researcher, with previous international experience in architectural practice. She has proven research and writing experience for both established clients and innovative start-ups in the construction industry worldwide. She is now based in France and orientated towards bridging the gap between landscape and architecture whilst supporting the causes of local, national and international built and natural heritage.