Dubai, United Arab Emirates; 03 June 2014 – With a combined value of close to $240bn, Dubai's biggest real estate projects will massively redefine the emirate's landscape in the next decade.
MEED Projects, which tracks various construction projects across the region, has compiled the latest data on ongoing property developments in Dubai and has listed the top ten projects that will have a massive impact on the city's socio-economic landscape in the coming years.
The biggest in terms of value is Meraas Holdings' Jumeirah Gardens project, estimated at $89.5bn and is due for completion in 2021, followed by Dubai Holding's Dubai Land development, valued at $61bn with a completion date set in 2020.
The ongoing $16.7bn Dubai World Central development that will be completed in 2030 came in next, followed by Limitless' Downtown Jebel Ali project, estimated at $14.6bn set for completion in 2020.
Rounding up the top five is the Al Jadaf Area Development Culture Village (Arabian Bays) project by Dubai Holding which has a budget of $11.6bn to be completed by 2017.
MEED released the data ahead of the forthcoming Dubai Real Estate 2020 conference, scheduled on June 9-10, 2014 at the Grosvenor House, an event that aims to provide clarity on the viability of Dubai as a long-term, sustainable real estate investment opportunity.
Endorsed by the Dubai Land Department, MEED's Dubai Real Estate 2020 conference will address the development and sustainable evolution of Dubai's real-estate market – the world's fastest growing real-estate market, according to Forbes magazine – with fresh insights from leading local and international property experts.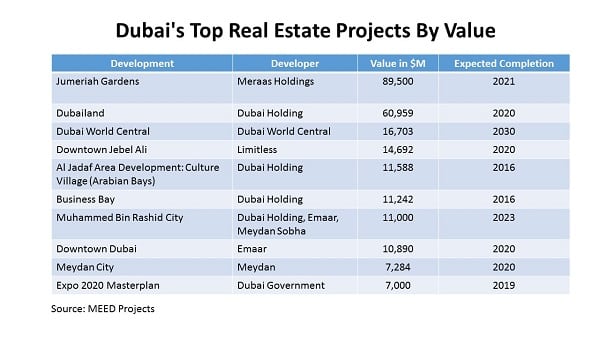 "Dubai is shaping up as an intelligently master planned megacity, which is quite a departure from its initial development stage expected of a fast booming economy. We now hear of aerotropolis community concepts – cities build around airports – which will most likely emerge in Dubai as it gears up in a big way to develop the Al Maktoum International Airport as a centrepiece development in time for the World Expo 2020 event," said Julio Armando De Quesada, Head of Corporate and Investment Banking Group, Mashreq
With residential property prices returning to an upward direction in recent months, and a fresh new wave of projects over the next 8 years in the lead up to World Expo 2020, real estate analysts generally see Dubai's property sector booming in a big way.
Among the highly touted projects include the ongoing Business Bay project, currently valued at $11.2bn, which is expected to be fully completed in two years' time; as well as the Muhammed Bin Rashid City, which is being developed jointly by Dubai Holding, Emaar, and Meydan Sobha at a cost of $11bn for completion in 2023.
Emaar's Downtown Dubai development project, with a budget of $10.9bn, is expected to be fully realized in 2020, the time when Meydan also hopes to complete the full development of its Meydan City project at a cost of $7.3bn. Add to this the Dubai Government's Expo 2020 build-up, which will cost $7bn and will be in place by 2019.
"As the market revives there is an imperative need for more accurate, real-time and definitive information on Dubai's real estate sector to manage the risk of overheating of the sector," said Edmund O' Sullivan, Chairman, MEED Events, organisers of Dubai Real Estate 2020.
The event will create a platform for Dubai's regulators and leading real estate institutional investors, government and private developers, lenders, advisors, consultants and property professionals to discuss issues and identify solutions for the emirate to move towards a more mature real-estate market. Highlights of the conference include critical discussions by the Central Bank of the UAE, Dubai Land Department and RERA on fiscal regulations, reducing the dependency of developers on investors and limiting speculative buying, as well as Dubai Municipality presentation outlining the future real-estate development plans, land release programmes and the overall master plan for the city.
The International Monetary Fund (IMF) will present a detailed analyst's view on the impact of the Expo 2020 for the UAE's real estate sector, providing fresh insights on where the opportunities lie as Dubai gears up to host its biggest event yet. Conference delegates will also be able to receive hands-on tactical investment insight from key institutional investors such as real estate funds, sovereign wealth funds, hedge funds, investment banks, private equity, and others with collective assets under management (AuM) of over us$10 billion.
Ian Albert, Regional Director, Colliers International Middle East, said: "The UAE property market is currently experiencing an exciting phase in its development with a number of significant projects scheduled to break ground and many already underway. These projects will drive growth in the property market and the wider UAE economy including the hospitality and retail sectors. Winning World Expo 202 added further stimulus to a buoyant economy underpinned by a rising population, booming tourism industry and significant environmental, cultural and infrastructure projects."
Part of MEED's Destination Dubai 2020 initiative, the Dubai Real Estate 2020 Conference is also supported by Colliers International as conference sponsor. Details of the conference agenda and registration information may be obtained from www.dubairealestateconference.com.
Source: MEED