Like many urban environments, Melbourne faces significant social and environmental issues relating to its large urban footprint and urban sprawl and subsequent demand for infrastructure and services. Before further examination of this and to gain further perspective, its urban geography is considered.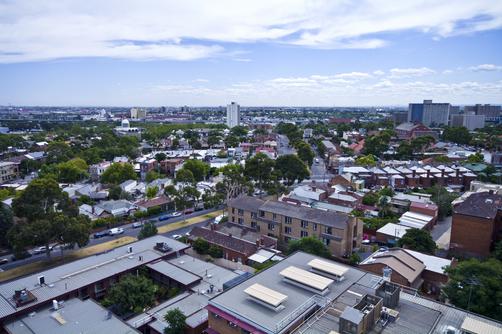 Urban Sprawl in the Garden City
[Image Source] Urban Geography
Melbourne is located in Victoria in southeast mainland Australia. It initially developed around the large natural bay of Port Phillip with its metropolitan hub located at the northernmost point near the estuary of the Yarra River. This area generally extends South from the city centre, along the eastern and western shorelines of Port Phillip Bay, and expands into the hinterland. From 2006, the growth of the city extended into green wedges and beyond the city's urban growth boundary.
Social issues
Immigration and Housing:
Melbourne has now attracted the largest proportion of international overseas immigrants finding it outpacing Sydney's international migrant intake on percentage, along with having strong interstate migration from Sydney and other capitals due to more affordable housing and cost of living, which have been two recent key factors driving Melbourne's growth.
The Housing Commission Legacy:
The most notable legacy of the former Housing Commission was the tens of thousands of buildings either acquired or constructed to provide more affordable housing. The mission was 'slum abolition' driven by the zeal of Christian and other social reformers, but later became 'slum clearance' and 'block demolition.'
To house the people moved from the slum areas, the Commission needed to provide new homes. The Commission's first estate was the Garden City development at Fisherman's Bend, Port Philip.
The street layout was laid out on "garden city" principals, and the later houses accommodated large families from deprived circumstances. The 1979 Port Melbourne council conservation study identified Garden City as "…a unique example of residential town planning, with a substantial part remaining intact…" Specific guidelines have been published to manage repairs and improvements to the houses without losing their heritage value.
The estate includes semi-attached single and double-storey houses in red brick and cement render, including 322 pairs of cindercrete duplexes, in six variations, arranged around a series of public open spaces, in a Beaux-Arts layout.
In recent decades the former working class social housing, built to alleviate the worst impacts of the depression, have become sought-after inner city accommodation for the middle classes.
This estate was the first of many but the Commission's acquisition plans were ambitious. The synchronisation of the 'demolition program' was proving difficult. The Commission also had difficulties dealing with local municipalities, in acquiring properties in the North Melbourne reclamation area as well as with the labour movement, who believed that the government should subsidise loans to enable workers to buy homes rather than rent them. The rehousing of those from the slums was a difficult task.
As a landlord, the Commission also experienced problems. Tenants were initially reluctant to move, while rents on the estates were more expensive than in their former accommodation. Vandalism was also a problem. Social workers advocated for community facilities to be built at the estates.
Transportation costs from the new estates to places of employment were also an issue.
By 1942, building had halted as the Commission shifted its focus to post-war planning. It continued to acquire land and in its planning authority capacity had also drawn up plans for the future development of Melbourne but by 1944, it was lacking resources. The Commission recruited Frank Heath from its advisory Architects Panel to deal with these problems but it was stripped of its town planning powers later in the same year. The Commission's 1944 report found that housing was required in
'large numbers as quickly as possible to house those recently returned to civilian life and catch up on the lag of construction over the war years'.
The era of slum reclamation was over.
Post-war planning:
While the Commission was planning for the future, so were its commissioners. Barnett and Burt published Housing the Australian Nation, reviewing the slum reclamation, but also putting forward their plans for a national housing policy. Barnett, Burt and Heath published "We Must Go On" calling for a fairer society and centralised planning. By now, housing for growing numbers was the main concern.
The Commission presided over the construction of the Melbourne Olympic Village in 1956, and made its mark on the Melbourne skyline during the 1960s in the form of 40–45 individual precast concrete high-rise apartments in inner Melbourne.
Approximately twenty of these precast concrete 20 to 30 storey height buildings were constructed, until the type of development fell into disrepute, mainly for sociological reasons. By 1970 nearly 4000 privately owned dwellings had been compulsory acquired and replaced by nearly 7000 high rise flats. The sites are spread across 14 suburbs that contain around 40–45 high rises in total. The largest sites contain 4 buildings, other sites 3 buildings. The high-rise buildings vary between 20–30 storeys in height and come in a variety of shapes, when viewed from the air these appear as; S, T, Y, I, L and C-shape, the most common being the S-shape.


'S-shaped' high rise, Collingwood
[Image Source] Production then moved to low rise walk up and single dwelling units, with about 10,000 homes using locally engineered design and erection methods constructed using the technology.
Though the Commission arguably often operated with the best of intentions, reclaiming slums and provided housing for many in new estates, in doing this though, it encountered difficulties. With the end of the war approaching, the increasing housing shortage as well as the large numbers returning from war meant that the Commission shifted its focus from reclaiming slums to become a housing provider and few would agree that its influence was benign or that its original ideal of replacing slums with modern and functional housing (and communities) was met. The high-rise apartments are popularly considered as a scar on the Melbourne cityscape, and successive governments have actively worked towards their demolition or gentrification.
Today the city has minimal public housing and a high demand for increasingly unaffordable rental housing. Public housing is usually provided by the Office of Housing (the new guise of the Housing Commission). The housing boom has increased house prices and rents, as well as the availability of all types of housing.  Subdivision regularly occurs in the outer areas of Melbourne, with numerous developers offering house and land packages. "Melbourne Style" Victorian terrace houses are common in the inner suburbs and have also been the subject of gentrification.
Population Density
After a trend of declining population density since World War II, the city has seen increased density aided in part by Postcode 3000 and Melbourne 2030 which have aimed to curtail the urban sprawl. After 10 years of planning policies to encourage medium-density and high-density development in existing areas with greater access to public transport and other services, the city's middle and outer ring suburbs are seeing significant brownfields redevelopment.
Environmental Issues
Drought:
Drought in Victoria, low rainfalls and high temperatures deplete Melbourne water supplies and climate change may have a long-term impact on the water supplies of the city.  In response to low water supplies and low rainfall due to drought, the government has implemented water restrictions and a range of other options including water recycling schemes for the city, incentives for household water tanks, greywater systems, water consumption awareness initiatives, and other water saving and reuse initiatives.
In 2007, the Bracks Government announced that a $3.1 billion Wonthaggi desalination plant would be built on Victoria's south-east coast, capable of treating 150 billion litres of water per year, as well as a 70 km (43 mi) water pipeline from the Goulburn area in Victoria's north to Melbourne and a new water pipeline linking the city and Geelong.
Both the desalination and water pipeline projects are being conducted under controversial Public-Private Partnerships and a multitude of independent reports have found that neither project is required to supply water to the city and that sustainable water management is the best solution. In the meantime, the drought must be weathered.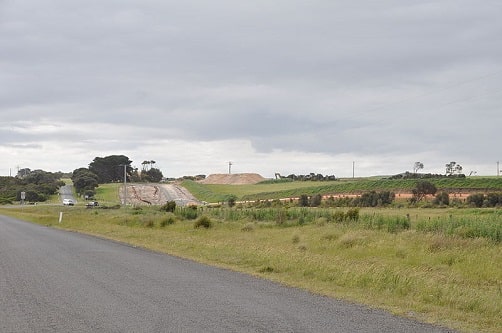 Construction of pipeline to Melbourne from Wonthaggi desalination plant
[Image Source]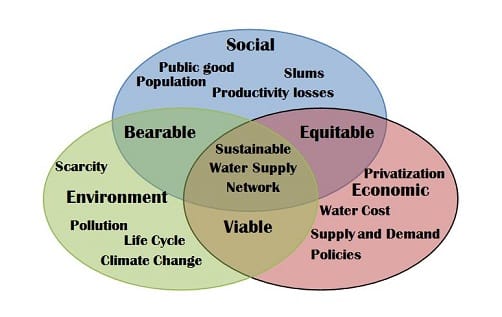 Sustainable development in an urban water network
[Image Source] Climate Change:
in 2002, In response to attribution of recent climate change, the City of Melbourne, set a target to reduce carbon emissions to net zero by 2020.
The city has one of the largest urban footprints in the world due to its low density housing, resulting in a vast suburban sprawl, with a high level of car dependence and minimal public transport outside of inner area although the current Regional Rail Link and Metro Capacity Projects underway aim to go some way in alleviating this.
Invasive Species:
Much of the vegetation within the city are non-native species, most of European origin, and in many cases play host to invasive species and noxious weeds. Many outlying suburbs, particularly towards the Yarra Valley and the hills to the north-east and east, have gone for extended periods without regenerative fires leading to a lack of saplings and undergrowth in urbanised native bushland. The Department of Sustainability and Environment partially addresses this problem by regularly burning off.
Dredging:
Another recent environmental issue in Melbourne was the Victorian government project of channel deepening Melbourne Ports by dredging Port Phillip Bay, the Port Phillip Channel Deepening Project. It was subject to controversy and strict regulations among fears that beaches and marine wildlife could be affected by the disturbance of heavy metals and other industrial sediments.
Pollution:
Responsibility for regulating pollution falls under the jurisdiction of Environmental Protection Agency and several local councils. Air pollution, by world standards, is classified as being good. Summer and autumn are the worst times of year for atmospheric haze in the urban area.
Other major pollution problems include levels of bacteria in the Yarra River and its tributaries caused by septic systems, as well as litter. Several programs are being implemented to minimise beach and river pollution. In 2010, The Transition Decade, an initiative to transition human society, economics and environment towards sustainability, was launched.
Like many urban environments, the city faces significant socio-environmental issues, many relating to its large urban footprint and urban sprawl and the subsequent demand for infrastructure and services.
To avoid the worst cases of history repeating themselves, and the recreation of inner city high-rise ghettoes, it is interesting, if not necessary to look to the urban geography of the city, its relationship to the coast, sustainable water management and the historically exemplar approaches to both the buildings and landscape and the interdependence between the two.
From the oases of calm for public enjoyment created within the Royal Botanic Gardens to the developments of the pre-war 'garden city' public housing initiatives of Port Melbourne – inspiration for sustainable solutions to the city's continued growth and development can be found.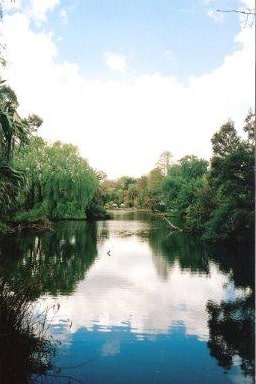 City Haven: Lake View at Royal Botanic Gardens, Melbourne
Photo Credit: AC McCreight

Part 1:  Read here
Part 2: Read here
Part 3: Read here
Mary is a RIBA accredited architectural researcher, with previous international experience in architectural practice. She has proven research and writing experience for both established clients and innovative start-ups in the construction industry worldwide. She is now based in France and orientated towards bridging the gap between landscape and architecture whilst supporting the causes of local, national and international built and natural heritage.