Morocco will be the first country in both the African and Arab worlds to build a high-speed rail (HSR) line, but the high price of 20 billion dirhams (€1.8 billion) has polarised opinion.
The Moroccan Government, of course, says the elevated cost is justified. They argue that when the 350km TGV rail link from Tangier to Casablanca opens in December 2015, it will inject new life into the weak Moroccan economy.
Transport Minister Karim Ghellab said the HSR line would provide "greater long-term value for money" than the cheaper option of updating old lines. HSR lines, he said, were "characterised by economic features that greatly exceed the advantages of classical railways".
Ghellab also claimed that funding for the TGVs would not place a heavy burden on Morocco's public finances. He said €920 million of the €1.8 billion funding would come from donors in France, and the Arab states. The Moroccan Government will contribute €414 million, while the Hassan II Fund for Social and Economic Development will provide a further €86 million.
"In total, over six years, 800 million dirhams of public investment will go into the TGV project every year, which is just 1.4% of the general state investment budget," Ghellab said.
The project will, undoubtedly, make a dramatic difference to rail efficiency. Journey times between Tangier and Casablanca will fall from 5h 45m to 2h 10m, speeding up trade, as well as the movement of the country's rising numbers of tourists. A new 200km line will be built between Tangier and Kénitra, while from Kénitra to Casablanca – Morocco's economic capital – the existing line will be adapted for high-speed trains. There are also plans to extend the scheme south from Casablanca to Marrakesh as part of the Government's upgrade of 1,500 km of Moroccan lines by 2035. Running on the new and upgraded lines will be 14 high-speed TGV trains purchased from the French company, Alstom Transport, for €400 million.
The project, however, has many opponents who argue that the huge sums involved would have been better spent on alleviating deep-seated social problems. Lahcen Daoudi, Secretary-General of the Party of Justice and Development, told Magarebia.com: "I'd like to see the reaction of the poor, who need the most basic necessities for living, when we go to them and say we're going to build a high-speed train for them… these social classes will feel marginalised if we develop certain things at the expense of others."
Instead, Lahcen Daoudi suggested spending the money on expanding motorways and improving communications infrastructure, especially in rural areas.
"We can't dig into the public purse to bring in a new train service with little added value. The cost is so high we will be paying off the debt for some time. The state will have to stagger the project over many years. It will be difficult to achieve the 2015 deadline," he told Magharebia.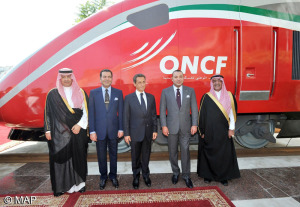 Another influential member of the anti-HSR camp is Ismail Tahiri, the editor of Tangier newspaper Fadaa al-Boughaz. Although he conceded it "will reduce distances, especially for businessmen, between the economic hub that will be created in Tangier on the Mediterranean Sea and Casablanca, the economic capital..", he was against the new HSR line on the grounds that it would "strain the state's economy".
"The construction of this project is a luxury, given that it will cost 20 billion dirhams," he wrote. "These sums should be spent on more vital projects for citizens, such as education, health and infrastructure…. How can such a huge project be carried out in a country where the illiteracy rate is about 30%, and where 2 million students quit school every year; a country that was ranked 106th out of 128 countries on UNESCO's index of educational development?"
Economist Hachimi Mounir agreed that the TGV was a "luxury project" when there were more important priorities such as promoting employment and reducing social inequalities. He pointed out that countries richer than Morocco have chosen to put off some of their plans due to the global economy.
A more detached and dispassionate view of the arguments for and against the development came from Dr Torben Holvad, an economic advisor at the European Railway Agency and an academic at the University of Oxford.
In 2008, a European Commission study of HSR concluded: "…only under exceptional circumstances (a combination of low construction costs, plus high time savings) could a new HSR line be justified with a level of patronage below 6 million passengers per annum in the opening year; with typical construction costs and time savings, a minimum figure of 9 million passengers per annum is likely to be needed."Dr Holvad said his analysis of the effects of HSR in other countries suggested it could have strong benefits for an economy. However, the number of passengers using the line must reach a tipping point before the economic benefits outweigh the high cost.
Based on these EC calculations, the Tangier-Casablanca line would be justified as it will be used by 10 million passengers.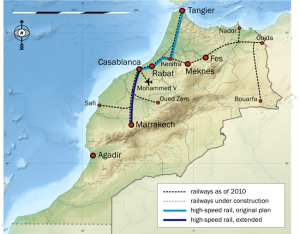 "It is ultimately a political decision whether to invest in improved transport links, or other areas," said Dr Holvad. "But our analysis suggests Morocco can afford it. A counter question is whether Morocco could afford not to invest in improved transport infrastructure. I think the project will represent value for money as it is likely to be one of the contributing factors in supporting different economic sectors. One key issue is the potential positive contribution to freight transport through additional capacity on conventional lines."
The swift transport of high volumes of freight has become more of an issue in Morocco since the opening of the Tangier Med port complex in 2007. Volumes of freight and passengers flowing along the route to Casablanca have soared. Almost 70% of freight traffic now passes between Kénitra and Casablanca and some 50% of passenger traffic.
According to the African Development Bank, the HSR scheme will free up capacity, allowing round-the-clock transport of freight between Tangiers and Casablanca.
"Other benefits of HSR will include greater ease of travel for tourists, which will also increase visitor spending," Dr Holvad said. "It is also an indirect way of addressing problems of illiteracy, unemployment and poverty, the existence of which was a major argument against paying for HSR."
The anticipated reduction in journey times between Tangier and Casablanca from 5h45 min to 2h10 min is comparable with city pairs on other European HSR lines in the past three decades. For example, the journey time from Madrid to Seville in 1977 was 6h 08m, which was cut to 2h20m in 2007. Paris to Marseille was 6h33m in 1977, which was reduced to 3h in 2007. The comparable figures for Rome to Florence were 2h57m in 1977 and 1h 32m in 2007. (Also, Cologne-Frankfurt was cut from 2h20m to 52m, and Paris-Brussels Midi from 2h 20m to 1h 22m).
"The effect of high-speed rail links can be substantial," said Dr Holvad. "It is felt in changes to travel behaviour, which sees a large increase in the share of rail travel. A good example of this change in travel habits is the HSR between Madrid and Barcelona."
He added: "And there are also direct economic benefits, such as the significant economic changes in the Lille area, in Northern France, following the arrival of the TGV Nord in the 1990s."
Dr Holvad said the evidence for the "wider economic benefits" of HSR needed to be assessed on a case-by-case basis. He defined wider economic benefits as being "beyond those included in a transport cost-benefit analysis in terms of time savings, reliability improvements and additional capacity".
Dr Holvad said sources of wider economic benefits with HSR included (1.) Effects on agglomeration economies (greater clustering together of businesses). (2.) Enhanced competition in different economic sectors. (3.) Better connected labour markets.
"In the context of Morocco, the most likely of these sources could be agglomeration economies where Tangier in the north with its important port area, will be more closely and more rapidly linked with the economic capital, Casablanca," he said.
Author: David W. Smith