New Holland construction has donated a LS180 skid steer loader to the Italian Red Cross. The new machine was handed over on Tuesday 3rd May at a ceremony which will took place in the national hall of the Italian Red Cross headquarters in Legnano, Lombardy.
The ceremony was attended by the Commissar of the Italian Red Cross for Lombardy, Maurizio Gussoni, Roberto Antonini, who is in charge of civil protection for the regional Red Cross and the national chamber.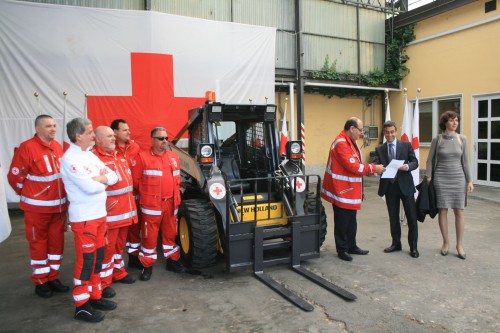 Giampiero Biglia, Italy´s Business Director for New Holland Construction officially presented the skid steer loader to the Italian Red Cross which was then blessed by the chaplain of the military corps of the Red Cross. The new machine will become part of the Italian Red Cross earth working fleet used in missions in Italy and elsewhere.
"New Holland Construction has always supported public organisations that are committed to civil protection, the protection of our territory and national defense," declared Giampiero Biglia. "We are convinced that this compact loader will be very useful in national and international missions."
The Italian Red Cross head office in Legnano (an institution which can count on more than 22,000 volunteers in Lombardy alone) plays a particularly important role. This office organises all the missions to help populations affected by emergencies or disasters both in Italy and on the international scene.
The Red Cross Commissar for Lombardy, Maurizio Gussoni, declared. "We feel especially proud to donate operational resources and quality vehicles made in Italy, to the Italian Red Cross that can be used to continue to play a role that is respected throughout the world."
The machine donated by New Holland Construction is a robust and versatile model. Compact, stable and easy to use this machine features the patented Super Boom kinetic system that allows for full deployment at maximum height by reducing the incline of the bucket and reducing material losses. The exceptionally low center of gravity of the machine also reduces the risk of tipping and makes for maximum stability, even when lifting very heavy loads.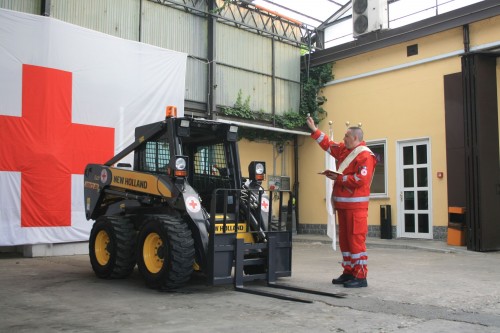 Because the machine is so stable it can move easily on difficult terrain and operate in complete safety, even in emergency situations.
This donation follows the donation made in October last year to the civil protection authorities and confirms New Holland Construction's strong commitment to the community.
Source: NEW HOLLAND CONSTRUCTION Press Office