The Russian construction industry recovered some semblance of stability in 2010 and gradually began to pick up again after the downturn. This upturn in fortune was achieved despite the tight budgetary situation, which eventually resulted in certain cuts, e.g. in the area of transport infrastructure development.
Over the past year, an increase in activity has been recorded in the residential sector, however, it has mainly been in the form of increased demand for housing and greater competition for land plots being sold. Very few new residential developments were commenced; instead, developers focused on the completion of ongoing projects.
Though they caused great destruction, the wildfires that ravaged parts of Russia in summer 2010 did serve as a boost for the construction industry as new housing was required for the victims of the disaster. In just two months, 2,200 new houses were built, accounting for a total combined area of 140,000 m2. In addition to the homes, there was a need to build all of the necessary social infrastructure, more than 200 km of roads, and 100 km of gas pipelines.
Throughout the majority of 2010, the construction industry's performance was improving each month and the sector was on the right track to post a slight growth for the whole year, however, a poor November set the industry back. At the end of the year, the overall year-on-year decline was 0.6%. Despite this still being a year of decline, it was a marked improvement over the 13.2% decline reported in 2009.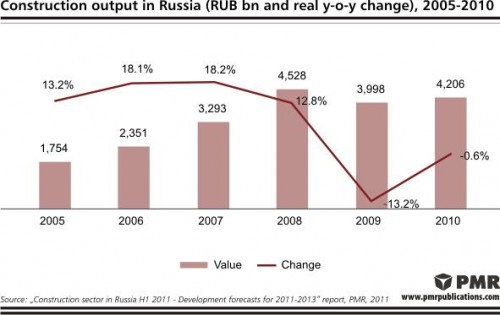 In 2011, PMR expects the construction industry to resume growth and this will be supported by increased provision of credit by the banking sector to both companies and individuals. This view is supported by the increasing (compared to last year) value of construction work contracts signed by constructors, which should soon translate into increased value of construction work carried out.
In civil engineering, projects related to the 2012 APEC Summit in Vladivostok and the 2014 Winter Olympics in Sochi will continue to be the major drivers and many of these projects are nearing completion. In 2010, the need to focus on these priority projects meant that financing for smaller, unrelated projects, was affected. In 2011, the overall volume of spending on infrastructure development is expected to increase and this should result in improved support for such projects. The sector received a welcome boost with the decision to award the 2018 FIFA World Cup to Russia. Stadiums and airports in all the host cities will need to be either built or modernised, and adequate road and rail connections will need to be guaranteed.
In the residential segment, the government has become and will continue to be an active player. One of the key goals of the current administration is to increase annual housing construction levels, especially in the economy-class segment, with the aim of making housing affordable to young families.
Commercial property construction activity remains subdued, as demand for such facilities has not yet recovered to the extent that has been observed with demand for housing.
This press release is based on information contained in the latest PMR report entitled "Construction sector in Russia H1 2011 – Development forecasts for 2011-2013".
Source: PMR