An extensive fleet of New Holland Construction equipment is running non-stop, 24 hours per day, to meet the stringent deadlines required by the runway resurfacing works underway at one of the most important Italian airports.

Turin, 29 May 2014
Serving nearly nine million passengers each year, "Il Caravaggio" International Airport is the fourth busiest airport in Italy. Originally known as Bergamo Orio al Serio Airport, it has become very popular in recent years as the base for major low-cost carriers offering flights to many popular destinations across Europe. Conveniently located a few minutes' drive away from Bergamo city centre and just 40 km from Milan, the airport provides easy access to Northern Italy and is also well positioned to be a strategic hub for the Expo 2015, the eagerly-awaited Universal Exposition that will be hosted in Milan next year.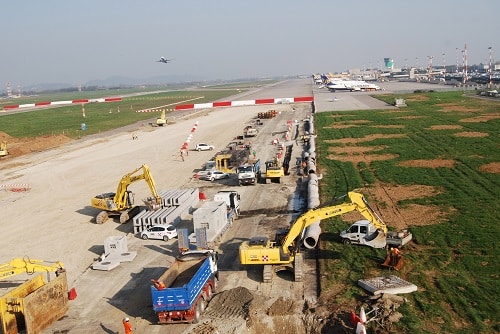 In response to the increasing demand of passenger traffic, SACBO – the airport's operator – has a long-term development plan underway to accommodate future growth through the upgrade of the airport's infrastructure and facilities. The plan has now entered a delicate phase which focuses on the entire runway resurfacing, a total length of about 3 km. This phase also requires a three-week airport closure for the works to take place and be completed by early June 2014.
New Holland Construction is hard at work on the site to get everything completed in time. There are approximately 20 New Holland units working on the resurfacing operations 24/7, to meet the project's stringent deadlines.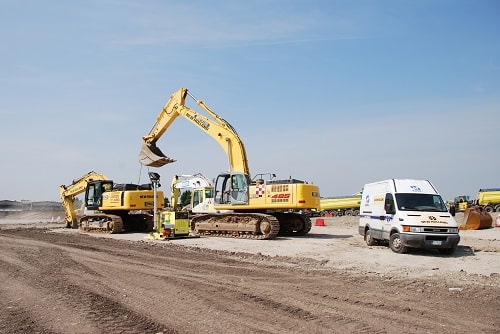 The fleet encompasses the top-of-the range E485C crawler excavators, the heavy-duty E385C crawler excavator, the powerful 28-ton E265B model, the 25-ton E245C and the 23-ton E215C crawler excavators, and several mini excavators from the compact range. The line-up is complemented by a 227 hp W190 wheel loader and a versatile W80 wheel loader. This fleet is further expanded with additional units on request, to perform the most demanding tasks in a very short time.
"High performance, reliability and low fuel consumption: these are the key strengths of New Holland Construction equipment for our customers working at the Orio al Serio Airport," says Paolo Entrade, owner of Maren-CMO, New Holland Construction dealership based in Curno, near Bergamo. "At this specific job site each operation has to be completed very rapidly, and the machines need to deliver a strong performance 24 hours per day."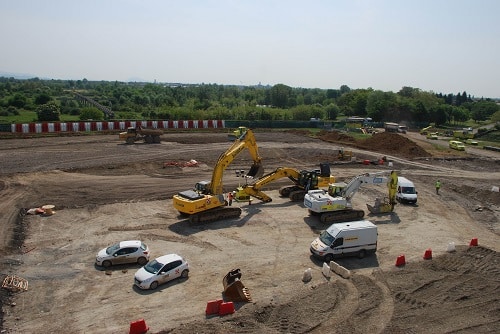 The units were supplied by Maren-CMO to Vitali S.p.A. and Artifoni S.p.A., two renowned Italian companies which are part of the consortium of contractors assigned to the runway resurfacing works.
Vitali S.p.A. is a leader in the building and infrastructure sectors in Italy with a strong focus on real estate development, large-scale infrastructures, decommissioning and production of concrete, bituminous conglomerates and aggregates. The company, which has already refurbished the runways at Milano Malpensa and Cuneo Levaldigi airports, is now working non-stop in Orio al Serio to carry out diversified operations, including the dismantling of the old runway, the replacements of the runway lighting, cabling and water drainage system, the paving of the new landing surface and the execution of the new runway markings.
"We are taking on this challenge and its tight time-lines by working day and night, 7 days per week," says Giuseppe Bonacina, Marketing Director at Vitali S.p.A.. "So it is imperative for our company to use the most advanced and efficient construction equipment in order to maximize our productivity. We selected New Holland Construction and its latest equipment solutions, including the GPS satellite positioning and telematic systems, to meet the specific, high-tech requirements of the runway paving operations."


Artifoni S.p.A. is a leading, highly-specialized Italian company which operates in the construction of large-scale wastewater and drainage systems, hydraulic works, treatment plants, and pavings of any kind. The company is a long-standing New Holland Construction customer with a fleet of 27 units having the distinctive black & yellow livery. In Orio al Serio, Artifoni S.p.A. is in charge of all the civil works for the new runway, including hydraulic works and cable duct installations. The company is also conducting some excavation and demolition operations and is preparing the new runway's sub-base.
Roberto Paganessi, co-owner of Artifoni S.p.A., explained: "Our construction, excavation and earth-moving fleet is mostly made of New Holland Construction machines. They have proven to be extremely powerful and they ensure maximum speed and stability in every working condition. Their unique combination of reliability and advanced technology is of key importance for us and it is also highly appreciated by our operators."
The New Holland excavators working at the Orio al Serio airport were supplied by Maren-CMO as fully equipped units with the most advanced technology and optional features, including the demolition hammer, grab and crusher circuits and object handling kit, to meet the requirements of this specific job site. To maximize the comfort and performance during long working hours, the units offer a superior operator environment with low noise and vibration levels, outstanding visibility, and the automatic air-conditioning system which further adds to operator comfort.
To maximize equipment uptime and productivity, Maren-CMO has specifically trained its technicians to deliver the best after-sales services to its customers directly on the job site, ensuring maximum safety during maintenance in-field operations. The dealer has specifically created a dedicated team of technicians, promptly available 24/7 to deal with any emergency or urgent request. "This is something we greatly appreciate: the fast response times of their technicians that are always available to provide the best on-site support," adds Bonacina.
"Our company is constantly growing and so is our fleet of construction equipment. For any future needs, we will certainly use New Holland Construction," concluded Paganessi.
Source: New Holland Construction