The EHS team is delighted to confirm that the UK's premier hire event is back in a BIG way and will be taking place between 9th and 10th February 2022, at its established home (and newly rebranded) Coventry Building Society Arena (CBS Arena), formerly known as the Ricoh Arena.
The venue has received a cash injection of more than £7.5 million for a revamp which has delivered a world-class exhibition, event and conference centre. The EHS will remain largely unchanged – but the organisers have promised that the event will be 'bigger and better'. The EHS event team has confirmed that the main hall has completely sold out, with the Atrium now also full.
The compact plant hire and equipment industry is booming! Infrastructure projects are pushing forward, which has propelled the hire sector to reach new peaks, and the construction equipment industry is also embarking on the journey to achieve net-carbon-zero by 2050, therefore innovation and investment in new technology, safety and renewables and sustainable solutions, are at an all-time high.
Chris Moore, Executive Hire Show, publishing and events director said, "This is the main event for the plant and tool hire trade, and this year we're bigger and better than ever, with more than 135 exhibitors, of which over 30 are brand new to the event and a great many new products on display".
Chris added, "We salute those manufacturers and suppliers exhibiting who have remained resolute throughout the uncertainties. Stand bookings have continued apace. Recent weeks have seen rotation moulding specialists Jobec UK sign up. Likewise product marketing aficionados Exordia Global and smart telematics providers GemOne. We are expected to be completely sold before the event and look forward to bringing the hire sector back together once again."
The 'Innovation Trail Eco– Live' is making a return for the 2022 event but the focus will be on emerging trends and technologies that are shaping the future of the industry. 'The Innovation Trail Eco event will be hosted by media influencer and all round-good-guy, Peter Haddock (Content With Media).
Companies profiled on the Trail will reflect environmental and sustainable solutions and products that embrace the latest technologies, including safety innovation and offer efficient and future proof solutions for the evolving hire sector.
New exhibitors that have committed to the 2022 Show include Dymac Global, who specialise in renewable power products, fleet management company VIAST Connect, RFINA, who supply a range of professional quality, power tools and equipment for mixing and spraying, diamond drilling, surface preparation and flooring and Integritex, who will be showing the Baselight family of Portable LED lighting towers.
The very latest to join the EHS family is Fentex , whose range of absorbency products will find much favour with companies looking to mop up spillages and maintain a tidy workshop. Their range of 'Muckyz' hand and machinery wipes are doubly advantageous in that they also help to kill viruses and bacteria.
Look out too for LFI who will be making their EHS debut with its TuFF and Pro range of access products and will also be launching a brand new product, which is under wraps until the event – but the company promise it's worth the wait!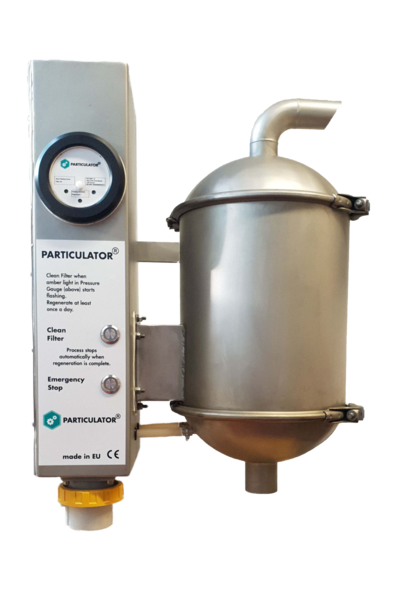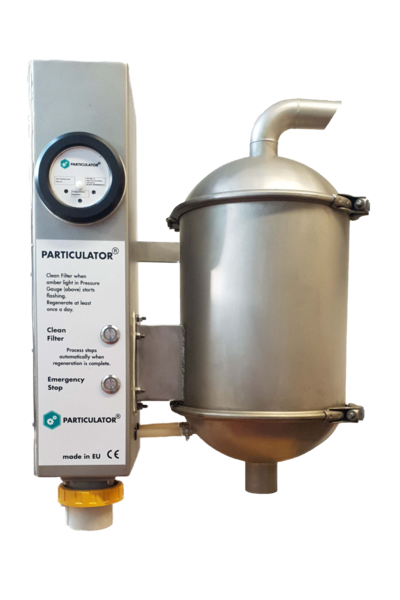 New exhibitor, BISAF Ltd, the UK specialist for emission control on small diesel plant, has introduced a diesel particulate filter designed for the type of smaller machines that are not normally supplied with a filter fitted as standard.
The Particulator has been tested on a machine by an independent automotive emissions test laboratory and was found to give greater than a 99.9% reduction in particulate as well as having a regeneration cycle that cleaned the filter effectively. It has also been extensively used in the field to demonstrate its effectiveness in improving air quality as well as its durability and ease of use.
Also new to the show is Elite GSS who says "Our aim is to provide customers with unique and innovative products that consistently deliver the highest levels of performance and safety to industries such as construction, civil engineering, rail, and event & leisure industries".
Elite GSS actively looks to improve all-round sustainability when developing their products, and many can be recycled to reduce carbon footprint on-site. The Temporary Access and Ground Protection Mats are a perfect example, whilst being extremely durable and able to withstand hefty weights in tough and adverse weather conditions.
Unlike conventional and unsafe methods used in the building trade to date, new exhibitor Prop Pal will be showing the Prop Pal needle which is designed so that a builder's prop location into the needle is locked in position once it has been wound up. At the other end the swivel plate has 4 holes where it can be fixed to the floorboards, securing it in position. Prop Pal has been dubbed as "The Game Changer" delivers on quality, robustness, innovation and versatility.
Prop Pal will be officially launching a new longer needle titled 'Prop Pal Plus' aka 'PPS1800' at the Show – which is a longer needle (1800mm) in length with a safe working load of 1050KG.
Welfare cabin manufacturer, Genquip Groundhog has not missed a show yet – the company is back once again in 2022 launching two brand new 'eco' products at the show. Sales and Marketing Manager Peter Beach said , "Our future lies in sustainable and environmental friendly products. Our commitment to a Carbon Energy plan as well as producing easy to use, robust and sustainable products means we have the product range that meets the ever increasing demands of today's UK hire market."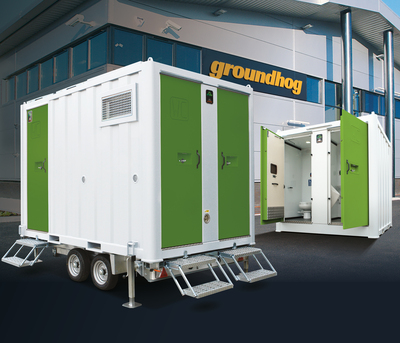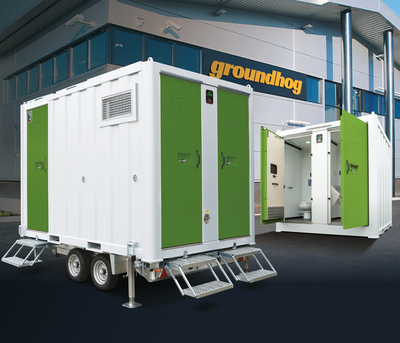 Taking centre stage on the Genquip Groundhog stand will be the brand new static welfare unit, the Groundhog I.760. Alongside the I.760 will be the Groundhog Solar Loo. This fuel-free, solar powered unisex toilet is designed for use on construction sites.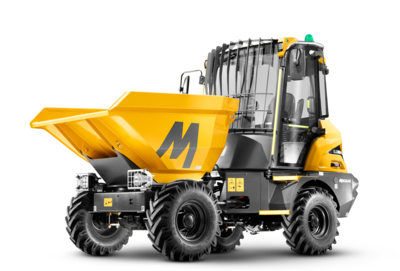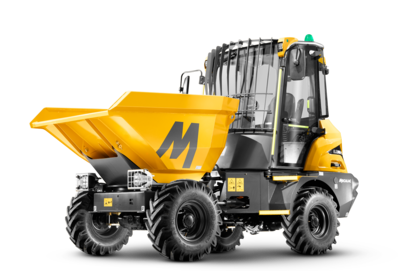 Mecalac Construction Equipment UK will showcase its class-leading 3.5MDX cabbed site dumper. Combining stylish design with state-of-the-art operator technology, Mecalac's 3.5MDX cabbed site dumper sets the standards in performance, safety and practicality. Powered by a Stage V-compliant Kubota D1803 1.8L turbocharged 3-cylinder diesel engine, operators benefit from 50hp at 2,700rpm and a peak torque of 150.5Nm at 1,600rpm.
Pinnacle Platforms, the authorised GB distributor for Sinoboom Aerial Work Platforms, will be showcasing the Sinoboom 1330SE, an all-electric, virtually silent, 19′ (5.8m) max working height 880kg Scissor Lift.
The machine is powered by the very latest 12v x 2/11 5Ah 24DC lead acid, AGM, maintenance free, short charge, long run, dry cell batteries. Replacing wet lithium batteries that require daily levels of maintenance and high levels of charge.
Developed for enhanced operator safety Husqvarna introduces the K770 SmartGuard and K970 SmartGuard. "SmartGuard is an extended blade guard design which reduces the likelihood of accidents and circumstances when a kickback may occur as it emphasises correct technique and correct cutting zone, says Mattias Holmdahl, Global Product Manager for Power Cutters"
Trime is planning to display battery/hybrid, solar-only, battery-only and plug-in lighting towers, each already proving to be very popular with the UK and Ireland hire markets.
Taking centre-stage on stand C40 will be Trime's X-ECO LITHIUM HYBRID tower light. Also on display will be the Trime X-SOLAR HYBRID LED. This is a lighting tower that is powered by a combination of solar energy, battery power, backed-up by an 'eco-efficient' engine driven battery charging system to ensure continual operation.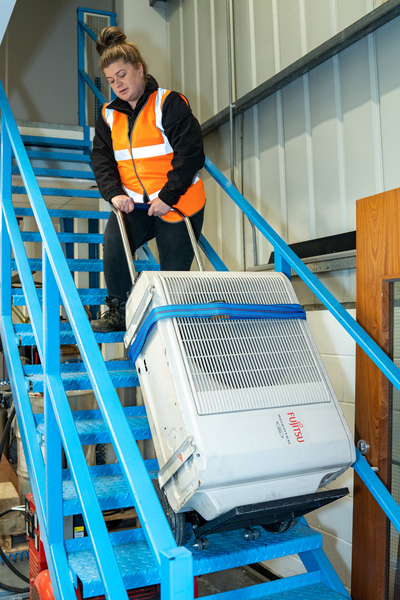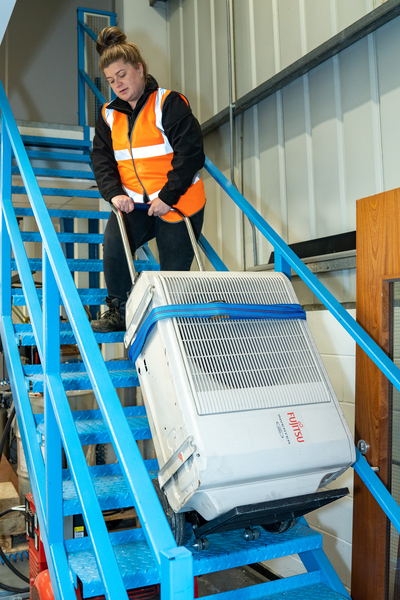 Stanley returns to the Show with their range of Sprinter powered stair climbers. Being at the forefront of developing material handling solutions has enabled Stanley to create products that can safely move loads on the stairs weighing 85kg, up to an impressive 450kg.
Using a Sprinter Ergo to transport loads on the stairs helps to reduce the risk of a manual handling injury whilst saving time to complete the job.
With safety more so than ever at the forefront of everyone's mind The Hire Supply Company will be showcasing its new range of own brand Elite LED Lighting, Heating, Electrical Distribution Products and Water Pumps and also a new line up of Fire Point Safety Trolleys for own use and for hire.
Barrier Master has proved to be a game changer for highways post extraction, both in terms of safety and productivity, winning numerous highways industry awards. Barrier Master can remove VRS posts lighting columns etc. complete with up to 1.5m diameter concrete foundations with a force of 15 tonnes. All Manual handling of posts has been eliminated as has the danger of ejected parts should a post snap whilst being removed. The company will be showcasing its brand new MK 2 versions of both multi award winning Barrier Master and Fence Master ranges.
CargoStop is a market leader in load restraint. The company specialise in ensuring every load is correctly secured, compliantly and efficiently. It works with some of the UK's leading plant hire companies giving them peace of mind, and ensuring all their plant and machinery is safely secured with fully compliant and insured load restraint products.
For those looking for alternative fuels – FuelBox will be at the Show with its revolutionary bag-in-box fuelling system. If visitors are looking for a more sustainable fuel option – Green D+ HVO is the latest drop-in replacement for Diesel and can be used in all diesel engines, it conforms to EN15940. The environmental benefits are significant, reducing CO2e levels by up to 90%, particulate matter levels by 86%, Nox levels by up to 30% improving local air quality.
Hirers who visit Thwaites, will discover how, at the point of handover they can add further value to customers who are planning to operate a Thwaites 1-Tonne dumper for the first time.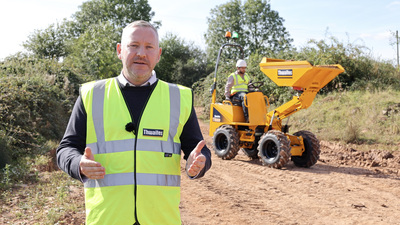 Hirers can order (free of charge) from the stand, machine decals displaying a handy QR code that leads to a video, which when affixed to the machine, viewed prior to operating and applied during operation will reduce risk, improve performance and enhance the customer experience.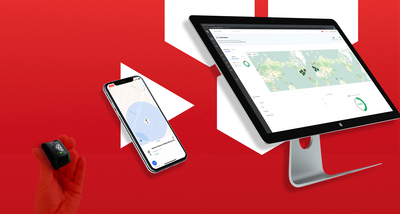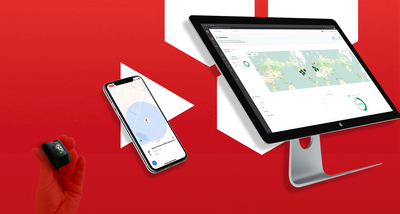 Trackunit, a leading innovator in construction industry telematics, has announced it will demonstrate, what it describes as 'game changing construction site asset tracking capabilities'. The Trackunit Kin enables seamless connectivity and tracking of all non-powered construction site assets. The new tag leverages and extends Trackunit's globally available mesh network, which already offers the construction industry's largest network of trackable devices.
Dustcontrol UK will exhibit its recently remodelled versions of the Tromb range which meets modern safety requirements while offering ergonomic and modular functions. One of the major updates is that the new DC TrombTwin model is separable, meaning the dust extractor and pre-separator are easily detached and re-assembled from each other – making them simple to transport for actions such as floor grinding.
Toro UK is introducing the world's first electric Dingo®. Built for indoors but strong enough for outdoors! As a market leader in compact utility loaders, Toro has made a major step into the electric equipment marketplace with the introduction of the new Toro® e-Dingo® 500 compact utility loader.
The e-Dingo allows contractors and construction professionals to realize all the benefits and power of a standard compact utility loader with no fuel costs and zero exhaust emissions.
It's powered by lithium-ion battery technology designed for tasks that require heavy or continuous operation for indoor applications. The maximum operating capacity of 515 pounds reduces labour and hauling time.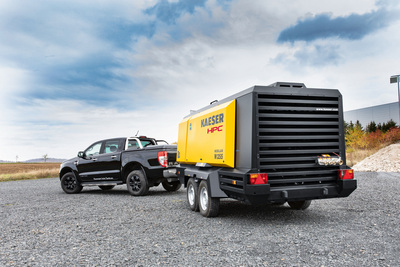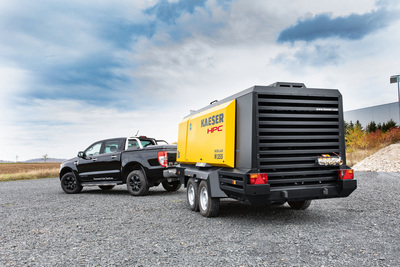 HPC KAESER is showing the Mobilair M255, which is the largest oil-injected portable compressor from HPC KAESER. It is compact, safe, and easy to use, and perfect for applications such as drilling, quarrying or blasting work. It features a powerful and efficient Cummins engine, a diesel particulate filter, and an SCR system, fulfilling 'Stage V' emission or 'Tier 4 final' regulations.
Britlift has recently brought to market a brand-new size of lattice spreader beam. The larger 6 tonne WLL capacity becomes the largest capacity (standardised) lattice spreader beam on the market.
The Britlift Lattice Spreader Beam comes in two sizes (LAT-3 and LAT-6, 3 tonne and 6 tonne lifting capacity, respectively) and has been designed to lift loads at up to 44m in length (44 lifting connections) in the most cost effective, and economical way.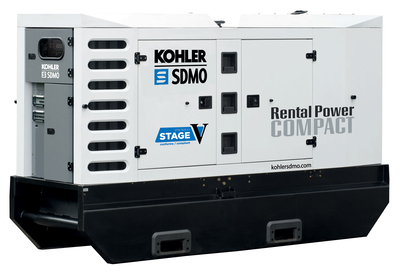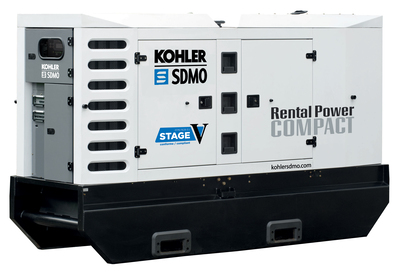 KOHLER® stage V rental generators uses KOHLER and John Deere engines with low fuel consumption. This results in low operating costs, especially for gensets providing continuous power production. The power range starts with the KOHLER engines driving a 20 kVA to 50 kVA Standby Power (ESP) generator set. For higher power capacity, this range offers John Deere engines for generator sets with a 110 kVA to 550 kVA ESP.
Demon International is extending its range of Lithium Ion E range pressure washers to include a conversion of fossil fuelled towed bowsers to fully battery powered. Demon is offering customers the battery unit to fit themselves or will convert them at the Demon factory. Re-using the bowsers and converting to battery has a great environmental impact in up-cycling the units, to new greener version.
HireHop will be promoting new overseas offices and a new deposit feature, allowing not only the recording of security deposits, but it also allows the deposit to be refunded or used as a payment towards an invoice. HireHop also sends the deposit transaction to your accounting software (currently being Sage 50, Sage Business Cloud, QuickBooks and Xero), adding even more seamless integration between accounting software and HireHop.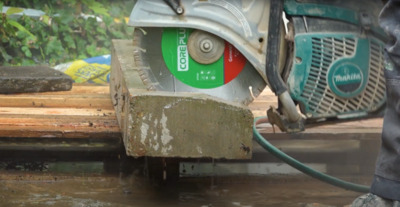 CorePlus will be exhibiting its new comprehensive range of high-quality Diamond Cutting Blades ideal for the hire market. The range has specially designed packaging that makes it easy to match the right diamond blade to the job in hand and therefore making it easier to choose online or at the hire counter.
SANY has also confirmed its first ever attendance at the Show, which forms part of the OEM's renewed focus on the UK & Ireland. Sany is showing its small mini excavators for the small plant and tool hire market – and will be showing its new Stage V machines from 1.7 tonne to 3.6 tonne – SY18, SY26 and the SY35. "The machines are perfectly suited to plant and tool hire as they are very reliable, built to a high specification and feature all steel panels."
Tufftruk's TRUXTA's are compact and powerful mini dumpers which set a new standard in safe and powerful materials handling. The TRUXTA range consist of compact 4×4 machines, the battery powered machines for a quiet environmentally friendly option. The Honda and Vanguard petrol machines offer the smooth squeeze & go hydrostatic system.
JCB has chosen the Executive Hire Show as one of the very few tradeshows it will attend in Europe next year and will be showcasing its new electric range. JCB will be showcasing the new range of ETECH machines
In late 2020, JCB announced the expansion of its E-TECH range of zero-emissions vehicles. This included the launch of the company's first electric Loadall telescopic handler, a new electric site dumper, as well as offering a fully glazed cab on the 19C-IE electric mini excavator. In addition, JCB has developed a new rapid Universal Charger that is compatible with current and future E-TECH electric machines.
Mace Industries will be showcasing its new and improved Shifta conveyor. The Shifta is a highly portable conveyor available in a variety of different lengths. Shifta's have the ability to be linked to one another while running from one single power supply. The latest version of the Shifta incorporates a new linking feature which allows you to control all linked Shifta's from any linked unit.
On the Mace stand alongside the Shifta, will be the Bumpa, Screena and GEDA Hoists.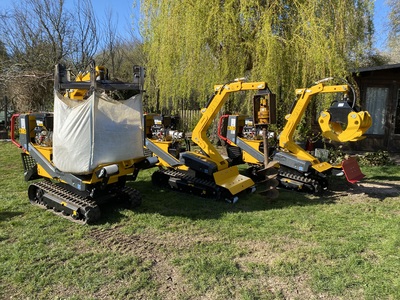 Dragon Equipment is flying solo at the EHS for the first time and will be showcasing two British-built machines – the CR300 Crusher and the newest fleet member, the LF1000 Lifter.
The CR300 Crusher is challenging the crusher industry with its size and capabilities. Its abrasive-resistant jaws and unique crushing mechanism effortlessly crushes up to 6 tons of concrete an hour into reusable hardcore – a productivity comparable to much larger machines.
Alongside the CR300 Crusher, the Dragon Team will be showcasing their newest fleet member – the LF1000 Lifter. Built entirely in the UK, the versatile and compact machine is designed to make transporting materials around site quicker, easier and safer – whether moving logs, bags of sand or pallets of slabs.
Power tool manufacturer Makita UK will be showcasing its XGT 40VMax and Twin 40VMax (80VMax) range of machines. The XGT range has been designed to offer professional users a selection of cordless machines that deliver the increased output needed to tackle high-demand applications safely and efficiently.
XGT is a stand-alone cordless battery platform from Makita – with its own range of tools, lithium-ion batteries and chargers. The system stands side-by-side with Makita's industry-leading LXT platform to offer a battery solution for all applications.
Yanmar Europe has launched a five-year extended warranty covering the TN-Series engines in a move that offers customers added value with even greater, problem-free and cost-efficient ownership for customers.
By extending the warranty from two to five years from the purchase date (or up to 5,000 total engine operation hours – whichever comes first), TN-Series customers in the UK and Europe can enjoy enhanced operational security, higher resale values of equipment and peace of mind.
CLM will be inviting new and old customers to see its range of Scaffold and Gantry hoists on offer from 150kg upto 500kg in 110v. also Imer pan (forced action) mixers from 80lit to 360lit mixing capacity. The company is also reintroducing the Imer range of Concrete mixers to the UK from 134lit to 350lit in both 110v and 240v both stand and wheeled / towable options.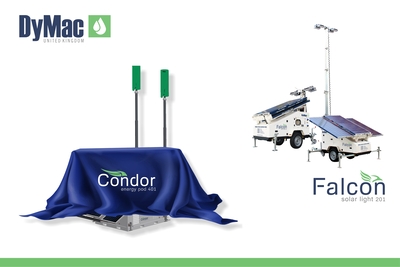 DyMac UK is launching the environmentally friendly lighting system – Falcon Solar Light 201 which is a compact and powerful portable solar lighting tower featuring 4 LED lamps. The innovative solar panel and trailer design makes the FSL – 201 easy to transport and set up without taking up valuable space. The product produces 0% – noise, fuel and emissions and provides bright light covering up to 2400 SQM.
DyMac is also unveiling its all-in-one Condor Energy Pod 401. The next Generation clean energy producing generator will be featured exclusively at the Executive Hire Exhibition.
Doosan Bobcat will be showing Bobcat's E10e, the industry's first battery driven, zero tail swing mini-excavator in the one tonne class. Alongside the E10e, the company will be presenting the new 7/45 portable compressor from Doosan Portable Power for the first time in the UK.
Exordia Global Ltd is the exclusive UK distributor for the unique GRABO battery powered hand-held vacuum lifter.
The GRABO allows the handling of a wide range of materials in a way never possible before, making the job site and factory safer, more efficient, and helping to reduce the daily strain on the body. Its unique ability to grab, porous, textured, dusty, riven or wet surfaces make it ideal for transporting and positioning a wide range of materials such as worktops, stone or porcelain paving, large format tiles, shower trays, glazing, doors, and many sheet materials and construction panels.
With a capacity of up to 170kg and long battery life it has uses in so many construction and manufacturing applications.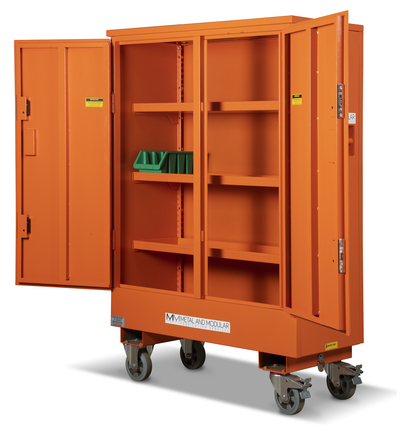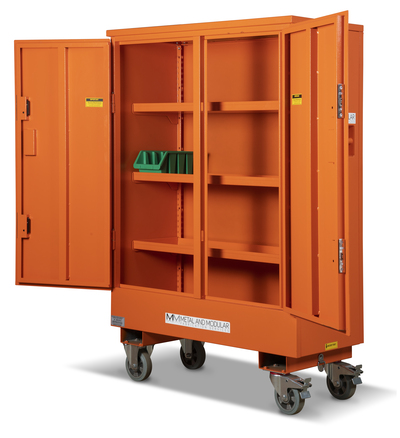 Metal and Modular is showcasing the SureLock Pro. Using a pioneering ECO Technology in design and manufacturing process the SureLock Pro's welding has been reduced by up to 85% together with all the toxic gas etc that welding entails. All of the company's main lines have been updated producing a range of strong and secure Vaults, Cabinets, Benches and Cutting Stations which will be at the Show
Registration is now open and it's FREE visit https://rfg.circdata.com/publish/EHS22/
Visit www.executivehireshow.co.uk for a full exhibitor list. Put the 9th and 10th February 2022 in your diary.
Source: EHS Press