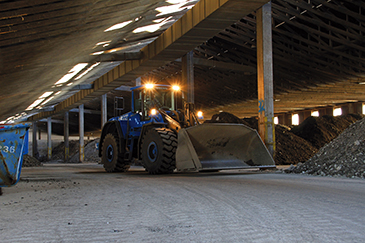 The German state of Bavaria has prospered from its industrial prowess for hundreds of years. An unfortunate side effect of economic success is contaminated soil. Now it's time to clean up – and one innovative company is using sustainable methods to clean soil – including using Volvo Construction Equipment machinery.
Blue skies, rolling foothills and crystal-clear lakes have made Bavaria the number one tourist destination in Germany – and its local residents and government want to keep it that way. Environmental care is a big deal in the region and one local company is using innovative techniques to clean contaminated soil organically. Boden recycling Allgäu (BORAG), a subsidiary of Hubert Schmid GmbH, was the first soil bioremediation plant in south Germany. Its mission is simple – to ensure no stone is left unturned in the big clean-up of contaminated soil.
The city of Munich, in Germany's prosperous south-east, has the strongest economy in Europe's richest country – and its surrounding region of Bavaria has been fortunate enough to support a thriving machine-engineering industry for many years. BORAG cleans the contaminated soil and stones using bioremediation, while its sister-company, Hubert Schmid Recycling, washes the soil that has been contaminated by inorganic pollutants such as polychlorinated biphenyl (PCB) from coolant fluids and pentachlorophenol (PCP) used in pesticides.
"Our aim is to protect the environment in a sustainable way to ensure it's safe for future generations," says Hubert Schmid, chief executive of the parent company Hubert Schmid GmbH. "This is at the heart of everything we do in the energy, recycling and civil engineering sectors – and this is consistent in the machinery we use. Volvo Construction Equipment (Volvo CE) machines boast low fuel consumption and efficiency – caring for the environment just as we do."
An organic approach to cleaning
BORAG carries out 'ex-situ bioremediation', meaning that the contaminated soil is excavated from the site – using Volvo excavators – and transported to the treatment facility. That's when the micro-organism metabolism gets to work – mixing with the soil to break down the hydrocarbons. Inside the warehouse, the air is drawn upwards into a vacuum that passes the length of the facility – creating an eerie mist. The air then travels through a washer, generating fog, and the wet air is cleaned by a biological filter and cycled back through to the main facility.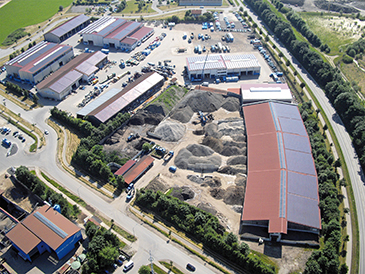 Reinhard Mayer, machine maintenance manager at Recycling – Umweltschutz GmbH, explains: "We move 80,000 tons of biological material and 40,000 tons of stone each year, so having a reliable machine and durable bucket to get the job done is very important." In fact, the site has just one machine to rely on – a Volvo L180F wheel loader – that is in operation for 10 hours per day, five days a week. The company has fitted a Genuine Volvo Parts bucket to the wheel loader for maximum performance and quality – and after two years and 3,440 operational hours, the machine and its bucket are still going strong.
The L180F unloads materials that come from construction sites, disused fuel stations, railway tracks, manufacturing plants and oil spillages, and moves it into a separator. Depending on the particle size of the contaminated material, it is either transported into the treatment plant or recycled directly. Once the bioremediation process is complete, the material is loaded back onto trucks and reused.
"Decontamination can take between four weeks and six months," says Reinhard. "It all depends on the size of the hydrocarbons and how long it takes to break them down." To avoid the broken-down pollutants seeping back into the ground, the facility has been specially built – its design is similar to that of an urban waste depot but with an additional layer of oil-resistant asphalt on top.
Ultraclean soil
Pollutants that cannot be broken down organically (such as PCB and PCP) are taken to the second Hubert Schmid facility just across the road. This plant uses two Volvo wheel loaders – an L150E to load the material into the washer, and a 15-year-old L90C to move the cleaned material. The plant is in operation 24 hours per day, six days a week.
"The working conditions here are almost non-stop," says Reinhard. "But even after 15 years, our wheel loader is still going strong. It has almost 20,000 operational hours on the clock and we're still happy with its performance and fuel efficiency." The plant processes 20 tons of soil every hour through its automated sorting and washing facility.


A long-term relationship
Hubert has purchased Volvo CE machines ever since he and his wife founded the company in 1968. "We have been working with our local Volvo dealer – Robert Aebi – for the last 10 years and they've helped us to source equipment to match the application, lead time and price we're looking for," says Hubert. "The environmental impact of a machine is very important to us and is the main criteria upon which we base our purchasing decisions. Our fleet of Volvo CE crawler and wheeled excavators and wheel loaders are impressive in terms of their efficiency, low fuel consumption and power."
Safety is also a key consideration on all of Hubert's sites – and it's also at the heart of Volvo CE's product designs. One of the site operators, Bolkart Luggi, says: "I spend up to 10 hours per day operating the L180F wheel loader, and the comfort of the cab is far superior to anything I've operated before. The controls are simple and the climate control ensures I'm never too hot or too cold. But the best thing is the visibility – I can see all around me with ease."
"Volvo CE's core values are very much in line with our own," says Hubert. "That's why, I think, the relationship between us has been so successful. So as long as Volvo CE is making the most environmentally-friendly machines on the market – we'll be buying them."

Source: Volvo Construction Equipment