Volvo Penta attracted scores of customers to its bauma 2013 stand — the lure of seeing its complete range of new Stage IV/Tier 4 Final industrial engines proving irresistible. But the company also made a strong showing in all four corners of the exhibition, with a variety of OEMs proudly displaying Volvo Penta engines.
2013 was a record year for bauma Munich, with an extraordinary 530,000 visitors from more than 200 countries flocking to the Messe München exhibition center between April 15 and 21. So it's not surprising that Volvo Penta also enjoyed its most successful bauma exhibition ever. The engine manufacturer's stand — which it shared with fellow Volvo Group companies Volvo Construction Equipment and Volvo Trucks — was a hive of activity, as existing and potential customers stopped by to check out the company's complete range of 5- to 16-liter engines.
Simply the best when it comes to Tier 4 Final
"We had massive interest in our new product offering — and the response was even better than we expected, considering that the economy still hasn't bounced back in many parts of the world," says Peter Karlsson, marketing and sales manager for industrial power systems in Region Europe.
Much of the buzz surrounded the company's new Stage IV/Tier 4 Final engines, set to hit the market in 2014. While most other engine manufacturers use a diesel particulate filter (DPF) as part of their Stage IV/Tier 4f solutions, Volvo Penta uses just selective catalytic reduction (SCR) and light exhaust gas recirculation (light EGR) technology, both of which were on prominent display at the bauma stand. The stand was staffed by more than a dozen Volvo Penta experts, who were on hand all week to explain the technology and answer visitor questions about the new engine range.
Volvo Penta spans bauma
But for visitors roaming the 555,000 m2 trade fair grounds, the Volvo stand wasn't the only place to encounter Volvo Penta: the company's engines were also on prominent display at the stands of several of its OEM customers.
"The number of exhibitors displaying Volvo Penta engines at bauma has grown exponentially from three years ago," Karlsson says. "This means our products have greater visibility here than ever before. But it's also strong evidence that our overall presence in the marketplace — not to mention our market share — is increasing."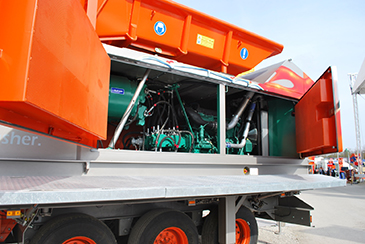 At its open-air bauma stand, German shredder manufacturer Arjes affixed a 'Powered by Volvo Penta' sign to its bright orange VZ 950D trailer shredder — the company has recently started using 16-liter Volvo Penta engines in one of its largest shredder models, and it wanted everyone at the show to know. "This is our first machine to use Volvo Penta engines," Arjes vice president Thomas Hayn explained. "We weren't entirely happy with our previous engine provider, so we switched to Volvo Penta.
"It was an easy decision to make: Volvo's prices are attractive, and they use modern, cutting edge technology. And because many customers also use Volvo Construction Equipment machines alongside our shredders, the ability to repair a Volvo Penta engine at the same service point is a major advantage, as well."
The Volvo Penta-equipped VZ 950D will hit the market in May, and Hayn says the company's smaller models, the VZ750 and VZ850, will follow suit by the end of the year.
"We're looking forward to a long relationship with Volvo Penta," Hayn says.
At the opposite end of the showground, a Volvo Penta engine was clearly visible in one of WOMA's large 700Z ultra high-pressure units, which can be used for heavy concrete demolition or multi-user industrial floor cleaning with pressurized water.
The German pump manufacturer has been using Volvo Penta engines for years — although, depending on the market, customer requirements and application, WOMA's high-pressure units can be fitted with engines from a variety of manufacturers.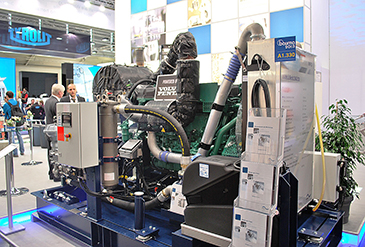 But Volvo Penta offers some advantages because of its common base engine design and efforts to decrease fuel consumption. "Volvo Penta has a worldwide presence and an excellent service network, which is a big advantage for us, since more than 80% of our products are exported," says Stefan Hörster, vice president of sales and marketing.
And for customers, the engine brand is frequently a crucial factor in purchasing decisions. "Seeing the Volvo Penta name inside a WOMA high-pressure unit can often influence a customer," Hörster says. "The brand is well known, and Volvo Penta engines are seen as being highly reliable."
From one end of bauma to the other, and even far away from its own stand, Volvo Penta engines enjoyed a high profile — as well as attention and praise. "We're fortunate to have such strong partnerships with our OEMS and with the other members of the Volvo Group," Karlsson says. "It's in large part because of them that bauma 2013 was our best trade show ever."
Source: Volvo