Following an excellent show in 2011 NTM will be attending the Plant and Waste Recycling Show (PAWRS) 12th – 14th June in Paignton, Devon, once again (Stand N50). Last year NTM won the PAWRS award for 'Best Recycling Vehicle of the Year' with its three compartment RCV. This year NTM will be showing two of its innovative recycling, refuse collection vehicles, including a Plastic Body vehicle from NTM-LinkTip.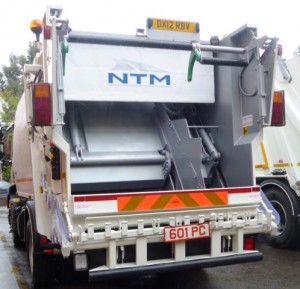 The first of the vehicles on display on the NTM stand is the, 15tonne K-2K (11.4 cubic metre split body 70/30) demo vehicle. One of the key benefits is that that the entire body, including the bar lift, is entirely NTM designed. Not only does this factor make the vehicle 'easy on the eye', but the unseen benefits are that it is mounted on one sub-frame, giving optimum distribution of load over the chassis rails. Also, the hydraulics and electrics are fully integrated as one body unit.
The vehicle, which is mounted on a 15t DAF FALF55 chassis, has been designed to accept two fractions of waste and the unit comprises a 70/30 split rear loading body. The 30% compartment is sealed during unloading of the 70% with a uniquely designed compaction door. The tailgate is fully squared off to prevent refuse spillage.
The demo vehicle is fitted with NTM's own bar lift at the rear, but other types of lifts can be fitted. NTM's managing director Paul Westley said, "The vehicle has proved to be extremely popular with our current customer base and we are excited about showcasing this product at PAWRS"
A key unique feature to this NTM vehicle is the fully proportional manual over-ride control levers for the compaction mechanism. Which in effect, if for any reason a switch fails elsewhere on the vehicle, the operators can still continue with their rounds without returning to the depot for repair.
NTM compact RCV's are incredibly popular and the preferred choice for many local authorities, not just for their impressive payload capacities, reliability and innovation but also for the vehicles ease of use – simple but highly effective. NTM can rightly claim to be the market leaders in the supply of four to 15 cubic metre refuse collection vehicles in the UK.
NTM recently acquired LinkTip, whose Polybody was launched back in 2008 at the RWM exhibition. The product has grown in popularity year on year and it is now a key part of NTM LinkTip's business, used nationwide to collect mostly food waste by local authorities, contractors and private companies. At PAWRS this year NTM LinkTip will be showing its 7.5 tonne Plastic Polybody vehicle, which is a lightweight and heavy duty truck with an enclosed plastic body. The vehicle is equipped with a single sliding door and binlift.
The Polybody is made from tough, durable, polypropylene, which is a superior plastic with numerous qualities that include, a high heat resistance, which means that it will not be effected by the elements and is UV stable, it's non-corrosive, extremely lightweight , non-staining and practically maintenance free. The 'wonder' material, which has been used to make bodies in the Fire and Rescue services for many years, also benefits from a high impact strength, and should one section be damaged, it can easily be replaced.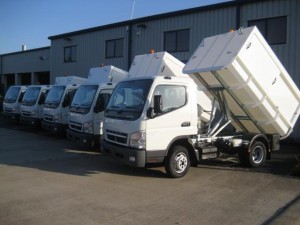 The plastic body can be mounted on almost any chassis (the model on display is mounted on a Isuzu N75.190 Easyshift) and it's also fully recyclable in that the body's life span is approximately 14-years, so the body will outlive the vehicle on which it's mounted, which is five to seven-years. The longevity of the body would technically allow the user to transfer it from one chassis to another!
NTM LinkTip's Polybody trucks are 100% UK manufactured. All of the Polybodies are cut, welded and constructed by hand and then chassis mounted in the NTM LinkTip factory, based in Willenhall in the West Midlands.
Another huge plus is that the Polybody delivers a staggering improvement in payload. Figures based on the first model built show a massive 120% increase in available payload compared to a conventional steel body of a similar type on the same chassis.
For operators this obviously has a number of significant and tangible benefits. Firstly, operators will have the potential to more than double the load each vehicle can carry, meaning fewer journeys, better collection efficiency and a reduced carbon footprint.
The NTM LinkTip team will be on hand at PAWRS to talk to visitors about the advantages of NTM LinkTip manufactured vehicles and of course will be handing out their 'special Pork-Pies' which have become synonymous with NTM at all their UK shows!

Source: NTM-GB News Room