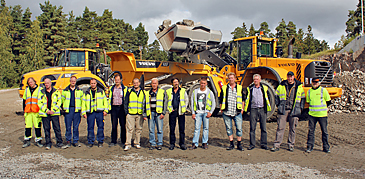 Deep inside Volvo Construction Equipment's Technology function, engineers are busy developing innovative ways to increase fuel efficiency and productivity.
Getting machines to do more while using less fuel are two of the most important factors on a construction site. Once the equipment is selected and the site layout planned, the main variables affecting the success of the overall operation is operator behavior. With the massive difference between an experienced and novice operator – and an equally massive difference in the cost/benefit ratio – Volvo Construction Equipment (Volvo CE) is researching a system which will help less skilled operators work as efficiently and productively as the best and most experienced operators in the industry.
"The operator has a great influence over a machine's productivity and fuel efficiency," says Bobbie Frank, alternative drivetrain research engineer at Volvo CE. "In the future we will see advanced systems develop that are less dependent on operator skills. At present this technology is still in its infancy but there will come a time when Volvo machines actively guide operators, and even control the primary functions."
Measuring operator deviation
Recently in Eskilstuna, Sweden, 80 operators took part in a Volvo study whose aim was to discover the differences in fuel efficiency and productivity between different operators performing identical tasks in the same Volvo L220F wheel loader. The operators were grouped into four categories – novice (with 2-10 hours wheel loader operating experience), occasional (with machine knowledge but not frequent use), test operators (Volvo employees who operate wheel loaders regularly but not professionally) and professional operators (those who work with wheel loaders on a daily basis). Each operator performed the same tasks in three different simulated work sites: a short loading cycle in rehandling material with a load receiver, a load and carry uphill cycle onto a conveyor belt in rehandling material and a short loading cycle loading shot rock onto a load receiver. All parameters were isolated – except the operator. Data such as bucket load, vehicle speed, use of accelerator and brake pedal was recorded along with fuel consumption. From this data fuel efficiency in ton/l and productivity in ton/h were calculated.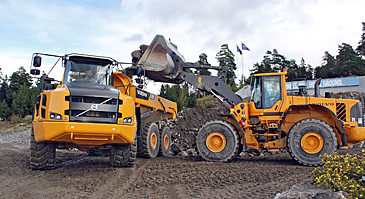 "This study focused on how operator behavior affects the fuel efficiency and productivity of wheel loaders working in bucket applications in production chains," says Frank. "The results showed an enormous difference between fuel efficiency and productivity between operators of differing expertise. Between the novice and the professional operator productivity increased up to 700% and fuel efficiency increased by up to 200%. When novice operators are excluded from the results, there is still an increase of up to 300% in productivity and 150% in fuel efficiency.
Increased machine intelligence
"The results from this investigation highlight the opportunity to reduce costs through optimized operator behavior," says Frank. "We can see that the operator has a great margin of influence over the fuel efficiency and productivity of the machine. If we could raise the efficiency and productivity of all the operators in this study to the same level as the operator with the best results, it would add up to a big saving for our customers."
"By developing an advanced control system that assists the operator, we should be able to decrease human influence and actively help operators work more efficiently without reducing productivity," continues Frank. "Volvo cabs of the future will assist the operator by presenting information in heads-up displays and other innovative approaches. Through haptic controls (technology which takes advantage of the sense of touch by applying forces, vibrations, or motions to the user) we will see the machine interacting with the operator and giving feedback."
What the future holds
At Volvo CE there are hundreds of research projects, investigations, tests and experiments underway – the company's engineers are looking ahead and developing innovative technology for future machine designs. "This study is only really the beginning of this research and it will be developed further and used in a number of different ways," says Frank. "The next stage is to find – using virtual simulations – the optimum way of operating a machine. It will be interesting to see how this compares to the top operator from our investigation. There is a lot of potential to develop an advanced operator assist system and training tool with these results and, with more data from different machines in other applications, site managers could use this information to set the pace of production and optimize the overall efficiency of the entire job site."
Source: Volvo News Room