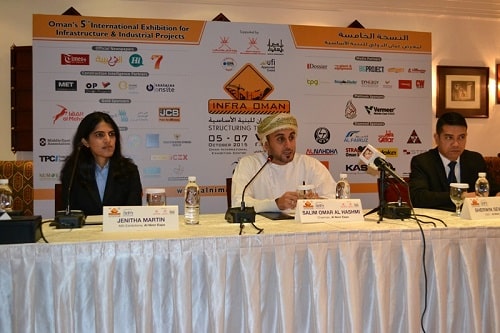 Infra Oman 2015, the 5th edition of Oman's International trade event for infrastructure & industrial projects will be held from 5 – 7 October 2015. It is organized by Al Nimr Expo and supported by the Ministry of Transport and Communications, Ministry of Regional Municipalities & Water Resources and the Muscat Municipality. His Excellency Dr. Rasheed Al Safi Khamis Al Huraibi – Chairman of the Tender Board will preside over the formal inauguration of the Exhibition on 5th October at 10:00am.
The exhibition is also supported by Austrian Trade Commission, German Industry & Commerce Office (AHK), German Near & Middle East Association (NUMOV), Trade Promotion Council of India (TPCI), Embassy of the Republic of Indonesia, Iran International Exhibitions Co., Trade Promotion Organization of Iran (TPO), Public Establishment for Industrial Estates (PEIE), Spanish Economic & Trade Office, Trade Promotion Agency of Andalucia (Extenda), Middle East Association, UK Trade & Investment (UKTI), Ministry of Economy of the Republic of Turkey, Concrete Sawing & Drilling Association (CSDA) and Oman American Business Council (OABC).
As the Sultanate of Oman is pushing ahead with its rapid development with the ongoing construction of major infrastructure projects in many parts of the country, more development projects, costing billions of dollars, are set to be implemented in the coming years as the Sultanate takes concrete measures to diversify its economy. Much of the expansion is fueled by the desire to alleviate pressure on Muscat's main port and airport, transforming the capital into a more attractive tourist destination.
Infra Oman is the largest gathering of decision makers from across the infrastructure and energy sectors including government representatives, developers, and consultants, offering you the opportunity to showcase your company's abilities, develop new business contacts and maintain market share through gaining first-hand knowledge on upcoming projects and industry trends.
The exhibition will focus on Construction Requirements, Green & Future Buildings, Heavy Equipment & Technologies, Hotel & Tourism Projects, Industrial Free Zones, Industrial Manufacturing, Power & Water Technologies, Tools & Equipment's, Transportation & Logistics, Infrastructure Projects – Roads, Airports, Railways & Ports – Build & Supply and other Development Projects. Infra Oman will also comprise of companies related to waste management, power & renewable energy and fire safety & security.
Infra Oman 2015 will feature more than 200 local and international exhibitors from countries like Australia, Austria, Canada, China, France, Germany, Indonesia, Italy, Iran, Kingdom of Saudi Arabia, Lebanon, Libya, South Korea, Turkey, United Arab Emirates and The United Kingdom. Infra Oman will also include country pavilions from India, Iran, Italy, Turkey, Saudi Arabia and the United Kingdom.
Salim Omar Al Hashmi, Chairman of Al Nimr Expo, said, "Infra Oman is the ideal platform for all contractors and developers to meet, thus giving them an opportunity to present their projects and achievements and source their requirements. Infra Oman has grown significantly since its inception in 2011, thus establishing itself as the Middle East's leading infrastructure and industrial projects exhibition."
Jenitha Martin, Managing Director – Exhibitions, said, "The event is also meant to provide local and international companies the opportunity to introduce a range of their products, equipment, technologies, concepts and services to their target clients mainly including the decision makers and top officials of companies in Oman's vibrant building and construction industry. In continuation, it will also ensure being the complete solution provider to the exhibitors and the visitors in the construction sector."
The Diamond Sponsors are Al Fairuz Trading & Contracting Co. LLC, Larsen & Toubro (Oman) LLC, Galfar Engineering & Contracting SAOG, Al Nahdha Overseas LLC, Consolidated Contractors Company Oman LLC (CCC), Deebaj National Enterprises LLC, Doka Muscat LLC, Khalid Bin Ahmed & Sons LLC, RMD Kwikform Oman LLC, Salem Mohiyaddin Bin Saif & Bros. Trad. & Cont. Co. LLC, Sezai Turkes Feyzi Akkaya [STFA] Construction Group, Strabag Oman LLC, Platinum Sponsors are Al Watanyiah United Engineering & Contracting Co. LLC and Vermeer Middle East FZCO, Gold Sponsors are Al Maha Petroleum Products Marketing Company SAOG, Muna Noor Manufacturing & Trading LLC and Muscat Overseas Group – JCB Dancing Diggers.
Infra Oman is the first and only exhibition in Oman to be BPA audited. The exhibition is also enlisted as a UFI member by the Global Association of the Exhibition Industry (UFI), a well-recognized representative body of the international trade fair sector.
The Exhibition timings of Infra Oman are 10am – 1pm and 04.30pm – 08.30pm. To get more information about Infra Oman 2015, please visit www.alnimrexpo.com/infraoman. To reserve your stand in the exhibition, please contact Ms. Jenitha Martin, Managing Director – Exhibitions on tel. no. +968 24700656, mobile no. +968 94041616, or e-mail info@alnimrexpo.com.