The recent COVID-19 Pandemic, originated from the Chinese city of Wuhan, has hit the world hard. Things are getting scary and the overall picture is grim. It has changed the world to a level that nobody imagined. Doctors, nurses, support staff and social works are overcome with lassitude. The government's response was lackluster and shrouded with political calculations. Working online, social distancing and disinfecting are becoming new normal. However, apart from these obvious things life is changing in many ways. In my opinion, out of these changes, few will be permanent even after this pandemic is over.
Problems bring opportunities too. The evolution of the human race can't be defined without acknowledging that the greatest innovations were made in difficult times. Above all, we all know necessity is the mother of invention. In case of any emergency, many stakeholders get involved and try to alleviate the situation for the affected. However, here I will restrict myself to the construction. Sounds weird, yes it does as we usually ignore the role of construction in emergencies and the role of the built environment in our lives.
Innovative construction techniques can help us to construct faster during disasters to provide shelter for homeless people or quarantine facilities for pandemic patients. However, we can adopt a pro-active approach to build healthy spaces to reduce health risks. Building healthy spaces can also keep us fit and active during quarantine times. The emphasis on healthy spaces is because humans spend 90% of the time in the built environment, which indicates that inextricable link of healthy spaces to human beings. This article provides an insight into the following domains
Fast Construction during emergencies or disasters
Buildings healthy spaces and reducing the health burden
Fast Construction during emergencies or disasters
The Chinese constructed a 1000 bed makeshift hospital in Wuhan, a city of 11 million people in Hubei Province, to treat patients tested positive or suspected for the coronavirus. This 25,000 square meters emergency hospital having two floors was completed in 10 days,  surprised many across the globe. It has several isolation wards and 30 intensive care units (ICU) and a staff of around 1400 people. The Chinese are known for constructing places swiftly, but this project drew more attention because of COVID-19 coverage.
Pictures of several excavators and bulldozers leveling the ground went viral on social and mainstream media. Later Chinese setup live streaming of the site and millions witnessed the completion of a fully equipped hospital from scratch. According to the state media a team of 7,000 carpenters, plumbers, electricians, and other specialists worked around the clock to build the Huoshenshan hospital. In tandem to this facility Chinese also completed. In tandem, the Chinese completed Leishenshan hospital which has 1600 bed capacity. Earlier in 2003, China completed a hospital in 6 days to tackle the SARS virus.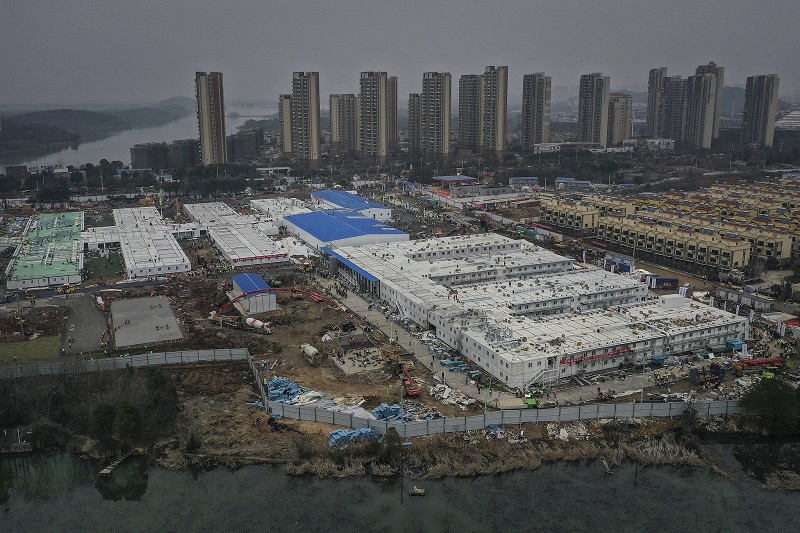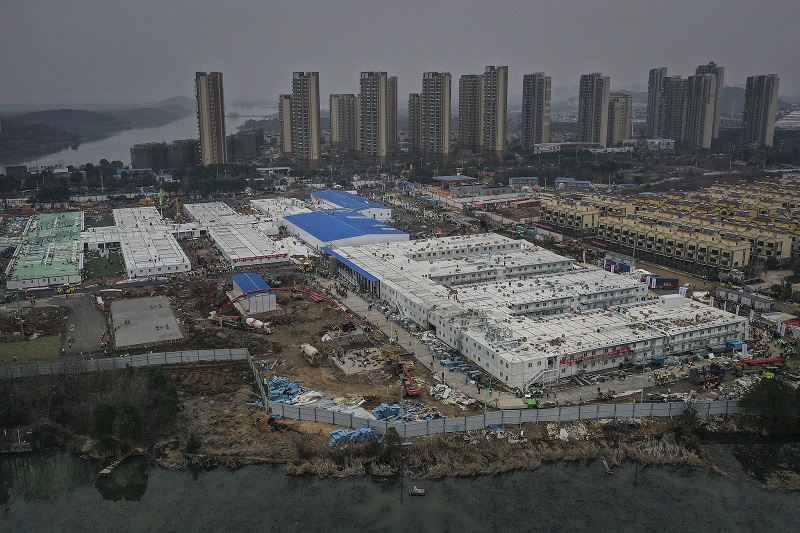 How did they manage to design and construct a facility in 10 days while many hospitals take years to construct? The answer is prefabricated units or elements. David Hartley is the managing director of engineering company NTX reiterated the fact that prefabricated units are the only solution to constructing at such a fast pace. During the normal construction process first, you have to build a foundation and then superstructure. Whereas in fast pace construction foundation and building envelope can be built in parallel which will ultimately save precious times during the crisis. Prefabricated elements are made off-site while a team prepares a foundation on the actual site. These units are fully equipped having the desired facilities and are designed like Lego blocks which ultimately fit-in on-site to give a fully furnished facility that can be used flawlessly.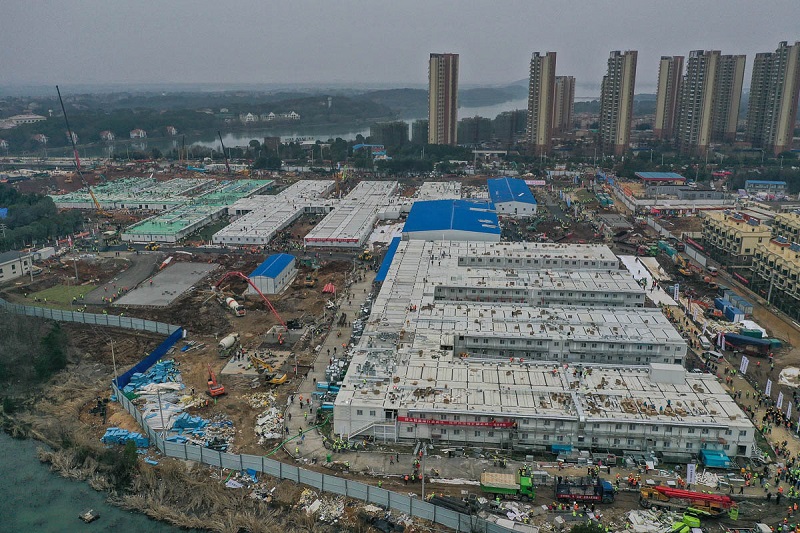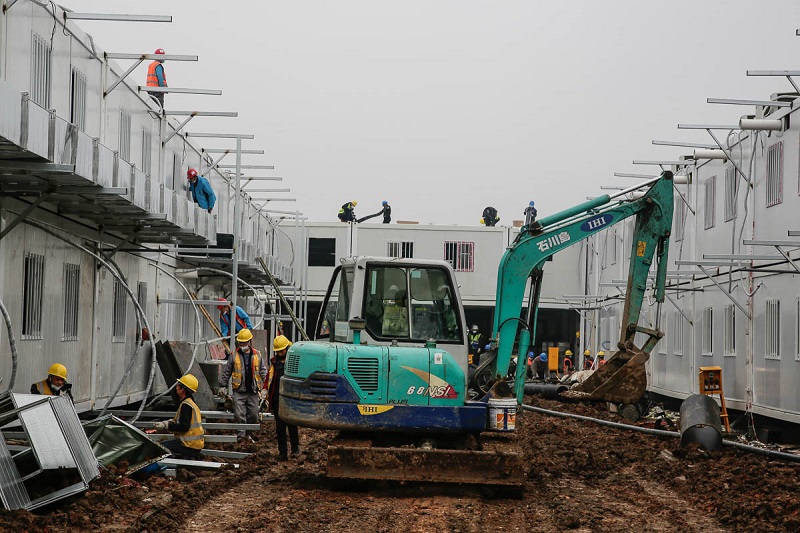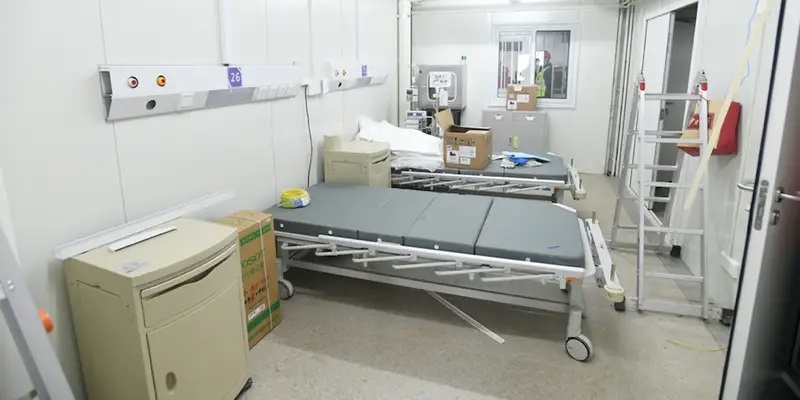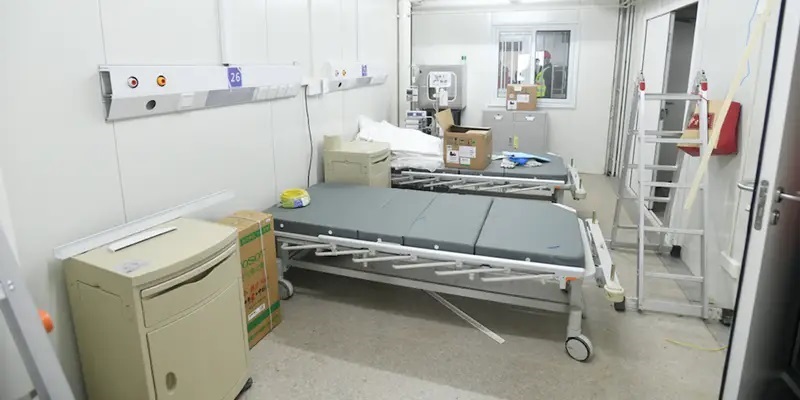 A Chinese prefab construction company holds the record of constructing the world's fastest 57- story skyscraper, known as Mini Sky City, in 19 working days in the Hunan provincial capital of Changsha. According to the vice president of the company, they assembled three floors daily using the modular construction method. Broad Sustainable Building spent four and a half months fabricating the building's 2,736 modules before construction began. Mini Sky City has 19 atriums, 800 apartments and office space for 4,000 people. Liu Peng, the associate director of the engineering consulting firm Arup Beijing, said the method was worth developing because it could become a safe and reliable way to build skyscrapers quickly.
Instead of bespoke structures prefabricated labs, trauma centers, hospital rooms, and medical centers are being constructed by BLOX in their factory in Alabama, USA. Digitization in construction, 3-D printing technologies, and robotics have enabled engineers to execute the designs more efficiently. Prefabricated facilities are sustainable because of less embodied energy and material waste along with several other factors. India, in which a huge chunk of the population is deprived of in-house toilets facilities, has introduced a 3-D printed toilet facility that runs of solar power to solve the open defecation problem. Qatar host to 2022 FIFA World Cup has built a complete stadium out of shipping containers that can be taken apart after the world cup and will be re-used again somewhere. All these examples are showing the potential and benefits of modular construction. Modular construction allows workers, engineers, and contractors a lot of flexibility in terms of working conditions, time, cost, material use, and innovation.
Buildings Healthy Spaces and Reducing Health Burden
In light of the recent pandemic, the urgency of constructing or making our spaces healthy is unprecedented. Building's role in human health is enormous however it goes unnoticed in our daily life, especially during design and construction processes. We are breathing, sleeping, working, playing and eating in the built environment while making contact with various surfaces. Many factors of the physical environment have a significant impact on day-to-day health and productivity, but it is often the interactions between multiple environmental factors that matter most. Comprehensive and interdisciplinary approaches are necessary to meaningfully address the complex issues of human health and well-being. The existing health care system is designed to address health issues after people have already become sick. With the rising cost and population, it is extremely difficult for healthcare systems to cater for the ailing. The concept of the healthy building is based on a proactive approach to design and construct spaces to enhance human health. The International WELL Building Institute, an organization focused on the health and wellness of occupants in the built environment.
"IWBI's work centers on providing evidence-backed solutions that advance better health and well-being in the places and spaces where we spend our lives,"
said IWBI Chairman and CEO Rick Fedrizzi. WELL recognizes that many behaviors are subconsciously dictated by external cues, and thus it carefully considers interactions between humans and the built environment that shape not only our physical health but also our behavior. IWBI certifies more than half a billion square feet of commercial space in 58 countries.
Building managers are now having to learn new tasks and preventive measures in an age of pandemics, QuadReal Property Group head of special projects Cheryl Gray said. Gray also is the president of the Institute of Real Estate Management, which recently published new guidelines property managers could follow during the coronavirus outbreak. The WELL building standard encompasses all the elements that can influence human health. The following are the 10 features on which IWBI measures the performance of the buildings.
Image Courtesy IWBI
Focusing on these areas a building can be more comfortable, drive better choices, and generally enhance our health and well-being leading to reduce health risks. The built environment is essential in preventing disease especially through its air, water, and material related strategies. Air pollution is the number one environmental cause of premature mortality. Outdoor air quality is deteriorating, and ambient air diffuses easily, even the distant sources of pollution have an immense impact as we breath 15,000 liters of air every day. Poor ventilation practices can fail to address these sources, exposing us to volatile organic compounds (VOCs), polycyclic aromatic hydrocarbons (PAHs) and microbial pathogens. Another way in which indoor air quality may be diminished is via surfaces, which can accumulate airborne germs.
Restriction of known hazardous ingredients found in building materials, specifically in those that are newly installed, aims to reduce the risk of exposure, whether directly within the indoor environment or through environmental contamination. This also helps to push for reformulations of key building materials and products and promotes innovation in green chemistry. Reducing hazards associated with lead also necessitates minimizing lead in other building materials, including paints. The global supply chain for material production is complex and multi-tiered. Construction projects consume a variety of materials and the right choices can reduce the accumulation of toxic indoor environments.
The global burden of mental health illnesses is significant. The role of mental health is human life can't be overlooked as the current lifestyle is quite sedentary. Regular physical activity is essential to achieve optimal health, including weight management, chronic disease prevention, and fitness maintenance. The majority of people aren't getting enough level of physical activity to prevent type 2 diabetes, metabolic syndrome, obesity, heart disease, and other chronic conditions. Various components of the built environment can provide an active lifestyle to occupants to reduce the health risks associated with a sedentary lifestyle. Stair accessibility in buildings, active furnishings, active transportation, access to and use of mass transit, and availability of physical activity facilities near workplaces and homes are the few strategies that can help to achieve the required physical activity promoting active daily routine.
In conclusion, we can say that people will be looking at buildings differently, in fact, they already are. The mass population who is working from home these days and will already be feeling the role of the built environment in their health. Succinctly staying that next time people will be wondering that either they are living and working in a healthy space or not.
Author: Muhammad Shoaib
Muhammad Shoaib is Sustainability and Project Management Consultant. He is also a Collaborative Facilitator of ILFI in Pakistan and ex-UN-SDSN Pathway Fellow. He holds LEED AP, WELL Faculty, and Building performance Analyst Credentials. He can be contacted @ Linkedin or email: [email protected]