The 2nd Plantworx Construction Machinery Show drew to a close last week (4th June) following a spectacular three-day action packed event. The show opened to gale force winds and driving rain – but this did not dampen the spirits of visitors who flocked through the gates to see the plethora of brand new equipment on display at the show's new Bruntingthorpe Proving Ground home in Leicestershire.
The Plantworx team has also reported a record footfall of more than 14,000 visitors over 3 days, up 18% on the 2013 event.
A successful event – hailed as the 'best' UK construction equipment show!
The show, which spanned 135,000 square metres and was home to 344 exhibitors for three-days, was deemed a huge success and following the show and over the weekend social media platforms such as Twitter and Facebook were 'buzzing' with positive comments from both exhibitors and visitors alike.
Machine operator and visitor Mark Richardson said via twitter
"Plantworx you've put on a fabulous show, your whole team and all exhibitors deserve a pat on the back."
Ollie Kitchin, Kitchin Plant Hire also visited the show he said
"A lot of hard work certainly paid off, congratulations to all involved, looking forward to the next one."
Adrian Patrick, Adrian Plant Hire was equally impressed
"Well done on a great show all your hard work paid off see you in 2017."
Plantworx exhibitor, Neil Richardson from Garic said
"It's a wrap – brilliant show, see you in two years! Thanks to all that visited us!"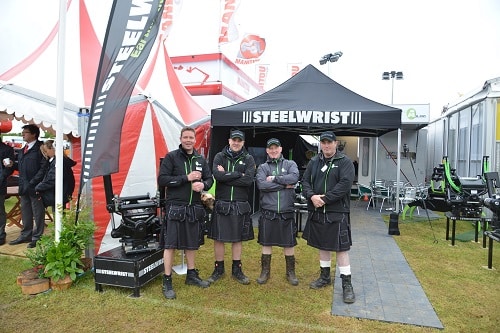 Pat Bulcock managing director, Steelwrist UK said, "This show has exceeded our Scotplant record! We will be back in 2017 without a doubt."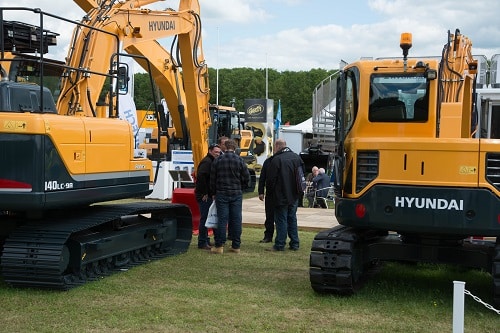 Rick Still Hyundai's UK & Ireland sales manager said,
"Hyundai's presence at Plantworx was felt throughout the whole of the UK's construction equipment community. Throughout the 3-days of the show the stand was a hive of activity with visitors. The demo plot was a big hit with operators queuing to try out our new range of machines which were well received by all. Our UK dealers were also present on the stand and met with customers nationwide many of which placed significant orders. Hyundai were honoured to be part of the UK's largest working construction event and would like to congratulate both the Plantworx and Hyundai teams on delivering what was a memorable and worthwhile event – we are looking forward to the 2017 show."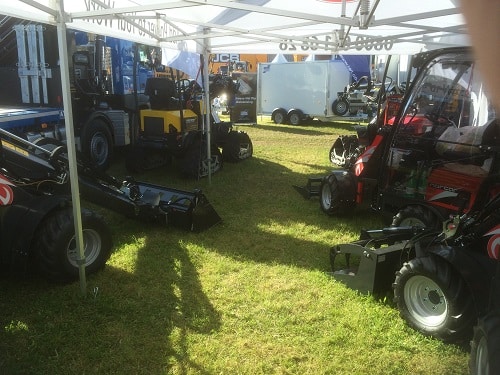 New exhibitor Norcar said,
"It was an excellent show for Norcar UK and the newly appointed distributors confirm their sincere thanks to the dedicated Plantworx Team for their help and support, which was clearly above and beyond the call of duty!"
The Anglo/Finnish trade partnership between Norcar Finland and Moorend Limited, based in Gloucestershire, was only signed and sealed just before the show and stand bookings had effectively been closed.
However, Plantworx managed to accommodate a last minute space booking then it was touch and go whether the full range of 4-Wheeled Miniloaders and the innovative new-generation 4-Track Eco-Miniloaders would be shipped from Finland in time for the show.
Andy Cox, managing director and senior design engineer for Norcar UK confirmed,
"It was a close call, but we were helped in all aspects by the Plantworx management team; not only to obtain the right space and best position, but also in handling the on-site logistics at the end of a very busy build-up day."
"Plantworx proved to be a great three days for Takeuchi, we saw plenty of plant guys new and old who want to see what's new and test out these new machines. It proved to be a good easy to get to event for the industry – it was packed full of machine demos and that's what visitors want to see."
said, Chris Bushell UK & Eire sales manager Takeuchi Mfg UK
"Full marks to the PLANTWORX team in delivering the biggest show yet and at a new venue. My straw poll of exhibitors indicates that we have alighted on a popular venue at Bruntingthorpe with the wide open spaces available making set up and break down much easier".
Said Rob Oliver, chief executive CEA.
Plantworx makes National TV.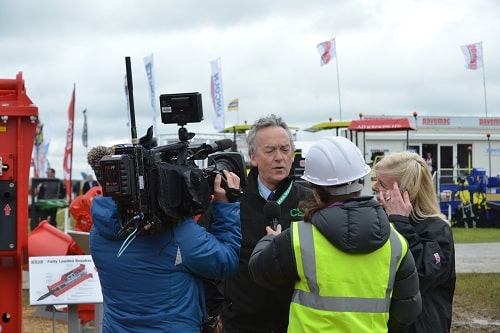 The show even attracted the attention of BBC Breakfast news who broadcast live from the event from 6am to 9am. BBC Breakfast reporter, Victoria Fritz donned a hard hat and hi-viz and interviewed leading figures from the construction equipment industry including Rob Oliver, chief executive of CEA (Construction Equipment Association), hosts of the UK's largest working construction equipment event, Jacqui Miller, global marketing director Miller International, Paul McPherson, sales & marketing director Terex and Nick Allen, managing director Volvo Construction Equipment. The programme was viewed by an estimated 1.5million viewers and went along way to raising the profile of the Construction Equipment Industry.
Cheque books at the ready – deals done at the show.
Day two of the show saw the sun peeping through the clouds and the wind and rain were a almost a distant memory! The aisles were once again filled with happy visitors many with cheque books in hand eager to update their fleets. Many deals were done at the event – too many to mention them all – but here are just a few that we got wind of!
L Lynch Plant Hire signed a £5.8m deal to buy 50 Cat 320E L Hydraulic Excavators at the show. The machines were sold by UK and Ireland Caterpillar dealer Finning.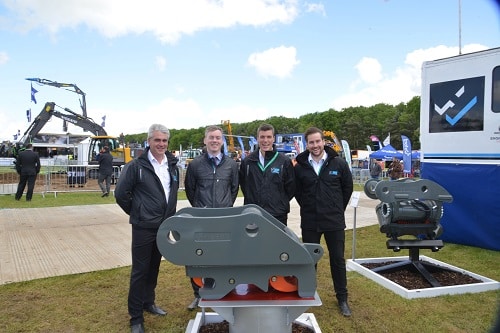 This deal was followed by a visit to the Hill Engineering stand where L Lynch placed an order for 50 Tefra couplers to support the new Cat machines – this deal is worth £120K
Merrill Lynch, director at Lynch Plant Hire said:
"This investment is indicative of the growing demand in the plant hire market due to huge UK projects, including Crossrail, M25 widening and moving forward HS2.
We specify Cat machines and Hill Engineering's Tefra quick hitch as they complement each other perfectly and their reliability is second to none."
Mark Houghton, managing director of Law Plant and Tools, purchased six new Yanmar excavators from A&Y Equipment. The new machines will join the company's hire fleet.
Hewden finalised a deal at the show investing around £1m in a range of Miller breaker attachments, which will see more than 180 new breakers added to Hewden's attachment portfolio for use with its range of excavators (1.5-ton to 22-ton) and telehandlers (5m to 17m).
"We have worked closely with the Miller team to provide Hewden customers with not only the safest breakers on the market, but a range that adds real value to the onsite solution they provide,"
said Adrian Murphy, CEO, Hewden.
Student afternoon and Stars of the Future!
The final day of the show (Thursday 4th June) was a heatwave! Ice creams were the order of the day! As well as trade visitors Plantworx opened its doors to Students from local schools and colleges in the hope to encourage more youngsters into the Construction Equipment industry. Over 300 children attended the student event – each were presented with a hi-viz jacket, kindly supplied by Plantworx exhibitor Nylacast, and were given a student trail to follow where the children were encouraged to visit participating stands, answer questions and take part in challenges.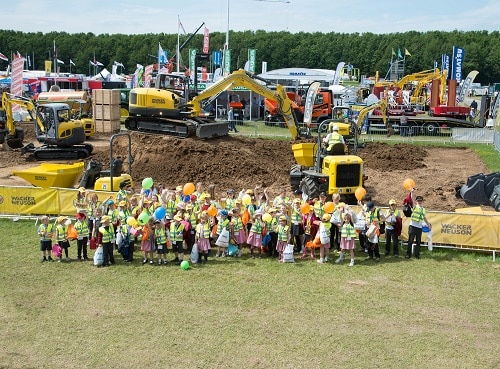 Husbands Bosworth Primary school brought along 75 of their students ranging in age from 5 – 10 years old. Louisa Morris Head Teacher said,
"This was a wonderful opportunity for the children to see the world of construction machinery. The children have had a wonderful time. Volvo Construction Equipment were particularly brilliant and went out of their way to engage with the children. This was an experiment for us to bring so many of the children – they all had a very good and worthwhile visit."
In a tweet from Volvo CE – the company quoted "One of the children said, that this was the best school trip EVER. Confirmation that the student initiative was a success. "
Rob Oliver chief executive of CEA said,
"The sheer delight on the faces of many of our junior visitors on the last afternoon suggests we may repeat the experiment of allowing the next generation of construction equipment enthusiasts access to the event".
Vanessa Breward, STEM Coordinator for Leicestershire visited the event on the Student afternoon she said,
"I was very impressed by the hard work and effort put in to make the experience great for the schools. I look forward to the exhibition in 2017."
The CPA (Construction Plant-hire Association) also hosted their Stars of the Future plant mechanic award ceremony at Plantworx where more than 350 guests attended the 3rd annual prize giving event which celebrates the very best apprentice plant mechanics in the industry.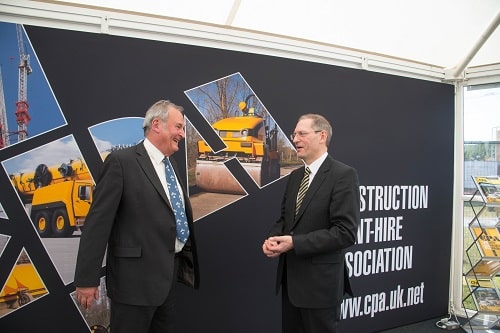 The awards were presented by Bloodhound SSC pioneer Richard Noble – he said,
"Thank you so much for inviting me to present at the Stars of the Future once again, it was a great honour and beautifully organised – I am so glad it went so well. It was a delight to see the pride on the winners' faces who had worked so hard to earn their place in the Stars of the Future hall of fame – great careers lie ahead for these apprentices. I really enjoyed the day and thank you for you hospitality and friendship which is much appreciated."
Onsite awards at Plantworx
Over the three days of the show awards were presented to a number of exhibitors for their outstanding efforts and contributions to the event.
Best Operator Award:
Sponsored by Earthmovers magazine in association with DiggerBlogMan, Bobcat's Robby Bosch was crowned the best operator at the Plantworx show. Robby caught the judges' attention while operating a tracked skid steer loader.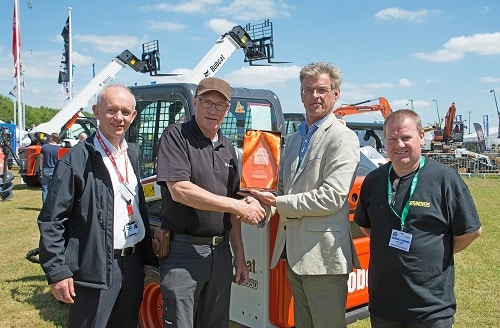 Graham Black, editor of Earthmovers, said, "There were some spectacular performances by professional demonstrators, guest operators and visitors to the event. Those working with tilt and tilt-rotating hitches were particularly good, making a significant contribution to the ongoing industry debate on these time-saving attachments. However, this year Nick Drew (DiggerManBlog) and I focussed on those operators that demonstrated the full potential of their base machine.
"Robby drew a crowd to the Bobcat/Doosan demonstration area with high-speed, high-volume and high-precision work with a number of attachments. But what set him apart was his ability to also coach visitors on the finer points of operating the base machine and work tool."
Robby said,
"In all my years of operating at show grounds around the world I have never heard of any award for the best demonstrator driver. Thank you to Plantworx and Earthmovers for recognising the work that we do.
However, as for my own performance, I've got an easy job as the machines I work with are the best."
Best Demonstration Award:
Diggers and Dozers' editor Mark Anthony was charged with selecting the Best Live Demonstration at PlantworX 2015. His choice was a gravity-defying dozer.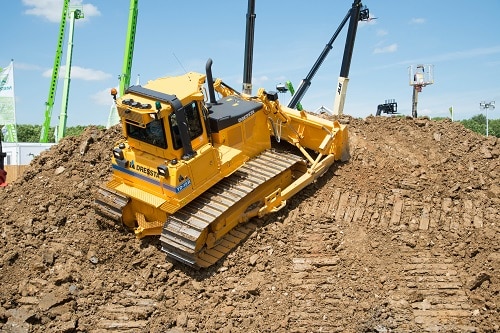 Mark said,
"I have spent almost a quarter of a century watching mobile equipment demonstrations and displays from SED and Hillhead to Intermat, Bauma and ConExpo. I have seen dancing diggers and dancing girls; I have watched skid steer loaders performing stunts; and I have witnessed excavators teetering on the very brink of safety. But the display put on by UK LiuGong Machinery dealer Construction Plant & Machinery Sales was right up there with the very best.
Dozers are brute force incarnate; pushing power over grace; weight above agility. Yet here was a dozer climbing almost vertically, striking a pose before power-sliding back to Earth. Throughout a thrilling display that attracted crowds throughout the three day exhibition, the Dressta dozer pirouetted and wheeled, rose and fell with the power of a rampaging elephant and the elegance of a prima ballerina. And even though it managed to convey the machine's key power, traction and grading capabilities, this was ultimately an illustration of man and machine in perfect harmony; of an operator driving primarily for the sheer thrill of it; and driving by feel and experience rather than by computer algorithm.
Amidst the best collection of technical and highly choreographed displays the UK plant industry has seen for many years, the Construction Plant & Machinery Sales' dozer demonstration was a worthy winner."
Best Stand Safety: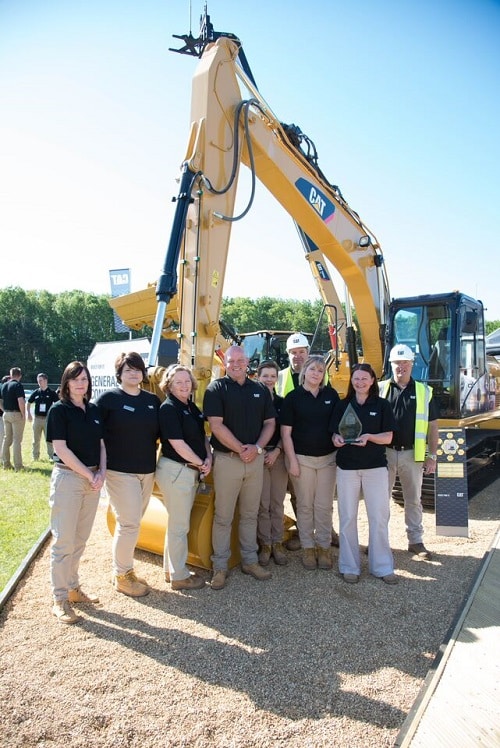 Sponsored and judged by Fuchsia exhibition's Nick Coleman, the Best Stand Safety award went to Caterpillar. Nick said,
"From the moment the Cat team arrived onsite they showed the very best in safety standards. During build up every aspect of constructing their stand demonstrated the amount of thought and planning that went into the procedure. The bringing in of machines was seamless and the construction and design of their demonstration plot was also highly professional and adhered to all the safety rules. Out of the 344 exhibitors Caterpillar was a clear winner."
Best Outdoor Static: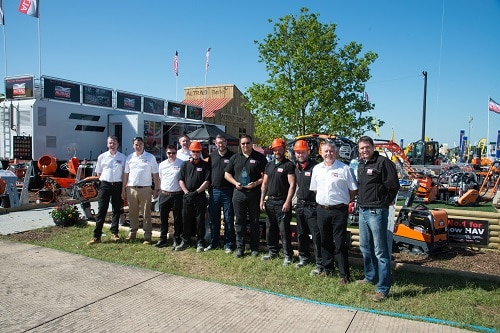 There could only be one winner for Best Outdoor Static and that was Altrad Belle for its ambitious stand construction! It took the company two weeks to construct with the team working tirelessly day and night to complete the 'work of art'. At the heart of the stand was a wooden cabin, hand constructed, complete with solar panels, winches and a pulley to demonstrate the lifting of its new bucket. This was surrounded by underground tunnels, pumping water and an eight foot tree encircled by hand painted small equipment showing their 'green' credentials.
Judging this award, sponsored by the CEA, were Plantworx organising team members Angela Spink and Simon Frere-Cook. Angela said,
"Altrad Belle really went above and beyond in designing and constructing their stand – it really drew in the crowds. Every detail was well thought out and used space to its best potential. Well done to all the team at Belle."
Ray Neilson managing director Altrad Belle commented on the award win,
"We are delighted to have won a Plantworx award for the 2nd year running. When I first saw the team's plan for the stand I thought that it was incredibly ambitious and how they were going to pull this off! Well the team did a sterling job and worked so hard to pull it all together in just two-weeks. I am very proud of the team. Question is what are we going to do in 2017?"
Best Indoor Static: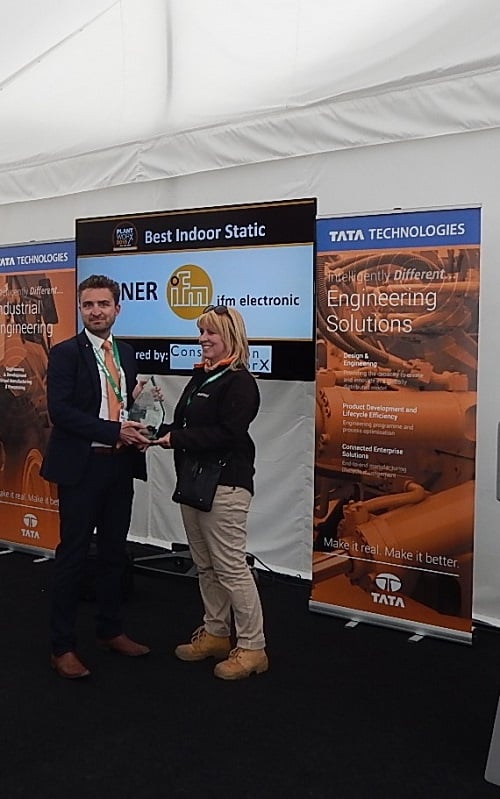 Sponsored by Plantworx and judged by Angela Spink and Simon Frere-Cook from the organising team, this category is a tough one to judge and is awarded to the best pavilion stand and celebrates the best use of a small space. Following a lengthy tour around the pavilion a winner was decided – and that was Ifm Electronic who dedicated their stand to its ecomatmobile system solutions for vehicle and mobile machines. Angela said,
"Ifm really used the space available to its full potential. The stand was welcoming and the stand staff were attentive. The displays were clear and innovative and drew in the crowds. A huge well done to Ifm Electronics."
As Plantworx 2015 closed its doors on Thursday 4th June the feeling amongst its exhibitors, visitors and organisers was one of success. Rob Oliver chief executive CEA said in response to the show,
"The aerial photos of the event are stunning – and underline the fact that we have created a show of substance and clear benefit to the UK construction market. I believe we have delivered on the promise of a show "for the industry, by the industry" with lots of business being conducted.
We will study the detailed post-show responses, but the venue seemed to get strong thumbs up from exhibitors and visitors. The quality of visitors set a new benchmark for the show."
Well that's it for another two-years. Here's to the 2017 event which is taking place Tuesday 6th, Wednesday 7th and Thursday 8th June 2017. Venue to be confirmed – but initial responses all point towards Bruntingthorpe Proving Ground.