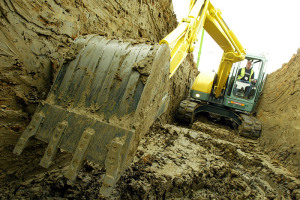 Without modern, efficient plant the construction industry wouldn't be what it is today. It's machinery that makes it possible to create structures on time and within budget, so it's vital for building professionals to stay up to date with the latest developments. PLANTWORX, which will run at Bruntingthorpe Aerodrome from 2-4 June, is an outstanding chance to do just that. The leading live action plant exhibition in the UK, this biennial event showcases all the latest equipment with live demonstrations. If you're in the market for construction machinery this is something you can't afford to miss.
PLANTWORX is a lot more than the UK's largest plant exhibition; it's an opportunity to see the best products from around the world. This year's event will be the largest ever by a huge margin; no less than 342 exhibitors are now confirmed, a 32% increase on the last event in 2013, and overall the show will be 40% larger – more space, more exhibits and more machines.
Equipment on display at PLANTWORX will cover the full range of plant, from hand tools and safety equipment to cranes and excavators. The list of exhibitors includes Caterpillar, JCB, Liebherr and Kawasaki, along with hundreds more. There are plant hire companies, parts and accessory suppliers and trainers. Everything you need to acquire, operate and maintain plant will be on display – and, in the new larger venue for this year's event, you'll be able to see it in action.
There's a lot more going on at PLANTWORX than exhibits. There's a series of briefings running through the whole event aimed at bringing you up to date with the latest developments across the industry. Dealing with everything from soil stabilisation to fuel theft, these sessions will be informal but really useful. The event also has an eye firmly on the future of the industry; the final afternoon is aimed at students and teachers, with a long list of special activities to get young people interested in a construction career.
Previous PLANTWORX exhibitions have been a huge success, attracting large crowds of industry professionals and putting on some excellent displays of machinery. This year, the first at the much larger Bruntingthorpe venue, promises to be better than ever. For anyone who needs plant this is an unbeatable opportunity to see what's new and talk to the people who produce it. Entrance to PLANTWORX 2015 is free, and it's easy to register at the event website.