The very first Plantworx Awards for Innovation winners were announced on Thursday 14th March. The winners were presented with their trophies at a celebration lunch held at 30 Euston Square in central London, hosted by Plantworx exhibition director, Simon Frere-Cook and the Plantworx team.
Other guests included the Award Sponsors, including Howard Beeken from Perkins, who sponsored the Environmental Innovation Award, Vince Wise from Datatag, who sponsored the Security Innovation Award, Colin Wood and Haydn Steele from the Construction Plant-hire Association, who sponsored both the Efficiency and Safety Innovation Awards and Nick Ground President of the Construction Equipment Association and MD of GKD Technik, who sponsored the Engineering Innovation Award.
The awards were given to the most innovative new products introduced to the UK market during the past year, judged by an independent panel of industry experts.
There were an impressive 63 entries and the awards are an accolade to the very best in construction machinery, support products and applications. All of which will be on display at the Plantworx event (14th – 16th May 2013).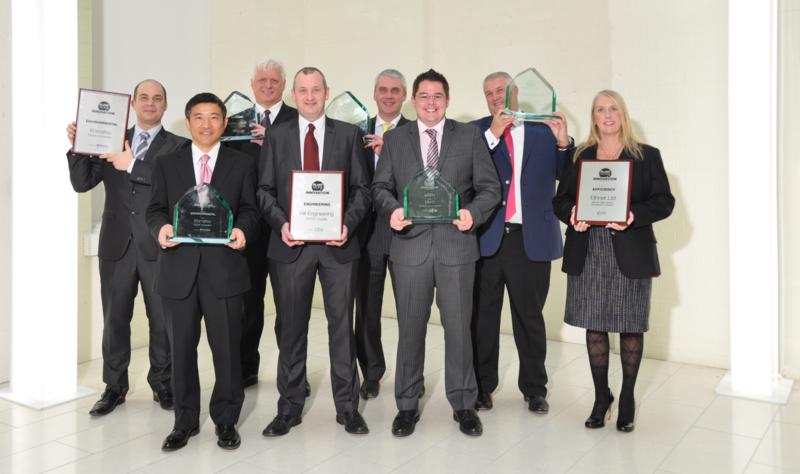 In addition to the overall winners there were a number of companies who have been shortlisted and received a special commendation for their contribution to industry innovation.
It may have been the first PLANTWORX Awards but with a gratifying total of 63 entries, the judges launched straight into the biggest category – Efficiency Innovation.
Efficiency Innovation
Winner: Ethnet – Static Broadband Solution
Runner up: JCB – Ecomax Stage IIIB engine
Highly commended: Prolec – Prolec Machine Engine
Entries varied from a supply chain management system and computer systems to an internet connection system and a variety of machinery. Alongside innovation, the judges were considering how widely the various contenders would benefit the construction industry. At times they were frustrated by the quality of some entries which failed to highlight the key or unique aspects of the product or service.
Having considering each entry on its merits, and after much debate about the merits of various technologies and the seriousness of the problem they addressed, the decision went to Ethnet's Satellite Service. This system allows static and mobile connection even on the most remote site. "Communications can be a real problem for us – especially at remote sites like the hydro electric project in the Scottish Highlands," Steve said. Richard echoed that view as his company works in equally remote areas.
Environmental Innovation
Winner: Komatsu – Hybrid Excavator
Runner up: T.C.P – Fuel cell lighting tower
Highly commended: JCB – Ecomax Stage IIIB engine
The most involved debates concerned entries in the Green Innovation category, as environmental considerations are a factor across the construction sector.
Three of the entries, A-Plant's Power Cube, OnGarde's Hybrid Solar Power Station and TCP's fuel-cell powered lighting tower, concerned electrical generation and storage stood out to the judges from the other entries..
While liking the lack of exhaust after treatment on JCB's Stage IIIB engine, the judges felt that other engines also comply with emissions regulations and decided it should be Highly Commended.
Separating the contenders was difficult. Komatsu's system impressed Mike while Richard said: "It makes a great deal of sense for excavators and saves a quarter of the fuel consumption and consequently CO2 emissions."
Safety Innovation
Winner: Merlo – Dynamic load control
Runner up: Nobel Fire Systems – Stat-X fire suppresent
Highly commended: Hill Engineering (Tefra quick coupler) and Miller (Miller Mate)

Discussions in the Safety Innovations category rather split the judges into two camps, broadly the theoretical and the practical. For instance the 360° vision system entered by Brigade (large road-going vehicles) and Spillard (construction plant) appealed to the judges closely associated with site work.
So the winner had to appeal to all the judges and two candidates stood out: Nobel's Stat-X fire suppressant and Merlo's dynamic load control. Nobel's system is installed in the fire risk area. It can be electrically, manually or thermally activated and dispenses a fine dust which stifles the fire and stays in suspension for up to an hour to prevent re-ignition. While with Merlo's Dynamic Load Control system the machine 'recognises' which OEM attachment has been connected and automatically selects the correct operating parameters in the machine's control system.
Richard liked the fire extinguisher but also said the Merlo system was very clever. Jim favoured the Merlo system as it removes the risk of mistakes; the other judges agreed with his logic and awarded Merlo the prize.
Engineering Innovation
Winner: Hill Engineering – Tefra quick coupler
Runner up: Prolec – Prolec Machine Engine
Highly commended: Cemo – Fuel trolley
There were 17 entries in the Engineering Innovations category – albeit the judges were already familiar with some of the items as they can be entered in two categories. With the considerations now in terms of engineering innovation, some previously discounted products fared better while earlier winners didn't make the cut.
One of the items the judges particularly liked was Cemo's Fuel Trolley which overcame several problems associated with refuelling, particularly petrol-engined, machines on site. The wheeled trolley carries up to 95 litres of fuel but the user never supports more than 20kg and has a hand operated pump to dispense the fuel. Inside the carbon filled polymer tank (which disperses static) is brush matting which prevents heat and static build-up. In the event of a fire the unit will burn but will not explode.
These attributes lead the judges to Highly Recommend Cemo's Fuel Trolley.
This left two familiar contenders, Hill's Tefra coupler and Prolec's Machine Engine, battling for the top slot. Comparing and contrasting the products the judges and noted that a prototype of Hill's coupler was on display at Hillhead but production versions will be officially launched at PLANTWORX.
As the category was Engineering Innovation, the debate moved onto which showed most innovation and did its job most elegantly.
Kevin noted that Hill's coupler has an indicator which signals to the operator that the system has lost hydraulic pressure although the attachment will not detach from the coupler. Richard liked the ease of installation and removal of the Prolec system while Steve felt the Hill gave can't-get-it-wrong confidence.
Eventually the Hill held sway to take the top prize with Prolec a creditable runner-up.
Security Innovation
Winner: Automatrics – Mtrack Proactive
Highly commended: OnGarde – Hybrid Solar Power Station
The final category was Security Innovation. The OnGarde' Hybrid Solar Power Station was good for powering the firm's CCTV tower in remote locations – the judges Highly Commended the product.
The entry that did capture their attention was Automatrics' Mtrack Proactive – a self-powered tracking device. The Thatcham Certified re-chargeable tracking system has a two-year battery life and means the device will still transmit its location even if the criminals disconnect the machine's battery. And unlike other stand-alone systems, there is no need for regular battery replacements.
"This ticks all the boxes, it's got everything," Mike said. The other judges were equally convinced of the Mtrack Proactive's merits and made it the unanimous winner.
Source: Plantworx