The Czech construction market still continues to decline at single-digit pace and certain growth in output is only likely to return in 2014-2015. Cancelled civil engineering construction, particularly in the road infrastructure sector, combined with weaker development in the non-residential segment are lowering expectations for marked recovery in output sooner than 2015.
PMR's latest report entitled "Construction sector in the Czech Republic 2013 − Development forecasts for 2013-2015", looks at the reasons why 2012 was not a good year for the Czech economy. Since the second half of 2011 it has been in technical recession; deeper and longer than expected. Furthermore, the expected recovery may come later than originally forecast. The report also examines the hopes for 2013, when a modest revival of aggregate gross fixed capital formation expenditure is expected.
Czech construction output continued to drop in 2012, the fourth consecutive year of decline, as economic pressures continue to adversely affect demand for construction. In fact, 2012 recorded the steepest decline in output, over 6% reaching some CZK 423bn (€16.7bn), a figure below 2005's construction output.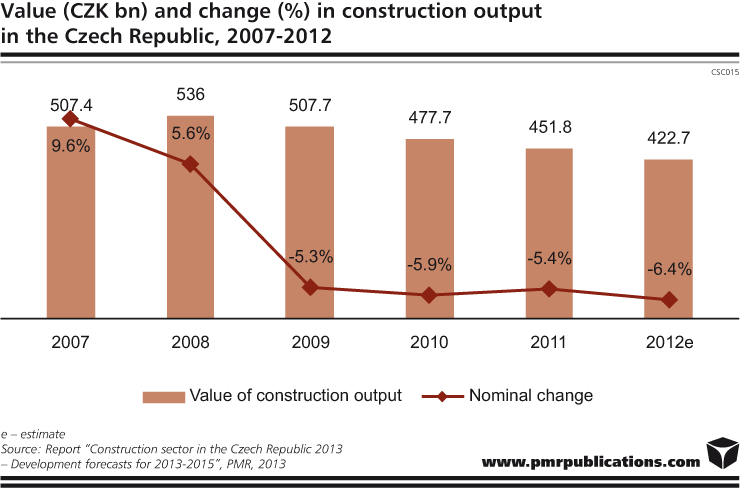 Despite a major decrease, civil engineering construction continued its dominance of construction output in 2012. Maintaining this position since 2008 has been aided by the decline in non-residential construction, which saw years of complete freeze in some segments such as retail development. Preliminary data indicates that civil engineering, which suffered a much steeper drop in output in 2012 than building construction, saw its share of total Czech construction output drop by at least 3 percentage points in 2012 reaching 41%.
Civil engineering's weak condition is a result of cuts in public investment expenditure in 2012, while the deterioration of residential construction may be due to falling real disposable income and much worse sentiment in the household sector. Hopefully, the 2013 budget envisages no further cuts in public investment. In fact, public investment may even increase slightly, given the availability of still large European funds, which must be contracted by the end of 2013 and spent by 2015.
In non-residential construction, the number and value of building permits for new buildings recovered slightly in 2012. The recovery came, however, after a major slump in 2011. The year that followed saw a recovery in developers' interest in purchasing land for the construction of offices and other non-residential space. Whereas in 2011 developers had focused on land suitable for the construction of industrial schemes, 2012 saw a shift towards land fit for offices. The focus in the non-residential sector is therefore likely to be on offices in the coming years and the take-up in that segment is expected to recover. However, the construction of retail, industrial and warehouse facilities is likely to continue to be low in 2013 and possibly the following two years as well.
The residential construction market continues to be extremely volatile with developers still very cautious as demand for residential space is yet to pick up. Housing completion recorded another dive in 2012, when it dropped by almost 20% year on year, reaching approx. 23,000 units. This is a record low in the past decade. However, the number of housing completions is expected to pick up slowly from 2013, but the growth will remain moderate in a single-digit percentage. Prague is expected to continue to dominate the market, with some 40% of the total number of completions coming in the Prague and Central Bohemia area in 2013-2015.
Several factors bear favourably on the forecasts for Czech construction in the coming years: plans for rail construction have been reinvigorated, investment in power construction are likely to pick up and help the civil engineering sector develop positive momentum, and low interest rates will help maintain a certain level of demand for residential space. It's also worth noting how a surging demand for office construction will influence the non-residential market. The Czech Republic has one of the highest shares of urban population in its total population (74%) among CEE countries, a fact that should also influence construction activity in the country's major cities.
Source: PMR