The Plantworx Innovation Award winners were announced yesterday (6th April) at a ceremony held at 10-11 Cartlon Terrace House in central London, the former home of Prime Minister William Gladstone.
Hosted by CEA (Construction Equipment Association)'s chief executive, Rob Oliver, 45 guests gathered to celebrate the winners of the 2017 Innovation Awards, which recognise and celebrate those innovative companies, products and services that have made a major impact in the construction equipment industry.
Judged by a panel of independent experts including journalist and engineer – Margo Cole, CPA's training manager – Haydn Steele, Earthmovers Magazine Editor – Graham Black, Bam Nuttalls head of innovation – Colin Evison, Leonardo's – Dr Carol Marsh, Clancy Docwra's head of security – Ian Elliott and Hugh Edeleanu – chairman of HE Services, the standard and volume of entries this year indicates an industry full of innovative ideas for the construction sector.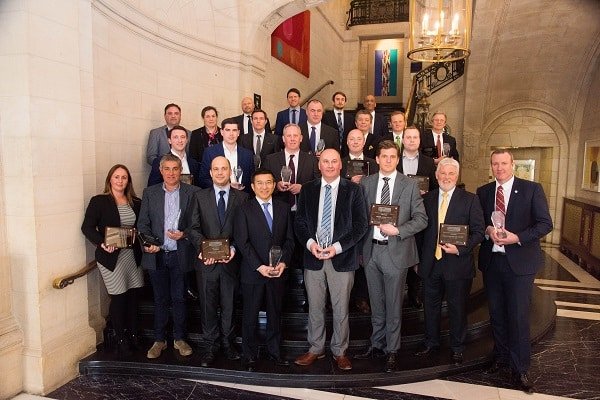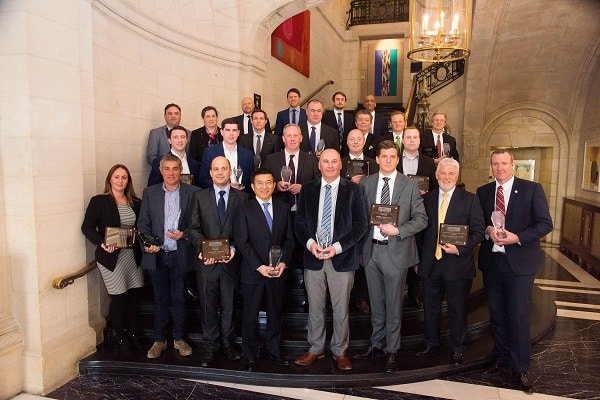 Here we review the innovation categories, the winners and highly commended alongside some of the key highlights and discussions of the day across the award categories.
Security – Sponsored by SKM Asset Finance
Winner: Datatag – MicroCESAR
The judges considered three entries as potential award winners in the Security category: AMI Group's LightBug mini tracking device, European Springs & Pressings' spring mechanism for anti-climb zones, and the MicroCESAR security marking system developed by the Construction Equipment Association (CEA) and Datatag.
Although they could see merit in the other two entries, the judges were unanimous that there was only one winner: MicroCesar.
MicroCESAR was first announced at the Combined Industries Theft Solutions (CITS) conference at the end of 2015, and has been in development ever since. It has been designed to protect small power tools from theft in the same way that the original CESAR System has proved to be a powerful theft deterrent and an invaluable aid in recovery of both compact and larger construction equipment.
It uses the same Datatag security marking technology to give each piece of equipment a unique and permanent "fingerprint" that thieves cannot remove. The combination of a unique Datatag RFID transponder and a tamper proof warning/registration label with an integrated QR code means the Police can quickly and easily verify the ownership of a piece of equipment without special equipment or lengthy laboratory testing.
Power tools manufacturer STIHL has already announced that it will fit MicroCESAR as standard on all its cut-off saws.
Thefts of small power tools are extremely common, and the judges felt that MicroCESAR is likely to make significant inroads into reducing these thefts. The panel was also very impressed by the system's secondary function: stock control. The QR code embedded in the label can be used to access stock management information, as well as on-line health and safety advice and user manuals.
Commitment to Skills and Training – Sponsored by CEA Skills Council
Winner: Hire Association Europe
Highly Commended: Engcon
Highly Commended: A-Plant
The judges were really pleased to see a large number of entries for the Commitment to Skills and Training award, from a diverse cross section of the industry. The plant hire sector was well represented, with the strongest of their entries coming from A-Plant, which was awarded Highly Commended.
The company demonstrated its commitment to upskilling its workforce and also to improving industry safety and compliance through customer training. What particularly impressed the judges was A-Plant's apprenticeship programme; a quarter of the firm's apprentices are female, and the scheme has an impressive 76% retention rate.
The second Highly Commended went to Engcon, for its Tiltrotator Safety Training course developed in association with accreditation body NPORS. The judges felt the company had shown a very responsible attitude by acknowledging the rapid growth in the use of tiltrotators in the UK, and the potential safety issues associated with fitting them to excavators.
But these two initiatives were beaten to the top spot by Hire Association Europe, which won the category with its innovative use of gaming technology for health and safety training, including 360o video, 3D animation, virtual and augmented reality (VR and AR). The first modules are for working at height and cut-off saws, with users working with VR to select the correct PPE and identify areas of risk.
They will soon be followed by modules for dust, noise and HAVS, and other product groups like breakers, angle grinders and diamond drilling. The judges said the HAE's approach is genuinely innovative, and an important step change in trying to ensure health and safety training reaches a wider audience.
Environment – Sponsored by CEA
Winner: Red Rhino Crushers – Red Rhino 5000 Electric Tracked Crusher
Highly Commended: Wacker Neuson – Electric wheel loader WL20e
Highly Commended: Avant Tecno (UK) –  E5 & E6 Fully Electric Compact Loader Series
Among the entries in the Environment category were energy efficient engines, lighting towers, power tools and machines. But the judges felt that many – while worthwhile and excellent products – did not demonstrate the level of innovation they were looking for in a winner.
They awarded Highly Commended to two products that incorporate similar technology to bring innovation to the smaller end of the construction equipment market. The first is Wacker Neuson's WL20e electric drive wheel loader This 2.3t machine has a tipping load of 1.4t, and achieves a similar performance to the equivalent diesel-driven model but with no emissions and far lower running costs.
The second Highly Commended goes to Avant for its e5 and e6 full electric, battery powered compact articulated loaders, designed for indoor and non-ventilated spaces that don't allow any exhaust emissions, or where there are noise restrictions.
Small is also beautiful as far as the overall winner is concerned. It is the Red Rhino RR5000 Electric Tracked Crusher, which was initially developed as a bespoke machine for an underground mine in France, but has proved so popular that Red Rhino has taken it into full production. The crusher is powered from mains electricity, and only uses 24kW of power, when a comparable sized diesel-powered machine would use more than 60 litres of fuel per day, with the resulting exhaust and noise emissions.
The judges said they could envisage the machine being incredibly useful on city centre and restricted sites; it can be transported very easily – making it possible to move it from site to site quickly – and would also be a valuable piece of equipment at waste treatment facilities.
Engineering – Sponsored by Leica Geosystems
Winner: JCB – Hydradig
Runner Up: Brokk – SmartPower
The judges were expecting a high level of innovation in the Engineering category, and certainly saw a lot of exceptional products among the large field of entries. For the most part, however, they felt that many of the machines and products were developments of existing models rather than being genuinely innovative.
One innovation that did impress them was the new SmartPower electrical system that has been fitted in Brokk's radio controlled demolition machine. This intelligent electrical power management system optimises the performance of the machine based on factors like the quality of the power supply and the environment.
In making it Runner-Up, the judges said the system is a real innovation that will allow the machine when there is a poor power supply, and also protect the machine from harmful faulty power.
However, the stand-out engineering innovation this year is JCB's new Hydradig wheeled excavator. The company has taken what has traditionally been a problematic machine class and redesigned it from the ground up, starting with the decision to relocate all the major components to the lower chassis. The result is an excavator that has much better visibility, stability, mobility, manoeuvrability and serviceability than anything in this class before.
Since its launch last year, the Hydradig has proved extremely popular in the market, among both rental companies and owner-operators, particularly those working on urban worksites and utility contracts.
The judges were very impressed that JCB had decided to completely redesign and re-engineer the wheeled excavator, resulting in a machine that is one of the first genuinely new pieces of construction equipment in 20 years.
Efficiency – Sponsored by Datatag
Winner: Marubeni-Komatsu – PC210LCi
Runner Up: Gecko – TruckLoader
The Runner Up in the Efficiency Category is a relatively simple idea, but one that could make a difference on a lot of sites – particularly where space is limited or access is difficult. It is the TruckLoader skip system from Gecko, which has been designed to make muck away safer, easier and more efficient.
The skip can be landed and discharged directly into tipper trucks, RORO skips, barges or onto the floor for stockpiling, giving construction sites an alternative to traditional methods like boat skips and circular muck skips.
The innovation in the TruckLoader means that a truck on any site with a crane can be loaded without the need for secondary discharge equipment; and at any point within the reach of the crane, making it ideal for sites with restricted access.
The winner in this category is Komatsu's PC210LCi-11 intelligent Machine Control Crawler Excavator. This is way more than a simple upgrade of the previous award-winning model; Komatsu has created a hydraulic excavator that comes out of the factory with intelligent machine control and the capability for semi‐automatic operation.
The combination of the machine control system and a tilt bucket that is automatically limited from digging beyond the target surface should lead to significant efficiency savings on various levels. The bucket cannot dig beyond the target depth, so there can be no over-digging; and complex surface designs can be achieved without having to keep changing the position of the machine.
It impressed the judges, who believe the PC210LCi-is set to be a highlight of Plantworx 2017.
Non-operated Plant and Support Products – Sponsored by CEA
Winner: Securi-Cabin – Smart Pick Welfare Unit
Runner Up: SiteStak
This year there is a new category in the Plantworx Innovation Awards, for Non-operated Plant and Support Products. It attracted some interesting entries, including an acoustic enclosure from Echo Barrier and a hole drilling system from Brilliant Ideas – as well as new initiatives from SKM Finance and Point of Rental Software.
But the two that really caught the judges' imagination are products for making life on site better and more efficient.
The Runner-up is SiteStak, a simple system for storing drainage and ducting materials and accessories on site. It may be simple, but it is also very effective, preventing sites becoming cluttered with piles of pipes and fittings, and ensuring contractors can quickly find the materials they're looking for.
The winner in this category is a product that prompted absolute delight among the judges: Securi-Cabin's Smart Pick Welfare Unit. The units are designed to be placed on site without a Hiab-type crane. They sit flat on a trailer during transport; once on site, the trailer is manoeuvred into positon, hydraulic legs extend from the base of the unit to the ground and then raise the unit off the trailer so the trailer can pull away. The Welfare Unit can then be lowered to the ground.
All of this is done by an operator using a wireless remote control system, so at no stage does anyone have to climb onto the unit to fix chains, or operate any kind of crane or lifting gear.
Another feature of the unit Is that it can be extended once it arrives on site – again using the remote control – from 5.4m long to 7.2m. The judges thought it was a fantastic innovation.
Safety
Winner: Husqvarna – DXR Dust Reduction Kit
Highly Commended: Tufftruk – Truxta Rigid 4×4 Micro Dumper
Highly Commended: Rhinox Buckets – Uni-tusk X1
The Safety category attracted a very high number of entries, and the judges decided to award Highly Commended to two of them.
The first is the Truxta Rigid 4×4 Micro Dumper, launched in November 2016 by Tufftruk. The dumper has a failsafe braking system that means it won't roll back, even on a steep incline; and two stage self-tipping skip means no manual lifting. The judges felt the Truxta Rigid could bring huge safety benefits for the DIY, small building and landscape sectors.
Also Highly Commended was the Uni-tusk X1 from Rhinox buckets. It is a combined tooth and blade system that has no sharp edges – reducing the chance of cable strikes – while still allowing efficient digging.
But the Winner is a product that addresses the serious health risks caused by breathing in dust from demolition and breaking activities. It is a brand-new dust reduction accessory designed by Husqvarna for all its DXR robots for use with a range of Atlas Copco breakers. The accessory supplies water to the tool that binds any airborne dust, causing it to fall to the ground rather than risking an operator breathing in harmful dust particles.
It also has environmental benefits, and improves efficiency on site, as no-one has to be designated specifically just to damp down dust.
The judges thought that Husqvarna had found a very efficient way to tackle an important safety issue. Because the water supply is triggered by the breaker, it ensures that the dust suppression will always happen, rather than relying on human intervention.
All the winning and Highly Commended products will be at Plantworx this year highlighted in the Plantworx Hub and on the companies stands.


Meet the Judges!
The Victory Services Club in London's Marble Arch was the venue where the Plantworx Innovation Awards 2017 Judges met to discuss the record amount of award entries received. It was a long and tough day – but the judges reached unanimous decisions in all categories. Here is a brief introduction to the judging panel – the Plantworx team would like to thank the judges for their time and tremendous efforts in uncovering the winners!
Margo Cole
Margo is a very experienced writer and editor who specialises in construction, infrastructure, transport and heavy equipment. She trained as a civil engineer before becoming a journalist, and has also studied psychology to Masters level. During a 25-year career in journalism Margo has worked on a range of business magazines, journals and websites, as well as for PR agencies, trade bodies and blue chip companies.
For the last 10 years Margo has been a specialist judge for the Evening Standard New Homes Awards, and she has also been part of the judging panel for the ACE/NCE Young Engineer and Consultant of the Year Awards, as well as the heavy Haulage industry's annual awards, The Heavies.
Haydn Steele

Haydn Steele is the Safety, Training and Technical Manager of the Construction Plant-hire Association (CPA). He represents the Association on the CPCS Management Committee and is Chair of the Health, Safety and Environment Test Question Sub Committee (HSETQSC).
Haydn has been involved in a variety of roles, including working with awarding bodies, qualification setting bodies, technical and training committees of several organisations whilst representing the Association. He has been instrumental in working with and administrating the Special Interest Group within CPA.
Before joining the CPA in 2001, Haydn served for 32 years in the Royal Air Force as an aeronautical engineer.
Colin Evison

Colin has been appointed the first Head of Innovation at BAM Nuttall. Previously engineering manager, he now leads a team looking to identify and develop the best new technology, materials, methods and ideas from a wide range of sectors and organisations, including start-ups and universities.
With over 25 years of design and construction experience, Colin has worked on a number of major London infrastructure projects for High Speed One, Network Rail and London Underground.
He is a Fellow of the Institution of Civil Engineers and past chairman of the Railway Civil Engineers' Association.
Hugh Edeleanu
Hugh is chairman of a business empire that includes HE Services (Plant Hire), Masterhitch Europe, the Diggerland family adventure parks and EVision Supercars EVision, which offers Tesla cars for rental and executive chauffeur hire. His businesses are headquartered in Rochester, Kent, and employ over 500 staff.
Hugh started his career in 1972, when he bought a second-hand mechanical digger while he was still at school. He subsequently graduated from Cambridge University with an Honours Degree in Engineering.
Hugh joined the Royal Engineers Territorial Army in 1974, rising through the ranks to Major, and becoming one of the most experienced officers in bomb disposal in the British Army at that time. He has travelled the world extensively with the British Army, and was involved in major projects, including Operation Desert Storm in 1991.
Ian Elliott
Ian is Group Head of Security at major utilities company Clancy Docwra, where his primary is to add value to clients' business by protecting contracts, assets and personnel, as well as the Clancy brand. Before joining Clancy, Ian served for 30 years with the Metropolitan Police Service, based in the Specialist Crime Directorate at Scotland Yard, working in partnership with industry to design and create systems to combat organised crime,
During his time in the Police, Ian was instrumental in bringing together the construction and insurance industries to create the Construction Equipment Security and Registration Scheme (CESAR).
He is a board member of Combined Industries Theft Solutions, and a member of the Construction Industry Business Integrity Forums.
Dr Carol Marsh
Carol is the Firmware, Digital and Certification Functional Manager at Leonardo. Her responsibilities include ensuring that all complex electronic designs follow a Civil Aviation-compliant process, as well as recruiting and developing engineers, organising and delivering training courses and managing the electronics tools.
In 2011 Carol was awarded the degree of Doctor of Engineering in System Level Integration from the Universities of Glasgow, Edinburgh, Heriot-Watt and Strathclyde. She is the winner of three technical awards, and four awards for her work inspiring women in engineering.
Carol has over 30 years' experience in the electronics industry working in the defence, telecommunications and security intellectual property industries. She is a Fellow of the IET, IESIS and WES, a Chartered Engineer, a senior member of the IEEE, member of the IoP and IACR. Carol is currently Vice Chair of IET Scotland, Past President of the Women's Engineering Society, a Professional Registration Advisor and Interviewer, and a STEM Ambassador.
Graham Black
Graham spent the first decade of his working life working for the Crown Agents as an aid project administrator in Africa, principally managing significant capital goods procurement projects.
He then spent 10 years within the marketing department of construction and agricultural manufacturer Case. For the past dozen years, he has been the editor of Earthmovers Magazine.