Qatar, UAE, Kuwait projects in 2013 valued at $245 billion, to prompt rise in project financing
Doha, Qatar; 20 February 2013 – Collaboration with banks are a must for contractors and developers to succeed in Qatar's burgeoning projects market.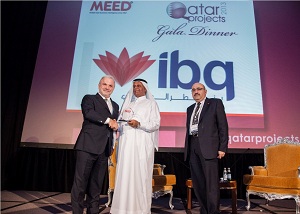 "With all the schemes planned, it will necessitate banks working together if all of the projects are to be completed in the required timeline," said John Iossifidis, executive vice-president and head of international banking at Dubai-based Mashreq at MEED's Qatar Projects 2013 conference yesterday.
Last year, according to Iossifidis, $145 billion-worth of projects were budgeted for in the UAE, Kuwait and Qatar, with about $45bn worth of schemes reaching financing stage. Lossifidis estimates that $245 billion-worth of schemes are budgeted in these three states in 2013, and with it a surge in project financing. "At the same ratio as last year, financing will be required for about $80bn of projects. Co-operation between the banks to finance this is important," he added.
Meanwhile, Shashank Srivastava, chief executive officer, Qatar Financial Centre Authority (QFC), speaking at the same conference, says Doha's financial sector has become an important part of Qatar's economy. "The contribution of the financial industry is an important part of the National Vision for 2030. Financial services help diversification away from excessive dependence on hydrocarbons. Qatar has already made long strides. Finance, insurance and reinsure now account for 10 per cent of the country's GDP," Srivastava continued.
In another major highlight of the conference, His Excellency Abdullah Bin Hamad Al-Attiyah, President, Administrative Control and Transparency Authority received the prestigious MEED Lifetime Achievement Award at a gala dinner hosted by Platinum Sponsors IBQ. His Excellency is credited with orchestrating Qatar's transformation into a modern and progressive industrial nation.
In addition to Qatar Petroleum, Qatar Chamber and the Public Works Authority (Ashghal), Qatar Projects 2013 is being supported by International Bank of Qatar (IBQ) as Platinum sponsor; United Development Company (UDC) as Strategic Partner; Qatar Islamic Bank and Kharafi National as Gold Sponsors; Mashreq as Silver Sponsor; as well as Qatar Insurance Company, Brookfield Multiplex, Black Cat and Autodesk as Bronze Sponsors.
Metito, Drake & Scull, as well as Qatar Financial Centre Authority are on board as Conference Sponsors. Patton Boggs and SSH International have signed up as Lunch Sponsors of the event; while Seib Insurance and Reinsurance is the Breakfast Sponsor. This year's reception sponsor is PWC. For more information on Qatar Projects 2013 conference, please visit www.qatarprojectsconference.com.