Dubai, Oct 31 2016 – Last year the Dubai government made it mandatory for new buildings to use more eco-friendly Supplementary Cementing Materials (SCMS) replacing old Ordinary Portland Cement (OPC), which can help to reduce carbon emissions.
In fact a tonne of OPC produces more than a tonne of carbon dioxide which severely damages the environment contributing to global warming, not to mention the negative health effects. It is a major part of Dubai's bid to become one of the top ten sustainable cities in the world by 2020 but this move could have also been prompted by the Masdar experience in Abu Dhabi.
Low carbon city
Masdar is attempting to become the world's most sustainable and low carbon eco-city by initiating environmentally-friendly building projects and dramatically reducing energy consumption, water and waste.
There is still work to be done in Masdar but when completed, an estimated 40,000 people will live there with 50,000 additional people commuting every day to work and study in the city.
One of the key companies involved in the construction of the ground-breaking buildings in Masdar is Al Falah Ready Mix and their marketing manager, Sam Rifki, will be delivering a presentation entitled 'Concrete Sustainability – the Masdar Experience' during MEC and PMV Live 2016.
According to Sam, despite the issue of mixing cement in an eco-friendly way, concrete is still the material of choice for the construction of offices, shops, schools and hospitals. "It has been around since the Roman times as it is strong, very durable and far cheaper than having steel structures. However the production of cement generates carbon emissions in the atmosphere, a major environmental issue these days. The production of one ton of cement produces one ton of co2. We have to supplement some of the cement with products that do not produce so much co2 such as fly ash and GGBS (Ground-granulated blast-furnace slag). That is not cheaper but it is just more sustainable."
Energy-efficient
However concrete itself is a very eco-friendly material and ideal for constructing energy-efficient buildings such as those in Masdar. Sam is very proud of what was achieved there. "We wanted to lower the carbon emission, not just in the cement production, but also in the usage of ice plants and the ammonia that disseminate a lot of gases and carbon in the atmosphere. Our research and development team did a lot of work in Masdar to make the concrete more sustainable. We added about 70% of GGBS to the mix and lowered the cement content. That means we used the lowest cement content possible in order to achieve desired strength and durability standards. This move lowered the carbon emissions by 30%."
Valuable lessons were learned from the Masdar experience but there are still barriers to break down regarding the new type of eco concrete, and much of this is driven by fear. As Sam explained: "The Masdar experience was very important to us. It's sometimes very difficult to convince people. Many of them think that the more cement you put in the mix, the better; but this is not really true. There are other issues to consider. We produced the concrete with very low cement content and a very low water to cement ratio and we were able to produce concrete in Masdar that has a 100 year service life. That is not very common but a great example for other people to follow: Masdar has opened doors for other projects. It was a courageous move and we were there to witness it."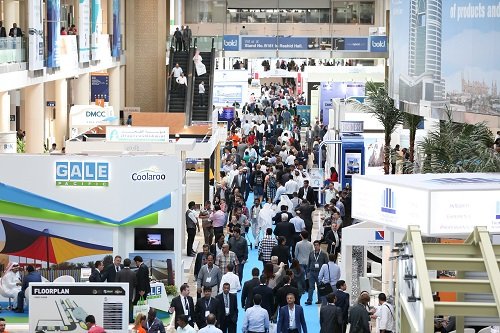 Recycling
The Cement Sustainability Initiative run by the World Business Council for Sustainable Development encourages the industry to consider recycling more concrete. According to them, recycling concrete can reduce natural resource exploitation and the associated transportation costs, decreasing waste that goes to landfill. Sam agreed that more recycling should be done by companies. "This is still not widely used even though it is very practical. The process is simple enough; you demolish the concrete and crush it into stones. What we do in our washing area is treat the returned concrete or washed concrete out of the trucks and then we separate it into aggregates.
"We did develop a sustainable line called Alfacrete used as low grade concrete which we have used on some of our projects and it worked well," he said. "It was strong and durable but it is not so widely used because people are afraid of it. Yes it costs a little more but changes like this have to be made at the end of the day. It is not just mixing the cement that is the issue, it is where we source it from and from how far away. It is all related."
Incentive
The Dubai government's move could be copied by other cities and countries but an economic incentive might be the deal clincher. Sam agreed: "Providing an economic incentive like a tax break in order for companies to change their behaviour is good but simply encouraging people to do things they don't necessarily want to do is good too. I know in the States, anyone who re-models their house using green materials gets a tax break.
"It is now mandatory in Dubai to use sustainable concrete which is a really good thing and that is not affecting company budgets too much either."
Sam will be speaking at MEC 2016 on Monday 21 November at MEC Symposium 1 from 15:00-16:00. His presentation is entitled 'Concrete Sustainability – the Masdar Experience'. He will be discussing the Masdar City Objectives, steps toward sustainability and the Carbon Foot Print Study in concrete mixes developed for Masdar (three different specimens in different exposures).
Middle East Concrete and PMV Live 2016, the biggest and most important infrastructure and heavy machinery events in the Middle East, will bring key regional and international industry leaders under one roof at the New Za'abeel Halls 4-6 at the Dubai World Trade Centre.
What is more, there will be a strong educational element with over 50 free-to-attend and CPD certified seminars, forums and workshops delivered by industry experts who will be highlighting the market's current trends, challenges, opportunities and best practices.
To find out more about Middle East Concrete and PMV Live, please visit www.middleeastconcrete.com and www.pmvlive.com.