The decorative paints market has strong ties to the construction market, in particular the renovation segment – on average, six out of ten wall painting projects are carried out in existing structures, most of which are residential buildings.
According to PMR's latest report entitled "Decorative paints market in Poland 2013 – Development forecasts for 2013-2016", the residential construction segment accounts for more than three-quarters of orders placed with professional wall painting contractors. The remaining part of the paints market is represented by non-residential construction.
Such a market structure is by no means surprising because non-residential construction mostly comprises offices, retail developments and storage facilities. While their size is larger than most of residential buildings, they have fewer internal walls which need to be painted. Non-residential buildings are frequently built as open space where external walls additionally use numerous glazing units or are covered with decorative wall cladding made of diverse materials.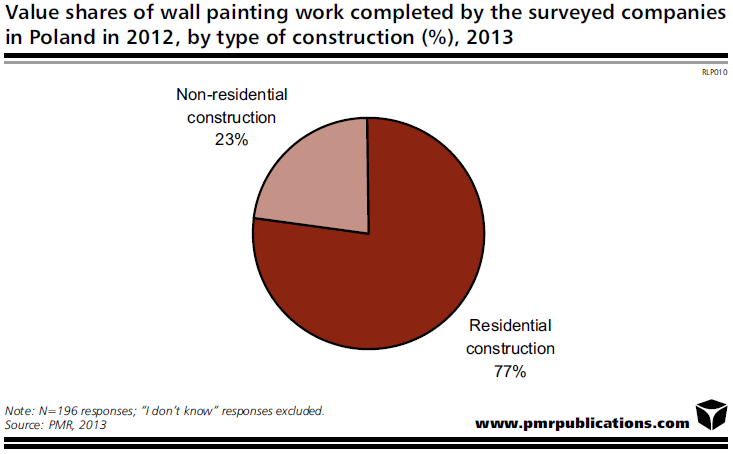 PMR performed two research projects for the report: one among professional wall painting contractors, the other involving individual investors who have painted, or planned to paint, part of or the entire home in 2013. According to the survey results, a vast majority of home owners perform simple and uncomplicated wall painting jobs on their own; therefore, individual customers are the key driver for the paints market. These investors are less concerned about technological novelties or the quality of products. However, more affluent customers who have greater awareness of products tend to pay more attention to the paint's quality.
Key factors determining which paint is chosen are related to the appearance of the painted surface, such as whether the colour is appealing to the eye or how long its intensity stays constant as well as the paint's resistance to damage or stains. These categories were mentioned most frequently by nearly one-third of individual investors. A more or less equally high proportion of responses was for the product's price as the key paint selection factor.
Market novelties, such as e.g. anti-fungal or allergen-free paints, were much less appreciated by customers. The proportions of individual respondents who chose these solutions stood at 17% and 6%, respectively. The pattern of responses clearly shows that the main thrust of efforts aiming to diversify the product mix should still be directed at the colour gamut and the quality of paints produced.
Many customers will even prefer paints created by blending a paint base with a colour pigment (which can never guarantee that the desired colour is obtained) over paints with a perfectly matched colour. A mere 10% of respondents surveyed for the report stated that they used paints made by paint mixing machines in-store, while the share of pigment-based paints was 16%. A vast majority of customers prefer ready-made paints available in a set of standard colours, which, again, is determined by the price criterion.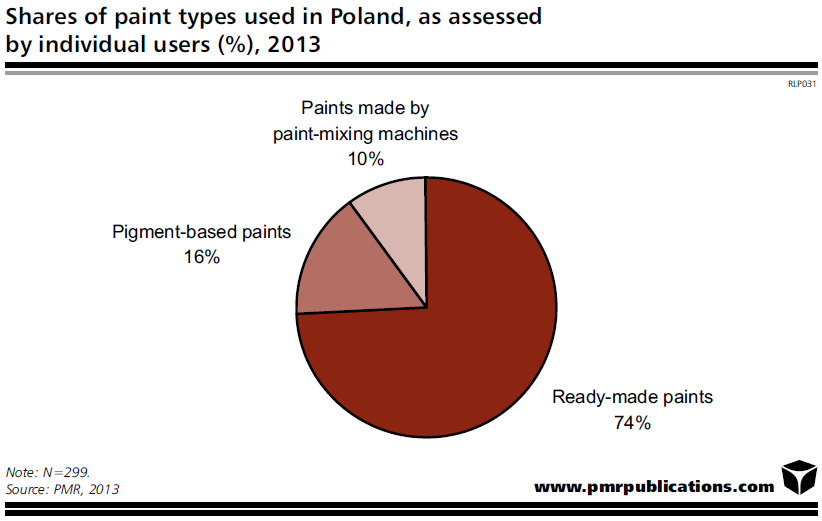 ​
Based on information obtained from wall painting contractors, two types of paint dominate the market: acrylic paints and latex paints, which have a combined share of around 90% of the market. In addition, flat paints are the most popular choice of all types of decorative paints, accounting for more than 50% of the market.
Furthermore, research carried out for the report found that Dekoral, Dulux and Sniezka were the most popular brands of paint preferred by individual customers. Professional wall painting contractors provided the highest valuations for Tikkurila, Dekoral and Kabe paint brands.
Source: PMR