In a spot overlooking the Rhone River in the heart of Geneva, construction and demolition specialist HTP is demolishing a block of former offices on the busy Rue du Stand, using the first-ever full factory specification Volvo EC480D-Series high reach excavator.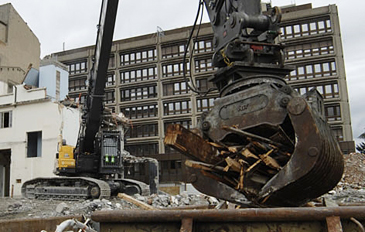 A Volvo EC480D HR high-reach excavator owned by demolition and construction company HTP helps demolish former governmental offices on a busy street in Geneva, Switzerland.
Demolition can often be a tricky process. In April, construction and demolition company HTP was contracted to demolish former governmental offices at the front of the busy Rue du Stand in Geneva, Switzerland – a main street where a tramline, pedestrian pathways and road traffic made the project a real challenge.
The demolition will create about 2,000 m3 of material, and some 900 m3 of this will be crushed on site and reused for site preparation and construction of the new building. The remainder will be taken away for recycling, with only a small percentage going to waste. The environment, both in terms of waste and exhaust emissions, is at the forefront of prestigious construction awards in Geneva, so companies such as HTP, which was established in 1998 and employs 75 people, take it extremely seriously.
A tall story
The Volvo EC480HR D-Series is a rare gem in the high reach demolition sector as it is Stage IIIB compliant, meeting the stringent emissions requirements without having to be fitted with an additional exhaust gas filtration system. HTP ordered the Volvo high reach machine last year before even seeing the finished product.

"When we made the decision to invest in the Volvo EC480D HR, it didn't actually exist," says Yves Huguenin, founder and managing director at HTP. "The engine was new in terms of emissions, and the hydraulics had been optimized, so we felt it was a good machine for us and the right size. Furthermore, we knew and trusted Volvo. Now we have the machine on site, and I am delighted with our decision."
Noise restrictions mean HTP can only work from 7 am to 7 pm with a one-hour shutdown from 12 pm to 1 pm – but this is much less of an issue with the Volvo high reach unit, which is much quieter than breaker machines.

The EC480D HR tears into a former governmental office building in Geneva.

The team also ensures that the building is brought down safely. "There is a protective screen for the operator along the front of the four-story building, but this is only for small fragments and dust and certainly wouldn't keep out any large-scale debris," says Thierry Truffat, site manager for HTP. "This is a highly controlled demolition process, which requires precision and great care. The machine enables us to conduct a safe deconstruction with real efficiency and high productivity."
HTP began by taking out the windows, electrical cabling and insulation. During this phase it also had to deal with some asbestos contamination, which required special attention. But thanks to the productivity of the Volvo high reach machine, the team has already made up for lost time.
Aiming high
HTP operates 25 excavators, one Rubble Master RM80 crusher equipped with a noise absorber, a small 30-tonne high reach excavator and now the new Volvo EC480D HR high reach demolition excavator. The majority of the company's fleet is Volvo, with 18 Volvo units in all.
"We chose the Volvo EC480D HR because it was a new machine with a new engine that's Stage IIIB compliant," says Huguenin. "The machine is also strong and provides us with sufficient reach. When making this investment we looked at several brands and while the pricing was not that different, the Volvo stood out regarding configuration and emissions. Furthermore, we have a long history with Volvo and its dealer here in Geneva, Robert Aebi, and are happy with the level of support we receive."
Source: Volvo Construction Equipment