The roofing materials market in Poland is past its worst and the forthcoming years will see growth up to 10% annually. In view of developers' growing activity, both in the residential and commercial construction market, prospects for the segment of flats roofs are slightly more promising as compared with the pitched roofs sector. In particular, top-shelf products will gain significance in the coming years.
According to a report compiled by the research company PMR called "Roofing materials market in Poland 2011. Development forecasts for 2011-2013", following the falls reported in 2009-2010, the market will start to grow at around 8% annually.
Invariably, metal roofing represents the largest segment of the 25m m² roofing materials market worth PLN 2.3bn (€530m); however, it should be noted that metal roofing materials steadily lose market share to more durable products (mostly to ceramic products). This trend is partly justified by the growing prices of steel and poorer durability of metal roofing materials. As far as metal roofing materials are concerned, top-shelf products, such as roofing tiles with ceramic coating, can hope to gain popularity. But due to small quality differences between leading products, the price will continue to be a major factor.
In the coming years, the proportions between the various types of roofs will not change significantly, with flat roofs having the advantage and reporting slightly faster growth rate. Commercial buildings will be the driving force behind the growth as they were most severely affected by the financial crisis and now enjoy a substantial increase in the number of planned projects. The largest segments of the flat roofs market are industrial and warehouse buildings and services and trade buildings. Within the pitched roofs markets, single-family housing is the largest segment, represented mostly by individual investors.
The recovery in the roofing materials market is most clearly seen among the producers of ceramic roof tiles. Output growth steadily accelerated throughout 2010, which was due to the upturn in the housing market and, partly, to a low base of comparison because the steepest falls in the production of ceramic roof tiles were recorded in Q4 2009.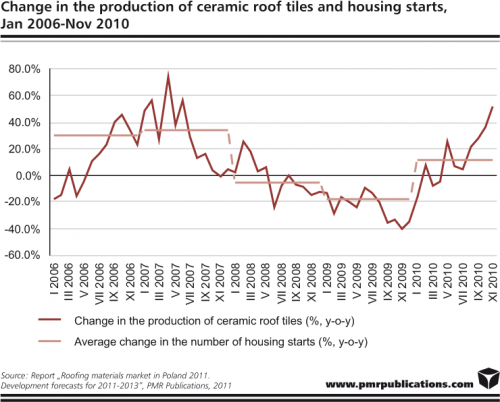 In the opinion of the report's authors, the roofing materials market is the largest in the Mazowieckie voivodship (approx. 18% of the market as a whole), which results from the concentration of the largest number of large commercial projects in that region. The Mazowieckie region is followed by Wielkopolskie (12%), Slaskie (10%) and Malopolskie (9%).
This press release is based on information contained in the latest PMR report entitled "Roofing materials market in Poland 2011. Development forecasts for 2011-2013".