28th edition of the Triennial Exhibition closed 6th March
SAMOTER 2011: SUSTAINABILITY, INNOVATION AND SAFETY HALLMARK AN EDITION WITH ATTENDANCE OF ALMOST 100 THOUSAND
Signs of recovery in the sector earth moving, site and building industry machinery sector. An exhibition boasting a wealth of previews.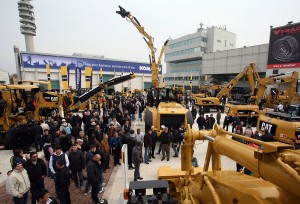 Verona, 15 March 2011. Renewed trust among companies in the building field emerged from the 28th edition of Samoter, the Triennial Earth Moving and Building Industry Machinery Exhibition after five days of shows, debates and business.
Facts and figures are reassuring: 900 exhibitors, 37 countries present, 98 thousand visitors. An important result, with a positive trend for attendance by international operators – more than 11 thousand – that fully confirms the exhibition's international vocation. About 2000 people, moreover, took part in 50 conventions, seminars and training courses set up by the organisers in close collaboration with exhibitors and trade associations.
Major interest in the event was also highlighted by the pages visited on the site – 2 million hits with translations in 10 languages achieving +43% compared to 2008.
More than 4 thousand visits were achieved by the "mobile" version (for mobile phones and latest generation IPhones).
Innovations at Samoter 2011:

Innovations at the Exhibition especially included initiatives focusing on control of emissions, sustainable processing, energy saving and safety.
Astra (Fiat Industrial Group) unveiled a world preview of its gigantic new Rd40 dumper with an updated cab and on-board technologies, New Holland previewed a complete range of new products focusing on new standards and regulations covering emissions into the atmosphere, while Caterpillar among other things presented the new hydraulic 374 DL power shovel.
Scai, representing Hitachi in Italy, also held a world preview of the first electrical mini power shovel, Volterra, a completely electrical 2200 kg unit ensuring zero gas emissions and low noise levels ideal for work in settings where respecting the environment is vital; this high-performance machine requires little or no maintenance and no changes of filters and oil.
Renault Trucks presented Premium Lander Optitrack, a 4×2 site truck with a simple button on the dashboard providing temporary 4×4 drive only when really necessary, thereby ensuring important savings in fuel consumption.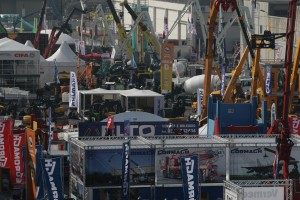 Case proposed new solutions over the entire 2011-2012 range focusing on lower consumption and reduced emissions. A combination of Recirculated Cooled Exhaust Gas and Selective Catalytic Reduction cuts emissions of particulate by 90% and ensures nitrogen oxide levels almost equal to zero.
JCB, with the JCB Ecomax engine, took the "Diesel of the year Award 2011" as the technically most advanced and innovative engine; the top of range Ecomax 4.8, thanks to latest generation 2000 bar common rail and variable geometry turbine, optimises consumption and ensures excellent torque values even at low rpm.
Volvo in turn exploited the international stage at Samoter to launch the most important innovations in its Construction Equipment machinery.
Two innovations in the concrete mixing area caught the attention of exhibitors and visitors: the first was the debut by Chinese giant Sany that displayed a cement mixer specifically designed for the Italian market – the SY5400 GJB12 – where twelve indicates cubic metres of product; the second is the ZL33 – a pump by Zoomlion mounted on a Man truck presented in the area dedicated to "concrete" products.  The Chinese Group was also present through its subsidiary Cifa, which focused its attendance especially on the Carbotech range of truck-mounted pumps.
Italian company Simem, on the other hand, presented a brand new mobile concrete mixing system – the Mmx 5000, among other things, also took an award in the Samoter technological innovation competition.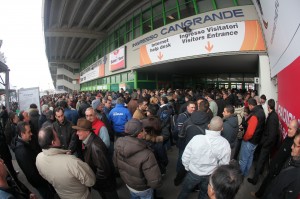 In the road building sector, lastly, Dynapac chose Samoter as the stage for the market launch of its new range of wheel-mounted surface finishers, with working widths from 2 to 9 metres.
As well as sustainability, one of the main themes at the 28th edition of Samoter was safety and in this sphere virtually all companies presented products designed to reduce the possibility of accidents. Komatsu, for example, highlighted a reinforced cab for all track-laying excavators and Imer Group a device, named Keylife, for safety with truck mixers during the drum cleaning stage.
Curiosities:
Over and above the presentation of innovations, Samoter 2011 welcomed many occasions for entertainment and relaxation organised by exhibitors for visitors. The most talked about in all the halls was the show held MB SpA, that even flanked its crushing buckets with a Burlesque performance. For those who may not recall, burlesque is a kind of dance that ironically yet tastefully recalls striptease shows fashionable in the past, achieving enormous success in every corner of Europe after years in the doldrums.

Equally exciting was the show organised by Iveco on its outside stand with Vittorio Brumotti, Bike-Trial World Champion well-known to the public at large as a reporter for satirical TV news show "Striscia la Notizia". Brumotti currently holds as many as seven world record all set in the saddle of his mountain bike and performed jumps and acrobatics together with his team (Mountain bike freestyle).
The world of television also saw Caterpillar host a performance by Zelig comedian, Gioele Dix, renowned for his irresistible monologues.
Volvo hosted an enjoyable intermezzo, with two driving simulators … obviously in keeping with the theme. Aspiring bulldozer drivers could test their skills ….. without any risk of causing damage.
The Exhibition also hosted the First Samoter Bulldozer Facebook Get-Together: the first fifty people to enrol received a complimentary entrance ticket, a gadget and aperitif offered by Volvo.
The exhibition of Decorated Trucks in the outside area was particularly interesting – attending Samoter for Camion Raduno (Truck Get-Together) organised by Highway Truck Team; Fifteen vehicles mostly from north-east Italy and Slovenia had cabs painted and decorated by true "masters" of air-brush painting.
VeronaFiere comment:
"Samoter outdid the market by overcoming the qualms of those who until six months ago did not believe it would be possible to organise an important event and especially one ensuring an effective base for company business with more than as fifty international delegations and many analytical conventions," said Ettore Riello, President of VeronaFiere. It is a huge success for the whole team and its determination and conviction, as well as for VeronaFiere itself in the wake of major efforts to offer the sector, and the city, an exhibition in keeping with traditions, despite the very harsh and difficult economic moment for the building industry. Yet, on the other hand, Samoter managed to provide positive signals for the field as a whole, including Italian companies: this is what we worked for and our belief has been proven right."
Source:  Samoter Press Room