The 2014 edition of Samoter is being presented in Munich with a stronger focus on machines and sustainability with a new appointment for operators in the road-building field: Asphaltica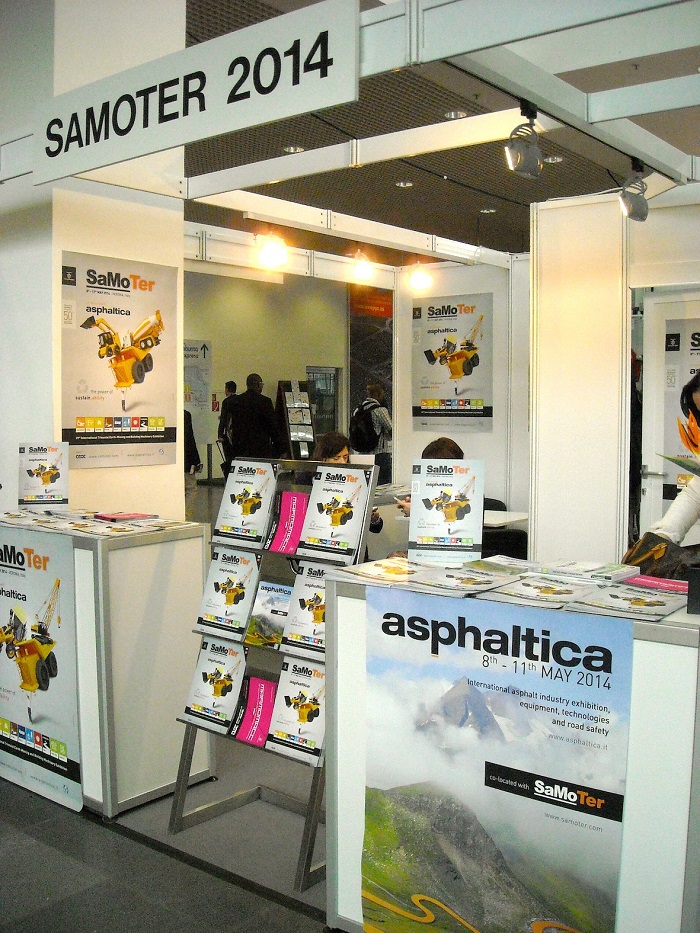 The 29th edition of Samoter, the International Triennial Earth Moving and Building Machines Exhibition, scheduled 8-11 May 2014 at Veronafiere, confirms its status as a preferential place for meetings, trade and analysis in a sector which, despite the difficult global economic situation, is still a driving force in remains the development of the international industrial system.
SAMOTER 2011: consolidated experience for future success.
The 28th edition of Samoter confirmed its leadership with more than 900 exhibitors (29% from 37 foreign countries) over a net exhibition area of 108,906 sq.m. and more than 98 thousand visitors (11.70% of foreign operators from 110 countries) – a 4% increase compared to 2008.
Figures detailing types of visitor are also very interesting: 70% are decision makers and opinion leaders (CEOs, directors, entrepreneurs, corporate managers, buyers).
Excellent results were also seen in terms of press and media coverage: more than 300 accredited journalists, more than 50 Italian and international media partners and 879 articles published around the world (23.09% in international publications).
The Samoter website was hugely successful with more than 2 million pages visited (an increase of 18.6 % over 2008).
Asphaltica: this event is also scheduled 8-11t May 2014 alongside Samoter
The Asphaltica show covers technologies and solutions for road paving, safety and infrastructures and is the most important national event for operators in the road sector; it is a venue for technicians, engineers, public and private clients who pay close attention to issues such as the design and implementation of more efficient, safer and environmentally sustainable roads. Starting from the next edition, the exhibition will transfer to Verona, in conjunction with Samoter (8-11 May 2014) and thereby join the portfolio of Veronafiere.
SAMOTER 2014: business and sustainability.
In line with developments implemented in 2011, Samoter 2014 will focus again on the question of sustainability in the construction sector in its broadest sense, i.e. economic, social and environmental responsibility. The objective of the event is to provide an opportunity for knowledge, training and study focusing on this topic from various perspectives: safety and attention to the building process, the relationship between environment and economy, regulations and laws concerning construction sites, the products and tools, ethics and design.
SAMOTER 2014 enhances its positioning and operations on international markets.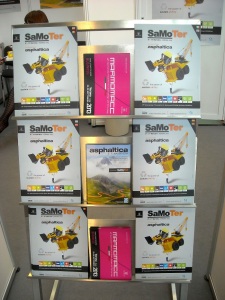 The event increasingly aims to become a landmark on a European level as well as an international stage for companies, institutions and category associations involved in the building universe, a sector which is still a driving force behind the world economy despite the negative global economic situation we are experiencing.
In this context, Samoter and Veronafiere have planned initiatives and projects intended to amplify supply and demand networks on an international level scale, thereby ensuring for its exhibitors an important presence on markets of interest to the entire sector in relation to their growing demand and positive growth rates.
The offering of events is particularly impressive in fields such as building and construction, materials, machinery and furnishings. The last edition of Marmomacc saw Veronafiere sign new agreements boosting its international operations in Brazil, Egypt and Morocco – joining the USA, Saudi Arabia as stop-offs for the Marmomacc World Tour.
Communication, marketing
The next edition of Samoter already confirms its active involvement in all the most important international sector trade shows, with presentations in about fifty countries and a significant investment in communication.
Integrated and synergic use of all promotion and web 2.0 communications tools will be a priority objective for the digital sector, with special attention on the world of social media (from facebook to linkedin, twitter and youtube), to strengthen increasingly two-way and effective interaction with users.
Visibility and promotion of the exhibition will be ensured by the efficient work of a qualified network of foreign delegates, agreements with the most important publishing groups and a selective national and international press campaign flanking direct marketing operations, thanks to sending Newsletters to a mailing list of over 80,000 contacts comprising selected operators. Such constant communication provides regular updates about the exhibition's world show and industry associations, as well as crossways topics such as trends on Italian and international markets, information about international tender contracts and updates concerning technical standards.
Awards
The 29th Samoter will once again present awards acknowledging distinction in the development and promotion of the building industry, confirming its status as a landmark for technological innovation and scientific research.
With this in mind, since 1973 the show has promoted the International Samoter Award, held in high regard and assigned to operators in the industry who have encouraged growth and success of construction and site activities on a national and international scale.
This award was later joined by the Samoter Innovation Competition, an initiative dedicated to producers of machines and technologies presenting premiers at the show highlighting structural and functional innovations introduced into standard output, thereby encouraging creativity, design and production of original, cutting-edge products/services.
The competition is an important event because it rewards the results of innovative investments and offers entrepreneurs and technicians in the sectors involved a chance to keep abreast of technical-construction and functional evolution in the site context.
The award is made in relation to innovations and/or energy-saving improvements, productivity, ergonomics and safety in use as well as other aspects ensuring added value for the product – while equally dedicating a specific section to sustainability.
2014 also sees important anniversary for Samoter: 50 years have gone by since its first edition. The 29th show in the series will highlight a number of special initiatives and events designed to celebrate this prestigious achievement by Samoter.

* Data certified by FKM – the German certification body that audits the data of more than 300 events world-wide – www.fkm.de
Source: Samoter News Room