The Granada-based company specialising in the manufacture of light machinery presented a number of new products at Bauma 2013, including the Dakar MK45 and Dakar-400 masonry saws, the Cobra 40 / 50 Mekano and Cobra 30 / 35 PRO floor saws, the Halcon 95 concrete power trowel and the CEL 42 rebar cutter.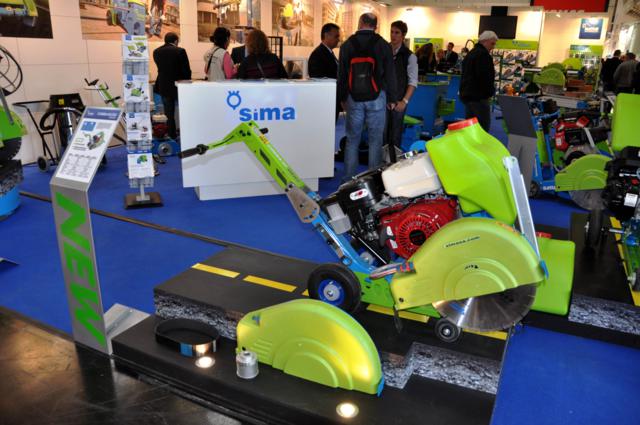 Bauma, the most prestigious trade fair for the worldwide construction and mining sectors, is held every three years in the German city of Munich. Recent editions of the event have occupied over half a million square metres of exhibition space. The fair therefore provides companies operating in the sector with an excellent opportunity to make contacts and enter into commercial agreements.
SIMA is particularly committed to expansion outside Spain as part of its growth strategy. In fact, not only is the company the market leader in Spain, but it is also amongst Europe's three leading manufacturers in this sector.
SIMA's presence at BAUMA 2013 represents but another step in its successful international campaign. Amongst other international projects, recent initiatives include the inauguration of a new logistics centre in Nuremberg (Germany) and the launch of an online store in the United Kingdom.
At BAUMA 2013, SIMA availed of the opportunity to showcase new products recently added to its catalogue, products that stand out for their efficiency and features.
New MEKANO masonry saws
This is the case of the new MEKANO range of masonry saws. The Dakar MK45 Mekano and the Dakar 400 Mekano are high-output units that can cut lengths of up to 650 mm. The Dakar 400 Mekano stands out from other models in the range because it offers an added advantage in the form of cutting depth of up to 125 mm, due to the fact that it can be fitted with blades of 350 and 400 mm in diameter.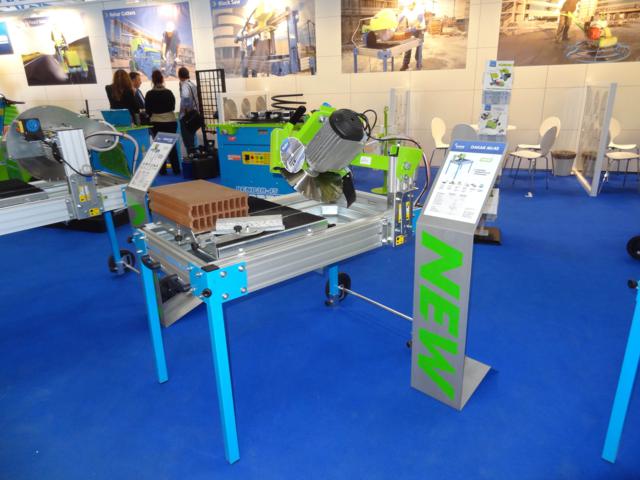 Both machines feature adjustable cutting depths and lengths. However, the Dakar MK45 Mekano offers a new feature with respect to the previous Dakar Mekano in that it has a cutting angle of 90º or 45º for total adaptability when making cuts. It can be fitted with blades of 300 and 350 mm in diameter for a maximum cutting depth of 100 mm.
The easy-to-dismount Mekano configuration and compact design result in lower transportation costs and up to five machines can be stacked and carried on a single pallet.
Finally, 80% of the components of these material cutters are rust-proof, giving the machines a longer operational life. Moreover, the aluminium body and galvanised steel water basin make them lighter in weight.
New products in the surface treatment range
With respect to new pavement and surface treatment products, SIMA presented the Cobra 40 and Cobra 50 Mekano, Cobra 30 and Cobra 35 PRO, and the Halcón 95.
The Cobra 40 and the Cobra 50 Mekano differ from each other only as regards capacity of diamond blade diameter. These lightweight, user-friendly machines can be fitted with diamond blades of 350, 400, 450 and 500 mm. Their design results in reduced maintenance requirements, making them extremely efficient. Particularly noteworthy is the fact that the Cobra Mekano is the first machine on the market which does not adopt a negative angle as it cuts. This enables greater cutting depth and 100% linear displacement so that full advantage is taken of the cutting action.
Outstanding innovative features include an elevation system for raising and lowering the diamond blade, facilitated by a gas shock absorber which does not require maintenance, and an adjustable rear axle, which allows cutting lines closer to edges and walls, whilst enabling obstacles that might damage the blade to be avoided. The large-diameter rubber rear wheels also prevent obstacles from blocking the machine. The wheel bearings are protected by plastic hubcaps that prevent the entry of dirt and water, resulting in less frequent maintenance and a longer bearing life.
The Poly V transmission reduces slipping to provide better grip and less maintenance. The new belt tightening system with pulley means that the tightening operation lasts no more than five minutes, compared to the 32 minutes required without this system.
The Cobra 30 and the Cobra 35 Pro also feature this type of transmission, which reduces the number of tightening operations and belt replacement by 70%, increases operational efficiency, and reduces the time required for servicing by 80%. The two models differ only with respect to blade diameter and power. These floor saws afford the greatest cutting depth on the market of up to 160 mm deep with a 400 mm blade and are characterised by a revolutionary design that minimises maintenance costs and makes them particularly cost-effective.
The Cobra 35 Pro, which can be fitted with blades of 350 and 400 mm, was also showcased at the exhibition. The advantages of this machine include: low maintenance costs for blade shaft bearings (now 90% lower and dismounting is unnecessary for lubrication purposes); hubcaps that protect bearings by preventing the entry of water and dirt; and a revolutionary elevation system by means of a pneumatic shock absorber with extension and compression blocking. Moreover, the design enables maintenance operations to be carried out by just about anybody.
The Halcón 95 concrete power trowel adds an impeccable finish to large or small concrete surfaces. It features a chromed protector ring to facilitate cleaning of concrete remains. It also incorporates a chromed centrifugal clutch to ensure optimal machine performance; a dismountable handle; blade adjustment by ergonomic mechanical steering wheel and steel wire; a spring-type blade retraction system that facilitates blade angle adjustment; and blade arms fitted with greasing nipples for enhanced maintenance, amongst other features.
For enhanced operator safety, it is equipped with an emergency stop handle that is fully compliant with European standards.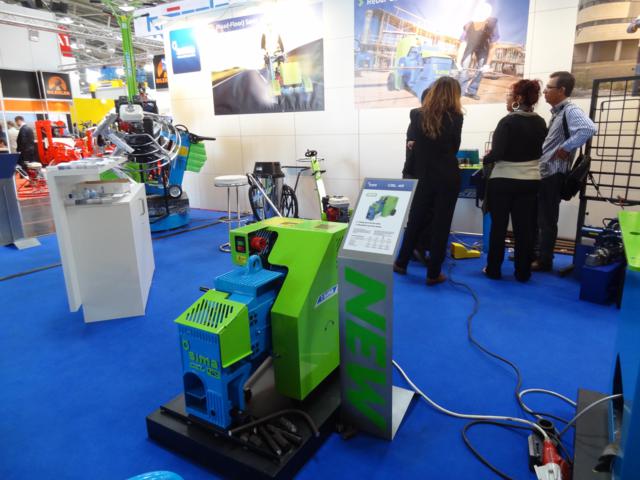 CEL-42, the latest addition to the rebar range
The new CEL-42 rebar cutter, the latest addition to the SIMA rebar processing range, was also unveiled at BAUMA 2013. This machine was developed in response to the great demand of international clients from the Middle East, Russia and the former Soviet republics, where highly resistant corrugated steel of 36 mm in diameter is widely used. This latest version of the machine is now capable of cutting corrugated steel rods of this diameter. Moreover, it can cut smooth steel rods of up to 42 mm in diameter.
The CEL-42 offers multiple benefits for operators, including pedal and lever operation for ease of use; mono-block cast steel body for greater durability; heat-treated internal mechanisms for longer life and enhanced operating performance; interchangeable rectangular blades with four cutting faces; oil bath gear units; lifting hook and handle for easy transportation, etc.
Source: Sima