The two international exhibitions dedicated to the construction and road world close today
The 30th edition of Samoter scheduled 22-25 February 2017.
SAMOTER AND ASPHALTICA 2014 ATTRACTED MORE THAN 40 THOUSAND VISITORS – 15% FROM 55 COUNTRIES
IMPORTANT RESPONSES FROM INTERNATIONAL AND ITALIAN MARKETS
The first signs of recovery, announced in advance by market research, were confirmed by the comments of exhibitors and trade delegations. Top ten international attendance: France, Germany, Switzerland, USA, United Kingdom, Russia, Slovenia, China, Brazil and Spain.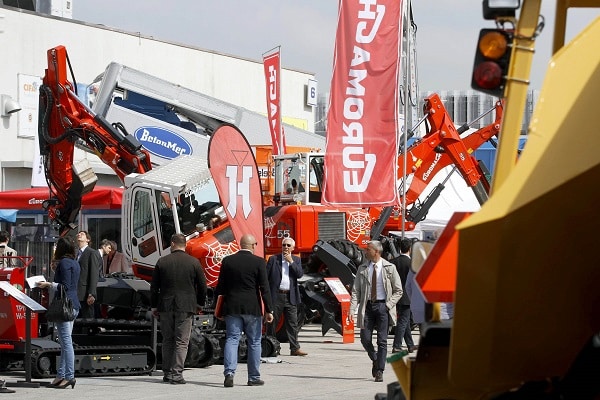 Verona, 13 May 2014. The resumption on construction and road markets, even in Italy, is confirmed by comments from exhibitors and trade delegations attending the 29th Samoter and 7th Asphaltica (promoted in collaboration with Siteb). The four event days were attended by more than 40 thousand visitors (15% international from 55 countries – the top ten foreign attendance involved France, Germany, Switzerland, USA, United Kingdom, Russia, Slovenia, China, Brazil and Spain) and more than 200 journalists from 15 countries.
There were 445 exhibiting companies (106 from 27 countries) over a total gross area of 50 thousand square meters. Specialist buyers and operators invited by Veronafiere together with Chambers of Commerce and ICE offices in Rome, expressed satisfaction with the quality of exhibits and the operators on show at the two events.
Veronafiere statements:
"Being at the service of the business system is our mission and, once again, we have proven this with facts by providing companies in construction and road sectors effective answers for a recovery after six years of intense crisis. We are now looking at our next commitment, EXPO Construções – the new show promoted by our subsidiary Veronafiere do Brasil, scheduled next 5-7 November in Espirito Santo State, where investments worth about 3 billion euros are planned in the construction industry through to 2017," said the President of Veronafiere, Ettore Riello.
"Right from tomorrow, we will start working with associations and companies on the 30th edition of Samoter, already scheduled 22-25 February 2017. The 50 years edition was the hinge-pin between past and future, re-launching – together with all trade associations – the event and the sector as the landmark for the construction industry. Co-scheduling with Asphaltica and partnership with Siteb proved to be a highly successful choice and was much appreciated by visitors and exhibitors," said the CEO & Director General of Veronafiere, Giovanni Mantovani.
Comments by a number of road construction associations and exhibitors
"The decline on the market in recent years has diminished the number of companies but not the quality of the offering and contacts; indeed, we noticed attendance by operators who had not been in Italy or on this market for many years. For us, it was a good show," said the President of Unacea, Enrico Santini.
"We believed in Samoter together with Veronafiere as a way of giving a positive signal to the construction world and we were rewarded with optimism and confidence. Our members presented many innovations, while our Association proposed important content and projects, such as Cantiere Italia, launched to coincide with the exhibition," said Carlo Belvedere, Secretary General of Ascomac.
Positive responses also came from the sector covered by Asphaltica, with Stefano Ravaioli, Director of Siteb, commenting on the result of the debut in Verona for the exhibition dedicated to road infrastructures: "Compared to the previous edition, co-scheduling with Samoter at Veronafiere boosted visitor figures by more than 200 per cent. This is the ideal venue, made-to-measure for the Italian market and its many excellent small-medium companies."
"A full-scale injection of confidence for the sector," said Michele Turrini, Sales Director of Ammann and new President of Siteb:  "We enjoyed contacts with numerous clients," he said, "and entrepreneurs at last began talking of recovery rather than survival. The potential for this emerged during these four days of the show and now we have to work together to return the Italian road paving and infrastructure sector to the first place in Europe again."
"We had high expectations in the run-up to the show that were largely confirmed," said Andrea Pavan, Marketing Manager for Italy at Komatsu. Visitors were qualified and interested both in the the industry in general and the quality of our products. It was a good edition of Samoter which allows us to look to the future with optimism."
Filippo Muccinelli Venieri, Managing Director of VF Venieri SpA, emphasised that "Samoter 2014 was better than expected, with high quality visitors who showed a keen interest. We were pleasantly impressed by this edition that we did not expect to be so interesting."
"A result beyond expectations" even for Mercedes: "We decided to join Samoter in spite of the crisis, explained Enrico Ferraioli, Head of Truck Marketing at Mercedes Benz,"because Mercedes believed that this Samoter would be a turning point for the sector. We are very pleased because we have full-time, organised over 300 test drives in quarries and made many business contacts."
"We are delighted that we decided to attend this Samoter," said Giancarlo Codazzi, CEO of MAN Truck&Bus Italia SpA, "not the least since it was an important signal to our customers. A choice that paid off in terms of sales and contacts for the future. We wish to thank Veronafiere for believing in this sector."
"A very good edition which gave strong signs for recovery and considerable interest in our products. We will be here again in 2017," said Gabriele Silvani, President of DMO (Bobcat and Doosan).
"We are highly delighted that we took part in this edition. We established top quality contacts and there was even good attendance by Italian operators, especially from southern Italy and the islands, that perfectly matched our target market," said Michele Guzzo, Sales Director Italy at Takeuchi.
"We are a small family business with six branches abroad and we are consolidating our network also thanks to Samoter that is and will always be a key trade fair for the development of our business," said Guido Azzolin, President of MB Crusher. We are delighted to have received the Samoter 2014 Innovatoin Competition Award and have already confirmed our attendance at the 2017 edition."
Tullio Candeloro of Hella said: "It was a positive show, with many operators. We had the chance to present new products that appealed to visitors – not only existing customers but also many new contacts."
For Lameter srl,active in the earth-moving machinery sector, this was the ninth time at Samoter: "Despite downsizing because of the crisis," said Giulio Riccardi, Business Development of the Genoa-based company, "the show managed to represent the full range of Italian production. Numbers, of course, were down but positive at last ."
"We are satisfied with the quality and number of visitors," commented Federico Tamburri, Assistant to the Director General of Simex, a position also endorsed by Angelo Gasparin, owner of Gasparin Impianti and Walter Tonello, Sales and Technical Manager of Erma-Rtmo, who added: "we welcomed a great deal of interest from international operators."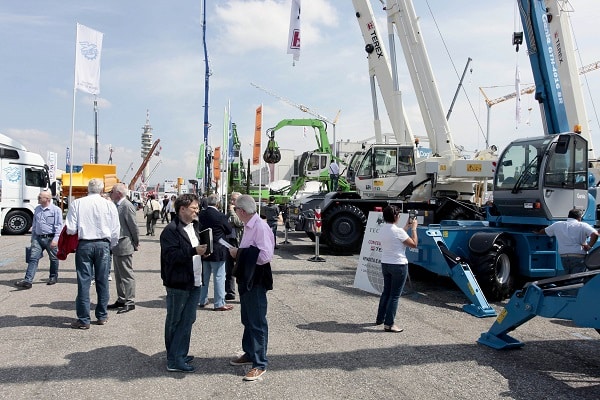 Comments by delegations (from 40 countries) attending Samoter and Aphaltica 2014
Russian companies travelling to Veronafiere were particularly pleased with the Asphaltica-Samoter combination, says Oksana Pervshina, Head of Purchasing at LLC Stroygazconsulting, a giant corporation with more than 3,000 employees having operations in oil and gas pipeline installation as well as civil buildings, subways and roads. The company is one of the largest construction groups in Russia. "Here," Pervshina explained, "we have found a complete panorama the Italian offering in the construction sector and equally appreciated the products and technological solutions for the road sector, which is very important for our group." Samoter was also attended by Actio Rus, an important Russian distributor of quarry and construction machinery. Mikhail Shcherbinin, Manager of the company's Truck Department, says that the outcome of his trade mission is definitely positive, because "it enabled us to make many useful contacts and find very interesting and innovative products in areas such as crushing".
As regards India, highly sophisticated road construction technologies are highlighted in Verona. "I am attending Samooter and Asphaltica," said Sudhir Uppal, Managing Director of Indian company Opalpaints, "to find additives for asphalt and bitumen. India has great demand for these products but its own production is not adequate". He was accompanied by another Indian buyers, Dhvanil Shah of Jhanvi Earthmovers, a company specialising in supplying spare parts for earth-moving and quarry machinery: "This is the first time we have visited Samoter and having seen at first hand the quality of Italian products we have decided to extend the range of spare parts we offer our customers in India." India, in any case, according to Unacea estimates, will triple by 2015 the number of imported machines compared to 2005.
Samoter was also attended by Asean countries (South East Asia). Kisada Laowatanawong is the Director of the Bangkok Lift & Crane Co. Ltd. that deals mainly with construction cranes as well as track-laying and wheel loaders/mechanical shovels. "I am very pleased with the contacts I have made so far here at Samoter," he said during a brief pause at the Samoter International Meeting Point. There is strong demand for machinery in Thailand. We are looking for top quality machines and know that Italian companies are the best». Jason Chau arrived from nearby Malaysia. He is the Administrative Director of Method Machine Works, a builder and exporter of machines used to produce concrete bricks and concrete blocks: "In addition to our products, we also export to countries in our area machinery by other companies that are complementary to our own. We are here today to find other products to complement our range of mobile crushing plants."
Arriving from the Middle East, Asghar Aminirad is CEO of Tamin Sanat Pars, one of the companies taking part in the Iranian Mission visiting Samoter and Asphaltica. "The construction sector, as well as the natural stone and marble field, have very strong roots in Iran," he explained, "and we are looking for products and partnerships with European and Italian companies to help fill our know-how gap. Commercial relations with our country will soon no longer suffer from restrictions after the elimination of the last economic sanctions, without forgetting that Iran is a hub for exports to neighbouring countries having almost 300 million inhabitants in total."
The Iraqi delegation organised in collaboration with Unido travelled from the same geographical area. The delegation comprises entrepreneurs operating as direct constructors as well as general contractors in the country's four provinces of Erbil, Baghdad, Nasiriyah and Basra. Some of these companies have signed an agreement with Union Bank of Iraq to take part in procurement tenders that will be launched soon for the construction of public facilities, including hospitals and roads. In this context, they are looking for Italian companies capable of becoming involved in these initiatives.
"Interest in our country is very strong," said Majid Abdullah Rushaq, Chairman of the Industry Chamber of Bassora. "We would like to open an Italian Business Centre in Bassora dedicated exclusively to Italian entrepreneurs as our colleagues in Nasiriyah have already done – and we would even like to set up a showroom or a display of these Italian technologies and machines in Iraq. In any case, we will hold a series of meetings and, after returning home, we will share with colleagues the valuable information and important technical updates we have collected here at Samoter."
The foreign delegations attending at Samoter and Asphaltica especially in the Spanish mission comprising technical machinery managers representing four giants in the construction field: Dragados (Acs Group), Acciona, Ohl and Coprosa – companies whose turnover is measured in terms of billions of euros since they are involved in major works on all continents. For the Italian construction machinery industry, the Spanish market takes 20th place for the value of exports, with moderate growth in January 2014 compared to the same month last year. Manuel Saez Rodriguez, Head of the Machinery Department at Ohl, said: "Our company operates in more or less every sector and our interest in Verona is consequently across the board. I am satisfied with what I have found, especially in the truly complete road paving area on show with Asphaltica. I hope to find an even better offering in 2017."
Carlos Martin Ortega, Project Manager at Acciona, was also very satisfied: "We are also interested in just about any and all construction and building technology. The outcome of this trade mission is positive, especially in view of the difficulties which the sector is experiencing in Italy, in exactly the same way as in Spain."
Source: Veronafiere Press Office