The CPA's 'Stars of the Future' 2014 young apprentice award winners announced at Vertikal Days to an audience of 200 guests! The day was deemed an overwhelming success!
On the 14th May at Vertikal Days cranes and access equipment exhibition (Haydock Park, Merseyside, UK) the CPA (Construction Plant-hire Association) hosted the 2nd 'Stars of the Future' plant mechanic apprenticeship awards presentation in an all-star ceremony full of young engineers, who took part in the annual competition from colleges nationwide. Presenting the awards was famed Finning Engineers, Spencer Smirl and Richmond Dykes from the 'Coldest Journey' Antarctic expedition. The engineers accompanied intrepid explorer, Sir Ranulph Fiennes in a journey through the frozen Antarctic.
A special feature of the Awards, which were supported by CITB (Construction Industry Training Board), Vertikal Days, JCB, Speedy, A Plant, Hitachi Construction Machinery (UK) and UK Caterpillar dealer, Finning, was a very interesting and inspiring presentation and talk by Finning's Spencer and Richmond who shared their experiences with the audience.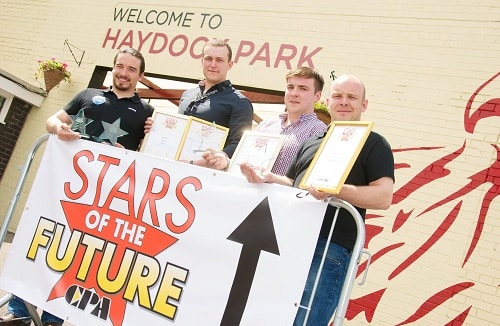 The young engineers listened intently as Spencer and Richmond described their 307 days in the frozen Antarctic where the two engineers maintained and operated the two Cat D6Ns, manoeuvring across crevasse fields and blue ice, whilst towing science and accommodation cabooses in an ice train, faced with winds of up to 125 Km per hour, delivering a wind chill of -88 degrees!
Friends, partners and parents looked on as each of the 21 regional winners were presented with their award – the young stars beamed with pride at receiving recognition for their hard work. The two overall (national) winners also took to the stage to receive their award to rapturous applause from the audience.
Richmond Dykes said, "It was an honour to present the awards and share our experiences with the students. It's good to give something back and I hope our journey will inspire the next generation of engineers. I am a real believer in supporting apprentices and the CPA's scheme is an excellent way to promote our industry and encourage new talent."
Spencer Smirl added "I was delighted to be asked to talk to the young plant mechanics – I flew in from Canada especially for the event. It was amazing to see so many students taking part and the amount of entries for the awards were very impressive. It was a pleasure to meet with the students and present them with their awards and prizes."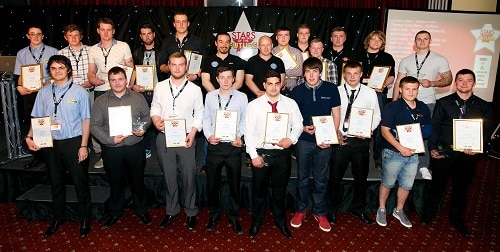 The Stars of the Future competition is an annual award scheme devised by the CPA to recognise talented youngsters on plant mechanic apprentice schemes in colleges across the UK. In the inaugural competition there were 489 entries – this year there are a staggering 592 entries which made the judging even more tough than last year!
There were separate prizes for Level 2 and Level 3 apprentices and colleges monitored their students and revealed their two 'Stars of the Future' apprentices. There were 21 regional winners across the country and from amongst these 21 finalists a panel of judges decided the two National Winners, one at each level.
The regional winners at level 2 were as follows: Conor Reuss, Finning UK Training Academy; Craig Harris, Myerscough College; Darragh Spencer, Askham Bryan College; George Bray, Wiltshire College – Lackham; George Pyecroft, Stafford College; Jake Beeson, Coleg Llysfasi; Lee Thompson, Reaseheath College; Martin Stewart, Glasgow Kelvin College; Rhys Lewis, Bridgend College; Steven Reid, National Construction College Scotland and Thomas Hughes, National Construction College (East).
The regional winners at level 3 were as follows: Colt Davis, Bridgend College; Christopher Smith, National Construction College Scotland; Dane Gendinning, Reaseheath College; James Prior, Finning UK Training Academy; Karl Thorne, Wiltshire College – Lackham; Luke Holmes, National Construction College (East); Matt Biggins, Myerscough College; Nathun Wadiun, Askham Bryan College; Ryan Hunter, Glasgow Kelvin College and Thomas Hammond, Stafford College.
The national winner at level 2 was: Darragh Spencer of Askham Bryan College, employed by Randall Orchard Construction Ltd. Peter Chapman, Construction Plant Maintenance Course Manager said; "Darragh is probably one of the most academically gifted students ever to commence the Apprenticeship in Plant Maintenance course since its inauguration in 2007; combine this with an insatiable zest for learning, IT skills and good all-round practical skills in the workshop and you have the perfect candidate for developing into a highly qualified technician that our industry desperately requires. I have no doubt that in the future he will progress to the upper tiers of management within our industry."
Mr Chapman concluded, "If I was managing a Plant Hire company I would employ him without a second thought, as it is I would have no qualms at providing him with a reference if it was ever required; in fact with a few more years' experience under his belt I would happily consider him for the position of a Lecturer."
The national winner at level 3 was: Colt Davis of Bridgend College, employed by Dawnus. College lecturer, Richard Oaten said, "Colt is a studious candidate with a genuine interest in the topics delivered; he has always been interested in mechanical engineering, especially plant and agricultural equipment.
He has good academic abilities and achieved good GCSE grades and studied for a further year in 6th form. After this he secured an apprenticeship at Tycroes Plant in Cross Hands where he soon became a valuable member of their maintenance team. His practical abilities are very good, not only demonstrated in the workplace but also in the repair of classic tractors and a Triumph Stag which he restored.
On completion of his full apprenticeship framework at Level 2 he was gravely concerned as to whether he would be able to complete an Advanced Level 3 apprenticeship with his employer as they were not carrying out in depth repairs and systems testing/diagnostics etc.
He showed great initiative here by canvassing many plant repair companies throughout the South and West Wales areas, eventually convincing Dawnus of Port Talbot to provide him with applicable work to accommodate the Advanced Apprenticeship (even though they had never employed a plant mechanic apprentice to date). This fully demonstrated Colt's commitment and enthusiasm for his education.
As a teaching team we are proud to have had the privilege of working with Colt throughout his apprenticeship and wish him all the very best for his future."
Master of Ceremonies on the day was CPA's Haydn Steele, who was also responsible for organising the event. He said, "last year we set a very high benchmark and we intend to make the scheme even bigger and better in the coming years. Apprentices are playing an important role in the recovery of our industry by giving employers the essential skills they need. I am very proud and privileged to be associated with the Star of the Future programme and to see the pride they bring not only to their employers, families, and college but most importantly to themselves. Congratulation to every apprentice as they are all Star of the Future."
CPA Director Kevin Minton played a key role in developing the Stars of the Future scheme and ensuring its success. He said "thanks to all of our supporters, the event was very successful. But the greatest praise must go to the youngsters themselves – it was really uplifting to see the hard work and enterprise that they have brought into their apprenticeships and into their lives. I wish them all well for the future."
The two National Winners received £1000 in tool vouchers from Machine Mart and the Regional Winners received £500 in tool vouchers also from Machine Mart. A Stars of the Future trophy and commemorative certificate were also given to all the winners, which Spencer and Richmond signed! A photograph of the presentation with the Finning engineers is also available to the students.