The Samoter international jury has assigned the Samoter Technical Innovation Competition 2011. Award to Merlo for its PANORAMIC P 41.7 Hybrid lifting appliance, Liebherr-Emtec Italy with its LIEBHERR ER 934 electrical industrial loader and SIMEM for its MMX3500 plant.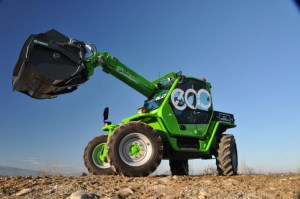 Merlo – PANORAMIC P 41.7 Hybrid . This lifting system expanding the company's production range in the sector has diesel and electrical drive engines for on-board hydraulic systems with the possibility of joint and/or separate operation depending on various conditions of use. It can be used in single or mixed drive conditions to reduce consumption to a more or less marked extent and specifically when using of the electric motor for the virtual elimination of noise and pollutant emissions.
The Samoter Innovation Competition has been hosted by Samoter since its debut in 1964 and rewards companies exhibiting their previews at Samoter of constructional and functional innovations introduced into their production. This is a very important initiative since it rewards the results of innovative investments and offers entrepreneurs and technicians in these sectors the chance to glean documented information about technical-construction and functional developments affecting various aspects of site operations.
The award is assigned in relation to innovations and/or improvements concerning energy saving, productivity, ergonomics, safety in use as well as other aspects which in any case ensure added value for products.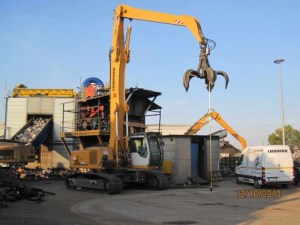 Over and above Merlo, the Jury also made awards to:
– Liebherr – Emtec Italy with its LIEBHERR ER934 industrial electrical loader. The loader presented is fitted with a new electronic management system (LIEBHERR TORQUE CONTROL SYSTEM) for command and adjustment of the hydraulic circuit in order to obtain constantly optimal work conditions. Over and above features preventing pollution in the workplace thanks to electrical drive, the jury also noted that the general architecture of the machine was completely reviewed and not merely adapted in relation to this type of drive.

– SIMEM for its MMX 3500 plant. This plant incorporates a significant series of positive characteristics as regards installation and management but especially as regards easy and rapid transport of the system, that can be readily handled even with generic vehicles, thereby avoiding special transport restrictions. To achieve this distinctive feature, the design, development and plant usage system underwent a significant review and rationalisation process. The optimisation of the location of the concrete mixing unit, in relation to transporting the concrete to the site of use, should allow planning and organisation of site complexes capable of reducing the overall impact of pollutant emissions by transport vehicles.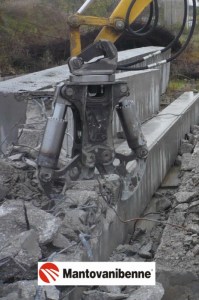 Moreover, a Special Mention was also made in recognition of the evidently innovative qualities of the system by Mantovanibenne S.r.l. , which presented a demolition clamp with an intensified cylinder. This is a demolition tool with a remote control connect-disconnect device that, thanks to the pressure intensification system in the drive cylinder and other innovative characteristics and principles, helps achieve – for the machine on which it is used – performances that are normally only attainable with machinery of distinctly higher power. The proposal presents very evident characteristics of originality in relation to hydro-mechanical development and the application of the operating concept.
The International Jury was chaired by Ing. Roberto Paoluzzi, Director of Imamoter, Italian CNR Institute, and included university professors, researchers and technicians from 7 different countries, such as Dr. Reinhold Hartdegen of BGBAU (Berufsgenossenschaft der Bauwirtschaft), German Institute for Research, Surveillance and Prevention of Accidents at Work in the construction sector, Dr. Mats Linder of SMP – the Swedish Certification and Testing Institute, Dr. Cosette Dussagey of CISMA – the French Construction Engineering Industry Association, Ing. Gianni Rigamonti – Imamoter, Prof. Ing. Luigi Solazzi, University of Brescia, and Prof. Arch. Benno Albrecht, I.U.A.V. University, Venice, as well as the president of national associations such as Ance, Anfia, Ascomac-Cantiermacchine, Comamoter, Ucomesa and Unacea.
Source: Samoter Press Room