New Holland Construction will present its Tier IV Interim solutions and exhibit the first models with SCR technology at the show, which will be held in Verona, Italy, from the 2nd to the 6th of March. It will also launch its brand new ranges of wheel loaders and crawler excavators, featuring the new Tier IV Interim technologies, and delivering greatly increased productivity and fuel economy. The brand will also introduce new features to its backhoe loaders, and showcase its dedicated product offering for the Quarry, Road Building, Pipelines/Sewage/Cabling and Residential industries.

New Tier IV Interim models: more productivity and best fuel economy with lower emissions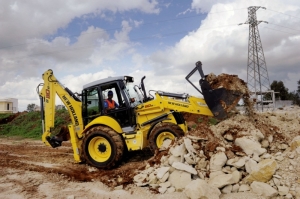 The new E305C crawler excavator and the two wheel loader models – the W170C and W190C – exhibited on the stand all feature New Holland's Selective Catalytic Reduction (SCR) technology to achieve compliance with Tier IV interim emissions regulations. This is an after-treatment system, which breaks down the NOx into Nitrogen and water, which occur naturally in the atmosphere, through a chemical reaction with a Diesel Exhaust Fluid (DEF), AdBlue®. The DEF is easy to find through all New Holland dealerships, and the tank only needs to be refilled every 4th or 5th fuel tank refill. With New Holland's SCR solution, the combustion process is optimized for maximum efficiency, so less fuel is consumed and more power is generated.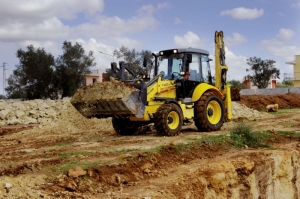 The new E305C crawler excavator, exhibited on the stand with the Quarry offering, features a new, high efficiency hydraulic system that ensures 100% pump utilisation in all applications and keeps friction losses and pressure drops to a minimum. Together with the new engines and SCR technology, this results in a 10% increase in productivity in terms of cubic meters per hour and a 10% reduction in fuel consumption in ECO mode compared to the equivalent B Series model. Operators will appreciate the new EVO Cab for the exceptional comfort and safety features: low noise and vibration levels, new joystick controls, all-round visibility and rear view camera, and ROPS/FOPS compliance. The heavy-duty design, with improved undercarriage, and easy serviceability result in enhanced reliability. The E305C is available in a variety of configurations, with guards and protections for applications such as quarry or demolition.
The new W170C and W190C wheel loaders, shown in the stand's Road building display area, feature high-pressure common rail engines that deliver best in class power and torque. The operator can select one of four pre-set power modes according to the job at hand, maximising engine efficiency and productivity. The new five-speed lock-up transmission and open differential axles enhance fuel economy. The SCR system contributes to these models' exceptional fuel efficiency, achieving 9 to 17% better fuel economy than the equivalent Series B models. The new hydraulic system delivers high productivity and fast cycles. The spacious cab offers excellent access and all-round visibility, enhancing safety on the jobsite and operator comfort. The adjustable seat, ergonomic control layout and low noise ensure full comfort. The joystick steering enables the operator to switch from joystick to steering wheel seamlessly for high production applications, further enhancing controllability and productivity.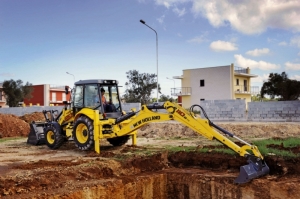 The B115B and B110BTC backhoe loaders on the stand introduce new features that significantly increase fuel efficiency, operator comfort, productivity and durability. The new variable displacement pump only delivers the necessary oil flow when it is needed, resulting in fuel savings up to 10%. The pump also reduces engine stalling to a minimum, increasing productivity. The perfect self-levelling of the B110B Tool Carrier's bucket when lifting and lowering further enhances productivity, as do the 20-inch front tires, which ensure excellent grip and stability. Operator comfort is enhanced by the automatically managed hydraulic speed control switch, the power brake and the soft touch steering wheel. The new transmission, front axle and heavy duty rear axle, together with the PowerShuttle's blocker-style synchronisers that prevent gear clash when shifting, all contribute to higher reliability and durability.
The New Holland sales team will be available to give visitors information on our full line of equipment, our financing packages and easy-to-access customer service. Our sister companies Astra and Iveco will show on our stand models that are complementary to our offering, while Fiat FPT, which develops our state-of-the-art engine technology, will present our Tier IV solutions.
E305C Fact Box:
Tier IV technology: SCR
Rated output power: Gross 152 kW/2,100 min-1 (ECE R120) (ISO14396)
Operating weight (max): 31700 kg
Bucket capacity: 0.60 – 1.65 m3
W170C and W190C Fact Box:
W170C W190C
Tier IV technology: SCR SCR
Max Power: 145 kW / 195hp 172 kW/ 230 hp
B110BTC and B115B Fact Box:
B110BTC B115B
Max Power: 82 kW / 110 hp 82 kW / 110 hp
Operating weight*: 7630 kg 8320 kg
*Standard bucket 1.15 m3, Standard dipper
Source: NEW HOLLAND CONSTRUCTION Press Office