Scandinavia´s no 1 exhibition for building and construction breaks new records. Aiming at 600 exhibitors, Marketing Manager Carina Tegelberg, is proud to see the company´s steady growth.
She says: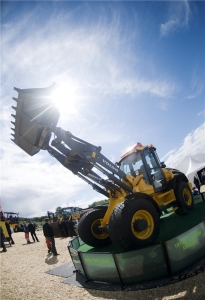 "The number of exhibitors at MaskinExpo increases by 10 percent every year and has done so for 5 years in a row. The concept of an outdoor, working, exhibition 30 minutes from Stockholm Airport is much appreciated. Swedes enjoy test driving new machines, get updates on the latest trade products and meet with 30 000 "colleagues" at an unusually friendly trade fair. Swedish market has recovered and business is really good. The trend is that what's new on the Swedish market is launched at MaskinExpo in Stockholm."



At MaskinExpo new Swedish importer of LiuGong launches the Chinese brand. In Stockholm May 19-21 importer Peters Lastmaskiner will exhibit 10 wheel loaders and excavators at Scandinavia´s no 1 Exhibition for Building and Construction.
"Chinese LiuGong is a leading brand with a yearly production of 55 000 machines. LiuGong has, as the world's major producer of wheel loaders an enormous capacity. The opportunity to launch these machines in Sweden is fantastic", says Peter Carlsson, Managing Director at Peters Lastmaskiner AB.
"We have just signed the agreement and are already employing more staff. Now we look forward to show the machines to new customers and have great expectations for our participation at MaskinExpo".
On the Swedish market Peters Lastmaskiner will launch 14 of LiuGong' s construction machines;  6 wheel loaders ranging from 10-30 tons and 8 excavators from 4 – 36 tons.
Peter´s Lastmaskiner launches LiuGong in stand S16 at MaskinExpo.

For three days a huge area just outside Sweden's capital city will be converted into Scandinavia´s leading machine trade fair filled with exciting new exhibits. This action-filled machinery expo will be held at Barkarby Airfield in Stockholm between May 19 and May 21, 2011. Last year´s exhibition attracted 528 exhibitors and 28 500 visitors.
At MaskinExpo exhibitors will have an excellent opportunity to show what their machines are capable of. A giant demo-site with gravel, soil, mud and rock will allow them to give a working presentation of their machines, equipment and accessories, allow visitors to have a go themselves or give the professionals a chance to display their skills.

Exhibitor Profile
Building and construction machinery, road maintenance, light commercial vehicles, machines for drilling, crushing, park and landscaping.
Visitor Profile
Manufacturers, suppliers and service providers from the construction and building industry, commercial vehicle and agricultural machinery industries, purchasing decision-makers.
Website
http://www.maskinexpo.se

Start Date              Venue Name
19/05/2011             MaskinExpo 2011
End Date                 Venue Address
21/05/2011             Barkarby Airfield, Stockholm
Organizer
MaskinExpo Sweden AB
Contact Name
Carina Tegelberg