SMOPYC, the International Show of Public Works, Construction and Mining Machinery, due to be held at the Zaragoza Trade Fair Center from 5 to 9 April 2011, promises to be an outstanding event. Efforts have been redoubled as regards the internationalisation of companies through intensive foreign promotion and the programme features numerous trade meetings between countries. In addition, overall improvements have been achieved both with respect to facilities at the fair and as regards the infrastructure and services that support it.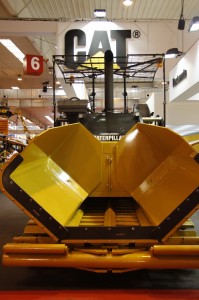 The most eagerly awaited date on the calendar for the Spanish and international public works, construction and mining machinery industry is drawing closer, with SMOPYC 2011 due to take place from April 5th to 9th at the Zaragoza Trade Fair Center. Everything is in place to receive the main actors of a sector which, while not enjoying its most fruitful period, has once again demonstrated its confidence in the long-standing Spanish trade fair. This is borne out by some of the figures already available for the upcoming edition. The event will boast 9 halls, 100,000 m2 of covered space, and 200,000 m2 of outdoor space for the exhibition of heavy machinery, demonstrations and sponsored areas. With respect to participation, unconfirmed figures point to approximately 600 direct exhibitors (this figure does not include represented companies) and 900 brands. These will include practically all the leading companies in sectors related to earthmoving, roads, aggregates, concrete, and lifting and handling, sectors that have once again chosen SMOPYC as the optimum way of making contacts in the international market in 2011. An example that highlights this fact is the presence of Barloword Finanzauto Caterpillar. The company will present its entire range at the fair and will have exclusive occupation of the 6,000 m2 of Hall 5 of the Zaragoza Trade Fair Center. Also of note are the extensive car parking facilities. Exhibitors will enjoy 50,000 m2 spread over 4 zones alongside the halls and outdoor area, with 30,000 m2 of covered car parks. Meanwhile, visitor car parking facilities will amount to a total of 300,000 m2, spread across the southern, northern and western areas of the center.
But SMOPYC 2011 has not only gone to great lengths in terms of available space. Participation fees have been reduced by up to 43% and all efforts have also been made to reduce other costs, such as accommodation and transport, through agreements with hotels, the national rail company (RENFE), and airlines. Similarly, promotion of the event has been intensified in the forums of greatest interest to the sector, with the objective of reaching every corner of Spain and the world, and particularly with a view to seeking a response from emerging countries and those of particular interest to the sector. All these efforts seek to achieve a single main objective: to accompany and serve the sector on the road to recovery.
The challenge of internationalisation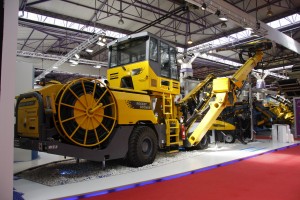 The current situation makes internationalisation a must for companies. In many cases this is the only viable strategy for consolidation and growth. Many companies are already looking to the international market, be it through the creation of foreign subsidiaries or branches, or with the help of suitable partners. Whether exports are sporadic or regular, the main question is to operate in foreign countries, having first identified the best markets. There are countries firmly committed to investment in infrastructure but which do not have indigenous companies capable of carrying out their projects. Nor do they have the necessary equipment and machinery. These are markets which even go so far as to facilitate the entry of foreign companies. For this reason, SMOPYC has focused on such countries and has promoted the event in Algeria, Morocco, Brazil, Ukraine, Poland, Russia, China, Angola and Mexico, amongst others. SMOPYC has also extended direct invitations to participate in the event to the strategic markets of North Africa, Asia and South America.
SMOPYC has already shown itself to be an excellent tool for company internationalisation by means of the different trade missions organised within the framework of the fair. For this edition, trade missions have been organised with the markets of: Algeria, Russia, Mexico, Austria, Brazil, Angola, China, the Middle East, Morocco, Poland, Panama and Portugal. In addition, Anmopyc (Spanish Manufacturers Association of Construction and Mining Equipment) has organised reverse trade missions with the visit of over 100 international companies. Moreover, there will be an extensive program of interviews organised under the auspices of the Enterprise Europe Network project with the cooperation of CREA (Employers Confederation of Aragón). This program will feature approximately 800 business meetings, with customised schedules for exhibiting companies. These meetings will be held on April 5th and 6th and will boast the participation of over 200 buyers from 40 countries.
R&D&i trends in the public works and construction machinery sector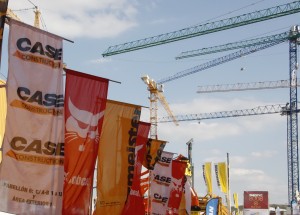 During the last CECE (Committee for the European Construction Equipment Industry) congress organised by Anmopyc and held in Barcelona last October, the most respected voices in the sector underlined the need to develop innovative solutions to increase competitiveness. They advised companies to invest in R&D&i rather than making cutbacks if they wished to guarantee their future. The main innovation initiatives in the sector are aimed at developing more productive machines and equipment with lower fuel consumption and emissions. The regulatory framework is also moving in this direction, as indicated by the latest Environmental Protection Agency (EPA) stipulations for large engines, which came into force in January 2011. This has given rise to the development of the new Tier 4 engines, which guarantee a 90% reduction in pollutant diesel particles and a 50% reduction in nitrous oxides with respect to the previous Tier 3 requirements.
In general, design innovation for new machines focuses on questions such as safety, sustainability and eco-efficiency. This is also emphasised in a study carried out by the Aragón Technological Institute (ITA), which examines technological options for the Public Works and Construction Machinery sector. The study indentifies 6 technological areas which companies should focus on in terms of innovation: electronics and communications systems, new materials, calculations and simulations, testing, mechanical systems and process engineering. The development of each of these areas would be applied to concepts such as the safety, efficiency and productivity of the machine and to the development of the "intelligent machine", with the introduction of ICTs, GPS and other advanced control technologies.
SMOPYC 2011 Technological Innovation Awards
As is the case at every edition, SMOPYC 2011 has offered companies the opportunity to publicise their developments and new creations through participation in the Technological Innovation Awards. The award-winning enterprises for the 2011 edition are as follows:
New developments in Machinery:
Gold Award: Comoplesa-Lebrero, S.A., for its insulated asphalt tanker.
Silver Award: Mopicsa/Soilmec S.p.A. for the BELI hydraulic screen wall machine with 4 high-capacity rotaries.
Bronze Award: SEBHSA, for its Robot pump for the projection of concrete.
Innovation in Equipment, Components and Auxiliary Means:
Gold Award: INELAS POLIURETANOS, S.L, for its Mobile Screen Cleaner Device for dry screening.
Silver Award: MAQUIOBRAS for its UNE 180401:2010 compliant loading and unloading floor platform.
Bronze Award: METALOGENIA, S.A., for its hammerless Ripper R tooth system.
Services applicable to the Building Activity
Special mention goes to I.C.C. CONVEYOR, S.L for the ALMEXPAD system for the control of conveyer belt vulcanisation presses
Enhancements at SMOPYC 2011
Improved access and access control thanks to a special entrance and exit device, which, in coordination with the Civil Guard, will facilitate ordered visitor flow. More parking space with improved signalling and better access.
Improved hotel offer as regards capacity, which has doubled, prices and range of alternatives, such as accommodation and transport packages.
Logistics enhancements with improved transport to the city of Zaragoza and buses serving Zaragoza, the Trade Fair Center and Hotels. AVE Carriage with two morning departures and corresponding day returns from both Madrid and Barcelona, with discounts of between 35% and 40%. Direct routes to the Trade Fair Grounds from different hotels and from the Plaza complex, as well as a shuttle service to and from the airport.
Enhanced web services enabling electronic invitations to be obtained directly from the SMOPYC web site quickly and conveniently.
As always, in addition to being a great shop window for innovation and a sales event second to none, SMOPYC will also be the meeting point for the leading sectoral associations, who will avail of the occasion to organise their assemblies and conferences.
Source:   ALARCÓN & HARRIS Communication & Marketing on behalf of SMOPYC International Show of Public Works, Construction and Mining Machinery