Volvo Construction Equipment's EC140BLCM is an effective solution for working the paddy fields of Southeast Asia – offering power, fuel efficiency and stability on the boggy terrain.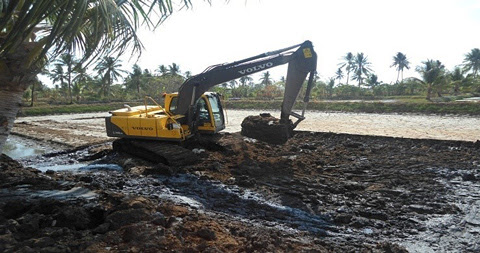 Ample rainfall and high temperatures make the Indonesian climate ideal for cultivating Asia's food staple – rice. The country is the world's third largest producer after China and India, producing around 70 million tonnes a year, and South Sulawesi is one of the country's biggest contributors. The region is home to over half a million hectares of paddy fields, where rice plants are submerged in water up to 50 cm deep.
Rice growing is a labor intensive process because of the boggy land making it difficult to use modern machinery to harvest the crop. Many areas of South Sulawesi still use traditional farming techniques, but for some parts of the process, heavy equipment can be used. One plantation, just outside Barru, the principle town of Barru Regency, has put a Volvo Construction Equipment (Volvo CE) EC140BLCM to work to dredge out an irrigation pond.
CV Setia Bangunan started out as a construction materials supplier and branched out into heavy equipment hire in 2011. The company's owner, Andi Hamsah, identified an opportunity to rent out his one 20 t excavator – and since then, the business has gone from strength to strength and his current fleet includes six Volvo Construction Equipment (Volvo CE) excavators, including the EC140BLCM. With a wider undercarriage for increased weight distribution, this model has proven successful in paddy fields across the region where it often works immersed in the sodden ground.

The perfect fit
The 14 tonne EC140BLCM can be configured with a shoe width of between 600-900mm, and while the operating weight increases in correlation to the shoe width, the ground pressure decreases. This makes the machine suitable for operations on soft or wet ground, while still being able to deliver more power and productivity than a lighter-weight, 10 tonne machine.
"The ground around paddy fields is very soft and larger machines tend to sink under their own weight," explains Hamsah. "In these cases, we use wooden planks to map out a path for the machine, but this is time consuming and not very effective. A 10 tonne machine doesn't sink, but it has less power and takes longer to complete the job. That's why, for us, the EC140BLCM is the perfect solution because it offers low ground pressure and high power."
The EC140BLCM is powered by the turbocharged four-stroke, four-cylinder D4D diesel engine that has been specially designed for Volvo's excavators. It offers excellent fuel efficiency, low noise, low emissions and a long service life. It also has further fuel saving features, such as the automatic idling system that reduces engine speed to tickover when the levers and pedals are not used for a period of time.
"The machine offers low fuel consumption and high power – that's why our customers like it," Hamsah continues. "It's agile and easy to operate, with a smooth and responsive joystick. Many of our customers tell us that they're happy with the fuel consumption and operator comfort that Volvos offer."
At your service
In the rural region of South Sulawesi, getting the right support for construction equipment is important. For Hamsah, his business depends on the machines in his fleet being up and running. Intraco Penta Prima Servis (IPPS), part of INTA Group, distributes and supports Volvo products across Kalimantan and Sulawesi, with over 15 offices in the region.
"We have always received good support from IPPS, from the purchase to service and spare parts," says Hamsah. "The representative is very responsive and meets our customers' needs – sometimes before they even realize what they need themselves."
For further information, visit www.volvoce.com.