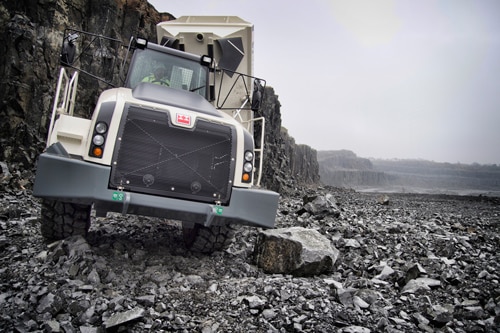 Gornji Vakuf-based mining company, Rudnik Uglja Gracanica, has chosen Terex Trucks TA300 articulated haulers for work on its Gracanica open pit coal mine in Bosnia and Herzegovina.
Existing Terex Trucks customer, Rudnik Uglja Gracanica has purchased two additional TA300 articulated dump trucks for hauling coal at the company's Gracanica mine in Bosnia and Herzegovina, bringing the total of Terex Trucks in the fleet to nine.
The 28 tonne capacity TA300s will work two shifts per day hauling coal from the pit to the storage yard. The coal is then transported to a power plant by on-highway trucks or rail. Situated 9km northwest of Bugojno, the Gracanica mine measures 2,000m by 800m alongside the river Vrbas.
"These new Terex Trucks are a welcome addition to our truck fleet, joining seven TA30s already working on the mine,"
said Eldin Mustajbegovic, head of mechanical maintenance, at Rudnik Uglja Gracanica.
"The trucks are fuel-efficient and have proven to be extremely productive, so we're looking forward to putting the new TA300s to work."
A proven performer in the toughest applications, the Terex Trucks TA300 is equipped with independent front suspension to enable excellent traction control, making it ideal for the rocky Bosnian and Herzegovina coal mine. The articulated dump truck has a maximum payload of 28 tonnes (30.9 US tons), and 276 kW (370 hp) engine power.
The TA300s are being supplied by Terex Trucks dealer LAGER D.O.O. Headquartered in Bosnia and Herzegovina, LAGER D.O.O covers countries throughout south-east Europe including Croatia, Slovenia, Serbia, Montenegro, FYR Macedonia and Albany.