New products, recruitment, 3D printing and the northern powerhouse have all been on the agenda on day two of the UK's largest construction trade event UK Construction Week at the NEC in Birmingham.
Business journalist Steph McGovern kicked off proceedings on the main stage, hosting a panel discussion about how the northern powerhouse has and will become more important in post-referendum Britain. Panellists included David McGowan, Operations Director at BAM Nuttall, Phil Mayall, Development Director at Muse Developments, Richard Green Director of Design, Planning & Economics at Aecom, Dr Mark Brown, Business Development Director at Amey and Jonathan Spruce, Director at Fore Consulting as well as Vice-Chair at ICE Northern Powerhouse Steering Group.
UK Construction Week is also hosting a number of exciting industry firsts and product launches including the launch of Bio-Oxygen's business in Europe as part of HVAC 2016. Originally set up in Australia, Bio-Oxygen is now entering Europe following worldwide success of its air sterilisation system, which guarantees odour free results along with 99% elimination of viruses and bacteria.
Emma Mogg, Business Development Director at Bio-Oxygen, commented: "It's been fantastic, we've had some quality leads so far and have found the event to be a great platform to launch our business. We're really proud to be part of the Innovation Trail and it's brought so many people excited by innovation through to our stand."
The Innovation Trail is continuing to be a great success and highlights some of the most innovative new products, services and companies at this year's show. Marked by a special blue code on the floorplan map, some of the other exhibitors on the trail include WikiHouse, Pavegen, EcoVolt, RA Tech, Jigtech and g2 energy.
Another exciting product launch today came from Easy-Trim Roofing and Construction Products. Rachael Gibson, Marketing Manager at Easy-Trim, commented: "We've had a fantastic day at our stand and garnered a lot of high-quality leads. This afternoon we ran a 'happy hour' which attracted an amazing amount of footfall and have launched a brilliant new product, Polyurecoat a liquid polyurethane membrane. We decided to launch the product at UK Construction Week because the show attracts such a broad demographic of visitors, from end-users to specifiers and architects. It was a big help to be able to demonstrate the product in front of visitors as it's something that benefits from being seen in action. Overall the show has been more than a worthwhile experience."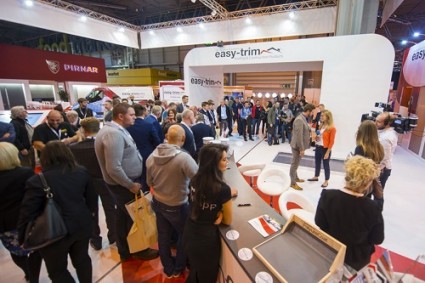 Also today Economics Director for Glenigan, Allan Willén delivered a comprehensive presentation of trends and forecasts across a number of construction sectors at the Glenigan Breakfast Briefing. Despite what has been a turbulent year for the country as a whole, forecasts for construction remain broadly positive. The presentation made clear how each sector was reacting differently to the aftermath of Brexit and a depreciation of sterling.
Speaking on the breakfast briefing, Allan commented: "We have been a keen advocate of UK Construction Week since it began. Our briefing covers different sectors of the industry and it's great to be able to deliver it to such a diverse and relevant audience."
Another exciting feature at today's show came from IRWIN Tools, which announced its Ultimate Tradesperson of the Year on the main stage, hosted by TV presenter and architect George Clarke. Receiving £5,000 and a paid for apprentice for a whole year, Nicola Butcher – a 21-year old carpenter from Stevenage – is a shining example of a tradesperson that goes above and beyond in her work.
Nicola Butcher said about her recognition: "I feel very proud to have been named IRWIN's Ultimate Tradesperson. I have spent just over one year building my business in and around Stevenage and have always taken pride in the work I do. I look forward to working closely with an apprentice to ensure they take just as much pride in their work and do my bit to help nurture a new generation of brilliant tradespeople."
Following on from the announcement of the winners of the World Architecture News (WAN) Infrastructure Awards 2016 yesterday, WAN also announced who claimed the top prize in its Concrete in Architecture Award 2016 today at the Surface and Materials Show. This year Menis Arquitectos, SLP's striking CKK "Jordanki" and Fernanda Canales' sustainable Salas de lectura were named joint winners of the Award.
Continuing the activities beyond all the day's content, visitors to UK Construction Week can look forward to a prestigious award ceremony and extra evening entertainment tonight. The Structural Timber Awards will get underway at 18:00, celebrating the best in building with the world's leading mainstream, low-carbon construction material. In addition, the popular Beer and Ale Festival will continue and doors will open to the Casino Night, where every visitor to the show is entitled to a free bottle of beer upon entry, a free £10 table bet and 50 per cent discount off food.
Nathan Garnett, Event Director for UK Construction Week, commented: "Today has been another great success, visitor numbers have increased on last year's event and the feedback we are getting from exhibitors is very positive. We've worked hard to ensure the content for this year's show is of maximum relevance to benefit our visitors and I'm really encouraged by the ideas and spirit of collaboration shining through all of the debates and discussions."
Rounding off yesterday's events ITN Productions launched its news-style programme 'Foundations for the Future' in partnership with the Home Builders Federation (HBF). Simon Shelley, Head of Industry News at ITN, commented: "The programme looks at the state of house building today and the challenges facing the sector. Providing a unique perspective from within the industry, the film has been designed to heighten awareness among policy makers, politicians and the wider public about these challenges. UK Construction Week is a great platform for us to launch the film and reach an even bigger audience." The film has been uploaded today and can be watched on the HBF website.
Taking place at the Birmingham NEC from 18 – 20 October, UK Construction Week combines nine shows in one location. The show boasts over 650 exhibitors and visitors are able to attend Timber Expo, the Build Show, Civils Expo, the Surface and Materials Show, Energy 2016, Plant & Machinery Live, HVAC 2016, Smart Buildings 2016 and Grand Designs Live.
For more information about UK Construction Week or to register to attend for free, please visit www.ukconstructionweek.com or follow @UK_CW on Twitter.