The 4th biennial Plantworx Construction Machinery Show, incorporating Railworx, (11 – 13 June), hosted by the CEA (Construction Equipment Association), fell victim once again to monsoon weather conditions. The show was blessed with a brief respite on the middle day of the event (Wednesday 12th June) – but the torrential rain returned during the afternoon and continued until close of play on the last day of the show.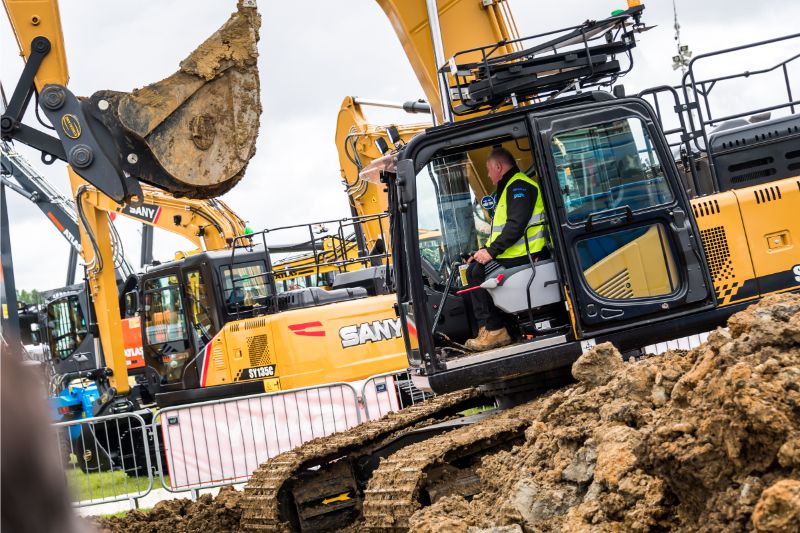 However, the rain did not 'stop play, and hardy visitors braved the elements and flocked through the gates to see the plethora of brand-new equipment and products on display, at the show's new home at the East of England Arena, Peterborough.  One visitor via twitter said, "We are not made of paper in our industry – a bit of rain won't put me off." – and this proved to be true. The Plantworx team revealed that footfall reached in excess of 13,700 over the three-days of the event, despite the biblical conditions (final numbers to be verified).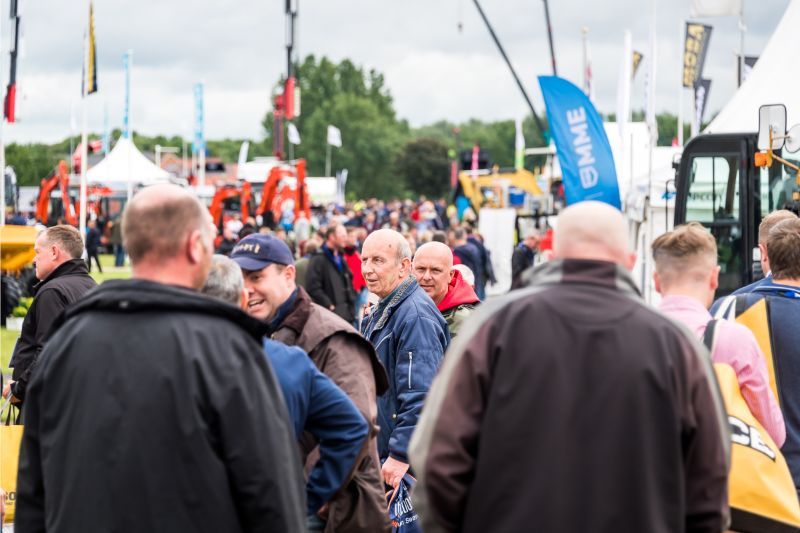 The show was 20% larger than the 2017 event and was home to more than 450 exhibitors, including Railworx exhibitors, and was the biggest Plantworx to date! The new 'all weather' venue was a big hit with both visitors and exhibitors alike – and the Plantworx team received a host of positive comments via the telephone, email and social media platforms. Here are some examples of what exhibitors and visitors had to say about Plantworx 2019 – there were so many we simply could not include them all – but there's certainly a 'warm fuzzy feeling' going on in the Plantworx and Railworx teams.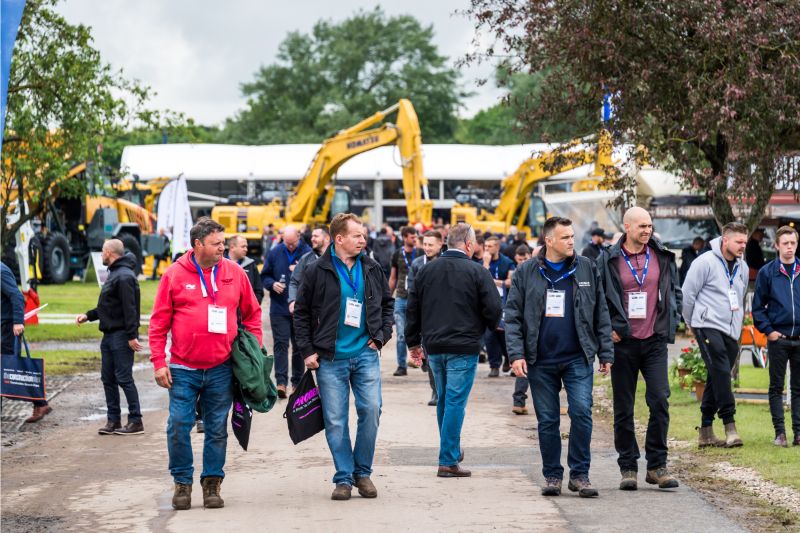 Exhibitor Feedback…
Exhibitor, Peter Beach, Sales and Marketing Manager, Genquip Ltd is a firm supporter of Plantworx he commented, "Weather aside, the showground was a tremendous facility and proved it can handle the rain. Your (Plantworx) organisation on set up and breakdown were brilliant, and of course, assistance during lead up was superb.
Peter added, "I do believe that the weather brought out serious visitors, which meant we had more time to speak with them and not the usual timewasters during sunny periods so a great show for us."
IPAF is also a loyal exhibitor, Richard Whiting, UK Market General Manager, IPAF said "Congratulations on another successful event, the team has done a great job and the venue is by far the best I've been to.  The rain didn't dampen the spirits and I look forward to the next one."
Anna Kidd, Finance Director from exhibitors Harford Attachments Ltd, commented, "Just to say thank you for all the help we received from the team at Plantworx last week. We really enjoyed the show, despite the weather, and I'm pleased to say that we were very busy with lots of visitors to our stand."
Richard Ayres from exhibitors BHW (Bushey Hall Winchmaster) Group via Twitter said, "As Plantworx 2019 comes to an end, we'd like to thank everyone who ventured out into the rain and who made it to our stand. It was a fantastic three-days, great to see so many familiar faces and meet lots of new ones too."
Kevin Cassell, Sales Director, Multiquip UK also reported a good show and he said, "We made our first UK sale of a Multiquip Hydraulic Ride-On Trowel. It was sold to R Walton Building Contractor at the show."
Exhibitor @katomachinery (KATO) via Twitter said, "A fantastic last day at @Plantworx2019. We have had an amazing week, spoken to a huge number of people and showed that KATO is here and here to stay!"
@AllyourT1 (JW Corporate Ltd) said "You will definitely see us again!! We've never had such amazing support from any other show, organisers & stewards, it was like they were our family!"
Visitor Feedback…
Visitor, @Htg2702 (Harry) via twitter said, "First time I've managed to go, and the weather wasn't going to stop me! The only downside is having to wait for another two years! The site was well managed and plenty of stalls to get out of the rain."
Visitor, @tyronefab (Tyrone Fabrication) via twitter commented, "Great day out yesterday at the Railworx and Plantworx 2019 show – Peterborough. It was definitely a day for the ducks but overall a great outdoor exhibition for the rail civil engineering and systems industries. #RailWorx #EngineeringExcellence #DayForTheDucks"
@pickwellpaving (Pickwell Paving) visiting the show said, "Good day out @Plantworx2019 nice to catch up with faces old and new. Some really great products on the market right now. Really well organised, new venue is definitely a winner #PLANTWORX #Plantworx19."
@PassionforPlant (Fitter Man) said, "Had a fantastic day at #plantworx2019 today. Caught up with some old pals, there was much to see so many knowledgeable & enthusiastic people to speak to @Plantworx2019."
@jimbo_clarke (James Clarke) said, "Must say a big well done to the @plantworx2019 team having listened to all the issues at the last show from what I saw today they've all been sorted with the move to Peterborough. Very little standing water and a vac tanker moving what water there was. Phone signal all day and Wifi – roll on 2021."
New initiatives at the show…
This year's event was packed with new initiatives and innovations which represented the current demands in the ever-evolving construction sector. The show saw major launches including the new CEA and HMG commissioned Sector Report. The full story and the report can be found here https://www.thecea.org.uk/uk-construction-sector-report-launched-plantworx/
The CEA and Datatag also launched the latest incarnation of the CESAR Scheme – the innovative Emissions Compliance Verification (ECV) functionality.
The CESAR ECV is an invaluable 'bolt-on' product which compliments the existing CESAR Security System and additionally allows quick and easy verification of a machines emissions category. Read the full story here https://www.thecea.org.uk/cea-cesar-scheme-launches-emissions-compliance-verification-system-plantworx/
Railworx, which was co-located with Plantworx, was a welcome addition to the event. It was the first time that rail has had such a significant presence at the show, and – with CP6 and major projects such as HS2 – it reflected the growing importance of rail infrastructure to the UK construction industry.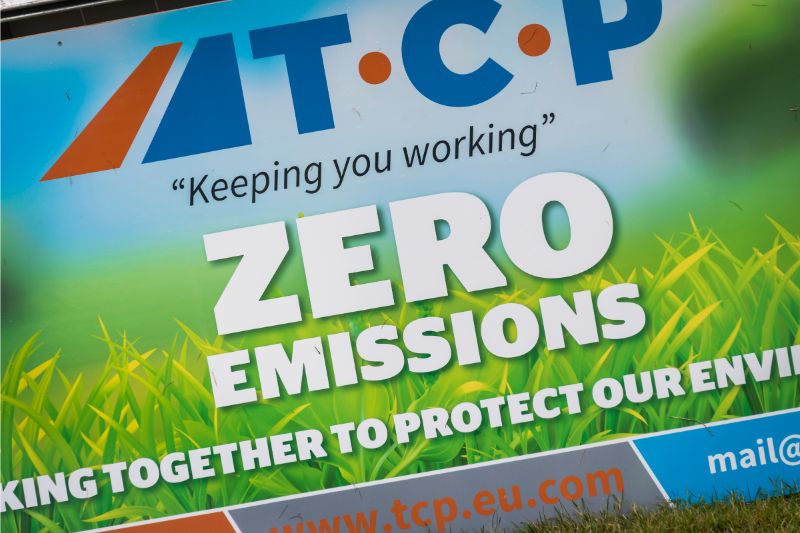 Rail businesses exhibiting included – TCP, Dual Inventive, Van Elle, Hitachi Infocon, Thomson Engineering Design, Rowe Hankins, Marshalls CPM, Hilti, Fenix Signalling, Bolle Safety and RSS Infrastructure.  Network Rail – including its Signalling Innovation Group and Group Digital Railway – and the Railway Industry Association (RIA) also supported the show.
New zones included the Classic Plant Arena where the show celebrated the construction industry's heritage. More than 20 items of classic machinery were on display which included vintage JCB and Caterpillar machines in addition to classic Perkins Engines.
Also new was the Get SET (Skills, Employment, Education and Training) Zone, which proved a popular destination for visitors who were looking to explore job openings, training courses, apprenticeships, get support and advice about skills education, employment and training opportunities across the rail and construction sectors.  MIND also addressed mental health issues in the workplace.
The Zone also hosted a 'Skills Conference', which was well attended – amongst the speakers were Joe Guy, who is Head of Talent Acquisition at Network Rail, who addressed delegates on recruitment and retention of employees.
Also speaking was Trudy Langton-Freeman, Lead HR Business Partner, Costain Group who also addressed the retention of staff and how to get there and how to educate, train and encourage people into the sector.
National High-Speed College, CEO Clair Mowbray spoke about training, education and apprenticeships.
The Department for Trade…
The Department of International Trade's Export Hub truck, came to Plantworx for the first time this year, bringing DIT's own rail, infrastructure and mining teams along – as well as colleagues from Kazakhstan, Mongolia, Russia, and Ukraine. It also hosted UK Export Finance and colleagues from DIT Latin America.
Mark Smith, Department for International Trade's, Mining Sector Manager for Infrastructure, Global Trade and Investment, said "Plantworx 2019 provided an ideal platform to showcase all that the UK construction equipment sector has to offer.
The Export Hub and DIT stand generated strong interest from UK equipment and service companies looking to do business overseas and learn more about the DIT support available.  And our buyers from Kazakhstan, Mongolia, Russia and Ukraine as well as DIT's commercial officers were impressed by the range and number of participating companies, with a number of good meetings, and opportunities to follow up on.   We look forward to Plantworx 2021!"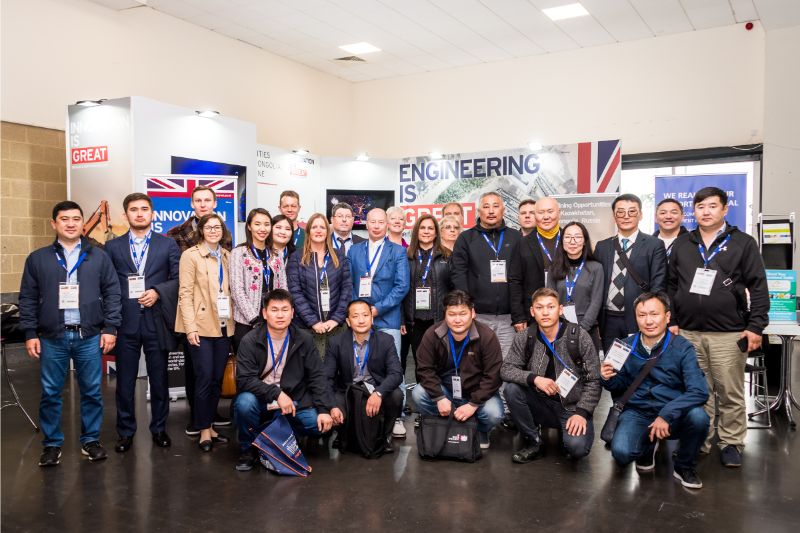 The Drone Zone highlighted the importance of the use of Drones in the construction sector – there were daily demonstrations from companies who manufacturer state-of-the-art drones using market-leading technology. The drone association, COMIT (Construction Opportunities for Mobile IT), held its annual conference at the event, #DroneCon2019, which was attended by top-speakers from the industry.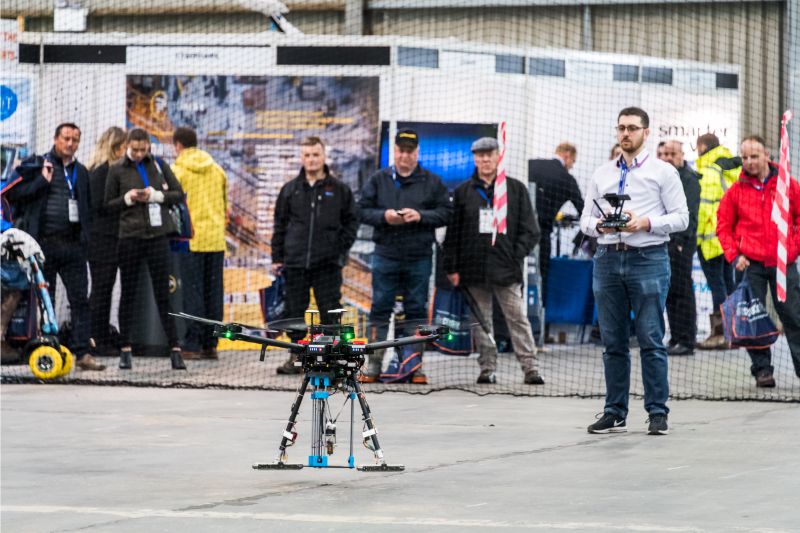 Speakers included Andy Givens, Senior Applications Engineer at TopCon who spoke about data deliverables.  Jonathan Douglas-Smith from Intelligent Energy focused on flying your drone efficiently. Photojournalist, Gail Orenstein spoke about her experiences as a drone reporter in war-torn zones such as Afghanistan and Syria.
Intelligent Energy also demonstrated its fuel cell powered drones, the company had a great experience at the event and said via Twitter "The last day of @Plantworx2019 and despite the weather, it's been a great show. We've flown fuel cell powered drones and seen our fuel cells on @EasyCabin @AJCWelfare @tcpecolite and Stephill Generator's stands. #construction #plantworx2019 #zeroemission #fuelcells #hydrogen #uavs."
AirBourne Drones showcased their caged drone technology with daily demonstrations. A drone designed by the University of Leeds made the ITV Anglia News. Dr Bilal Kaddouh, Research Fellow at the University explained and demonstrated the 'prototype' drone which will in the future have the ability to identify potholes in roads and 3D print the solution – filling the potholes enroute. Now that really is innovation!  A full report on the Drone Zone at Plantworx can be found at http://www.comit.org.uk/dronecon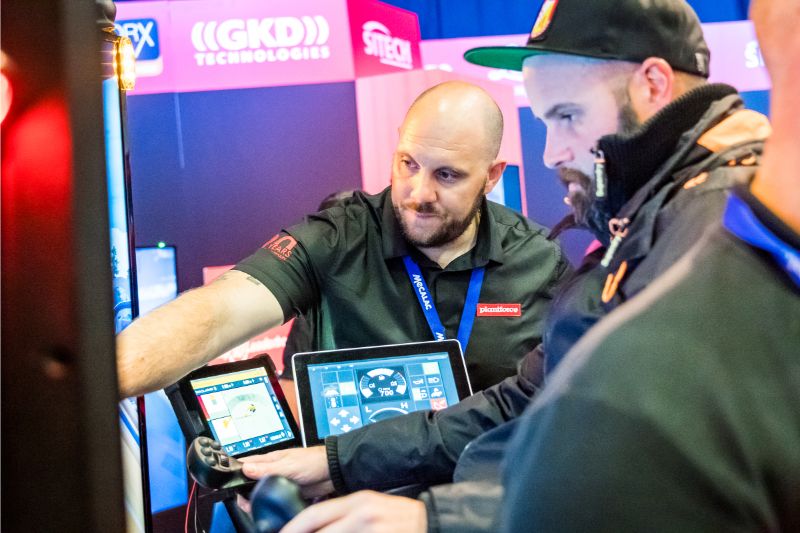 The Simulation Zone at Plantworx, sponsored and delivered by Plantforce Rentals, a leading rental company, was arguably the most popular destination for Plantworx visitors – not just because the new zone was housed within the indoor arena – and provided the perfect shelter from the rain – but because the zone was a true example of advanced technology – a look into the future of plant operative training – the Plantforce team reported that the Simulators clocked up a staggering 280hrs of use at the show!  The Simulation Zone also featured on ITV Anglia News.
The zone was officially launched to an 'A-list' of tier one contractors, leading construction companies and media guests, on the Monday prior to the show (10th June), where guests were able to operate the simulator machines in a 'multi-machine environment', bringing in several machines including an articulated dump truck, dozer and excavator, on one 'virtual' job site – this is what Tenstar Simulation, providers of the simulators, describe as 'co-operative learning'.
This latest evolution of simulator training has the ability to evaluate each operator's individual capabilities – identifying his/her strengths and weaknesses. It can also monitor operator fatigue and other factors such as efficiency and safety – providing trainers, operators and employers with a detailed profiling report – a huge step up from the basic CPCS card.
The zone was the brainchild of Plantforce Rental's Dale Hawkins he reported, "We (Plantforce Rentals) wanted to showcase the ability of construction simulator training to a large audience and Plantworx provided the perfect platform.  We were able to demonstrate how simulation instruction is the way forward for novice operator training and upskilling existing staff."
Dale added, "We teamed up with a number of industry key players such as Trimble, GKD Technologies, Prolec, Leica -Geosystems, Tenstar Simulation, and SiteZone – and delivered what we believe was a 'world first' to Plantworx. We were also delighted to receive the show's 'Outstanding Contribution Award' presented to us by the CEA and Plantworx organisers.  This award was in recognition of the Plantforce team's immense effort and hard work putting the Simulation Zone together and introducing a whole new dimension to Plantworx."
"Also, I would just like to say a massive thank you to the Plantworx team and the hard work everybody put in to get the Simulation Zone up and running, without you none of it would have been possible." Concluded Dale.

Plantworx Onsite Awards…
At Plantworx 2019 there were onsite awards for those exhibitors who made a big impact the onsite judges who looked at companies stands and demonstration areas. The awards – were presented at the Exhibitors Reception which took place on the evening of the first day of the show. The winners were as follows;
Best Indoor Static Indoor Stand – Sponsored by the CEA – Winner Loncin
Angela Spink, Sales Manager and Simon Frere-Cook Event Director said "The Loncin stand was clearly set out and the company's products were displayed in a manner where it was plain to see what they were here to promote.  Visitors to the stand were able to view Loncin's products and literature and the stand staff were very welcoming and informative. These factors combined secured Loncin the award."
Best Outdoor Static Stand – Sponsored by the CEA (Construction Equipment Association) – Winner Merlo
Angela Spink, Sales Manager, and Simon Frere-Cook Event Director said "The Merlo stand was very welcoming, and the clever use of space created a very attractive stand. The stand was also very pleasing to the eye and you are naturally drawn to its many features.  This interesting combination won Merlo the award for Best Outdoor Static Stand."
Best Operator – Sponsored by UK Plant Operators Magazine – Judged by UK Plant Operator's Editor, Brian Coogan – Winner Liugong operator Alistair Morton.
Brian Coogan said, "Alistair Morton from Liugong is the demonstrator for Liugong direct. He knows his machine inside out and put on a very good and competent display. On this occasion, he was operating with a Liugong 924 machine, paired with an Engcon EC Oil tiltrotator. He was demonstrating with precision and skill – a very smooth operator and a well-deserved winner."
Best Live Demonstration Award – Sponsored by Earthmovers and Judged by Editor Graham Black – Winner Mecalac.
Graham Black said, "There were three aspects why Mecalac secured the award.  The first aspect was how the machines were working to showcase their unique abilities. The second was how the machines were working together. The third was an excellent compere that was explaining the unique features of the machines demonstrating. The three areas combined, to make the best use of the demonstration plot, secured Mecalac and an outright win in some very tough competition.
Best Onsite Contractor Award – Sponsored by Plantworx – Judged by Stuart Favill Plantworx Operations Manager – Winner SMT GB
Stuart Favill, Plantworx Operations Manager, said "The SMT GB build-up team were tidy, efficient and were incredibly helpful towards the Plantworx Operations Team.  We could not fault their attention to detail and courteous manner to all aspects of the build. Well done SMT GB."
Primary Engineer…
On the final day of the show (Thursday 13th June) nine Primary schools from the local Peterborough area took part in the Plantworx and local company, Perkins Engines, Primary Engineer STEM (Science, Technology, Engineering and Maths) challenge at the show.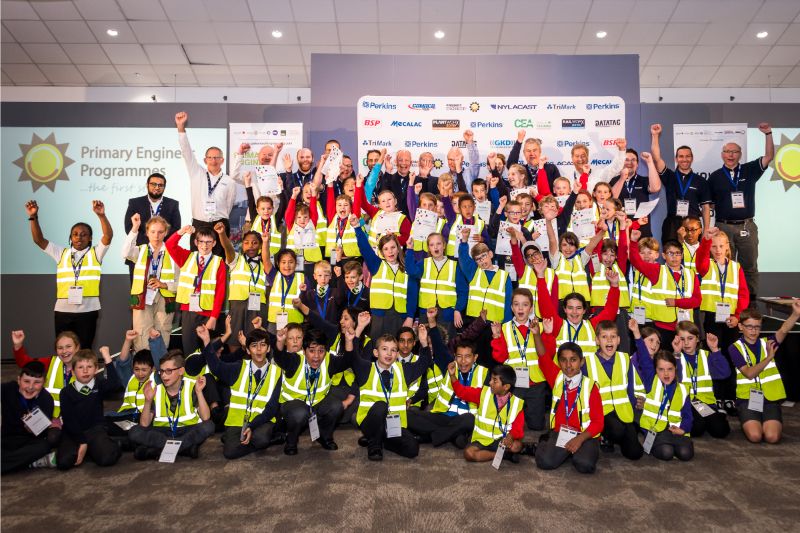 This was the second Primary Engineer event at Plantworx and was very well attended with more than 70 pupils taking part joined by a host of judges from sponsor companies! The local Primary schools battled the driving rain and brought their carefully engineered vehicles to the 'Celebration Event' ready to take part in the competition.
Judges included engineers from headline sponsors Perkins, who kindly volunteered for the role, alongside other sponsor companies including, CEA Skills Council, BSP Foundations, Datatag, GKD Technologies, Gomaco, Mecalac, Nylacast, TriMark, and Zappshelter. Nylacast kindly provided all the High Viz vests for the students once again.
It was the judge's role to talk to the school teams individually about how they designed their projects and what methods and preparation were used.  The teams were also judged on their communication skills and the best theme of the day!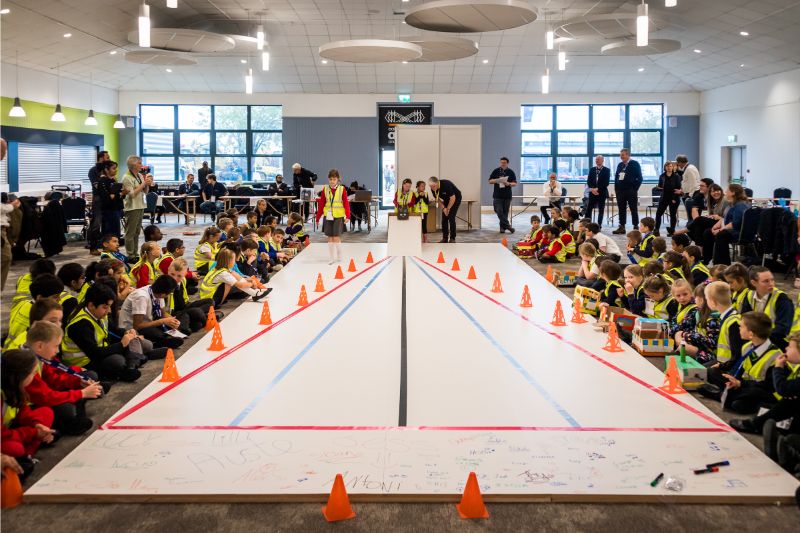 The final part of the judging process for the Primary School (Apprentice Level 1) teams was to test their vehicles on a 12mtr x 4mtr 'runway' to see just how far, and how straight, they could travel.  The Primary Schools who used batteries (Apprentice Level 2) in their vehicles were challenged to ascend a ramp.
The awards were presented by the CEA's Head of Skills, Nigel Baseley and Caterpillar's Senior Technical Manager, Robin Woodward. A full list of winning schools can be found on the Plantworx website.
A new initiative for the 2019 event was the Perkins Young Engineers Award. Many of the Perkins engineers who were present and helped judge the event had worked with the local schools leading up to the competition.  The engineers, alongside Caterpillar's Senior Technical Manager, Robin Woodward, selected their choice of winners who were then presented with a trophy by Robin Woodward. The Bronze award went to Orton Wistow Primary School, Silver to Braybrook Primary School and the Gold to the Sacred Heart RC School.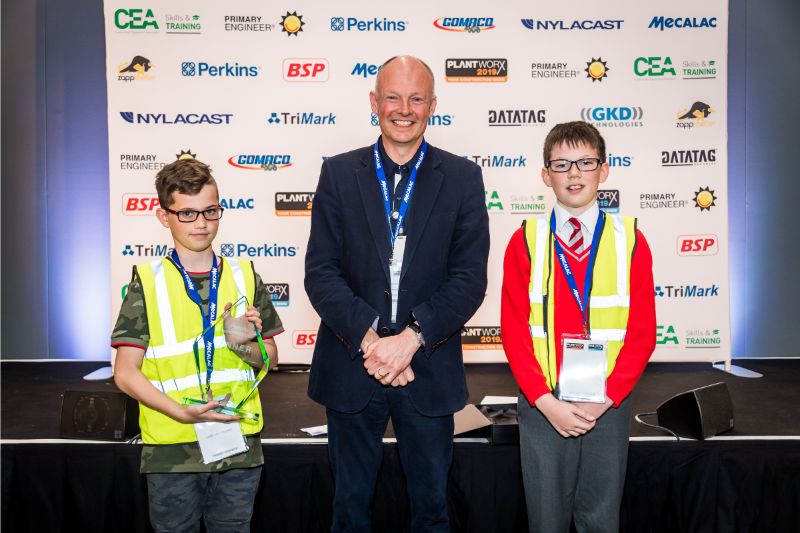 Caterpillar's Senior Technical Manager, Robin Woodward said, "It was a pleasure to participate in this inspirational event and see the potential that is within the children and schools who participated – it fills me with optimism for the future of engineering in the UK."
Plantworx and Primary Engineer had very positive feedback from the schools involved. West Town Primary Academy brought along teams from year's 3, 4 and 5 to the event.  Teacher, Mr Forsyth said, "The children have been working on their projects for 10 weeks!  All of the pupils gave up their lunchtime for their projects and have loved every minute of creating their masterpiece's we are very proud of them.  All the children had their own responsibilities – but have also worked very well as a team."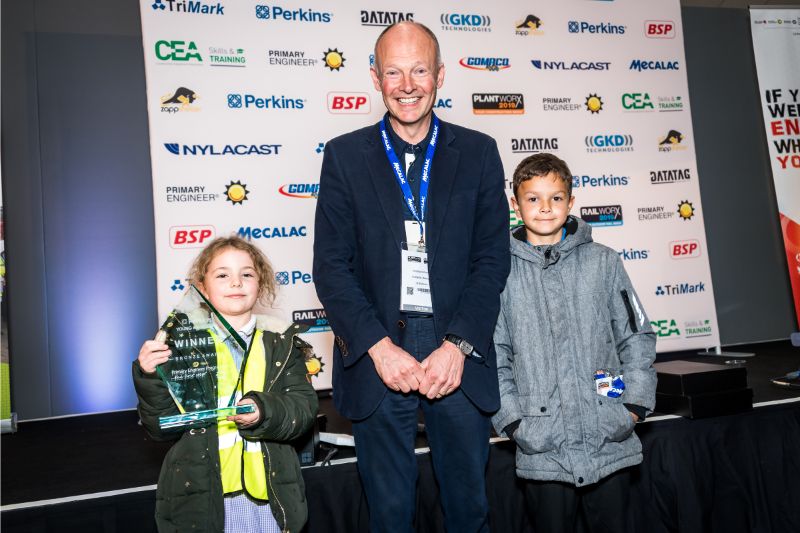 Orton Wistow Primary School brought teams from year's 5 and 6. Teacher Holly Ellis said, "The children began the project at an after-school club and then the projects were introduced into lesson time as they enjoyed it so much.  They designed their vehicles on a CAD system on the computer initially before embarking on construction.  They absolutely loved today's events and we were delighted to be given the opportunity to take part.
Student Day…
The final day of the show was dedicated to children to encourage more youngsters into looking at careers in the Construction Equipment industry.   Despite the rain over 200 children attended the student day – each was given a student trail to follow where the children were encouraged to visit participating stands, answer questions and take part in challenges.


H.E. Services Plant Hire were exhibitors at the show, and also brought along the 'Diggerland' theme park (a transportable version) to the event. The children and students who made it to the show were delighted to have the opportunity to ride, drive and operate real diggers, dumpers and other full- size construction machinery! Where most working construction sites were 'rained off' Diggerland was in full operation!
Andrea Ayre, International Business Enterprise & Community Co-ordinator, Careers Lead, Ken Stimpson Community School, brought along 30 of her year 8 students who have chosen construction as a GCSE/BTEC option.  Andrea said, "We had a great time thank you – no one moaned about the weather, the freebies more than made up for that.  They all managed a go on the Diggerland diggers as well, and the simulator machines were a huge success.  I now have three young ladies who can't wait to be crane drivers. Once again from all at Ken Stimpson thank you very much for the invitation."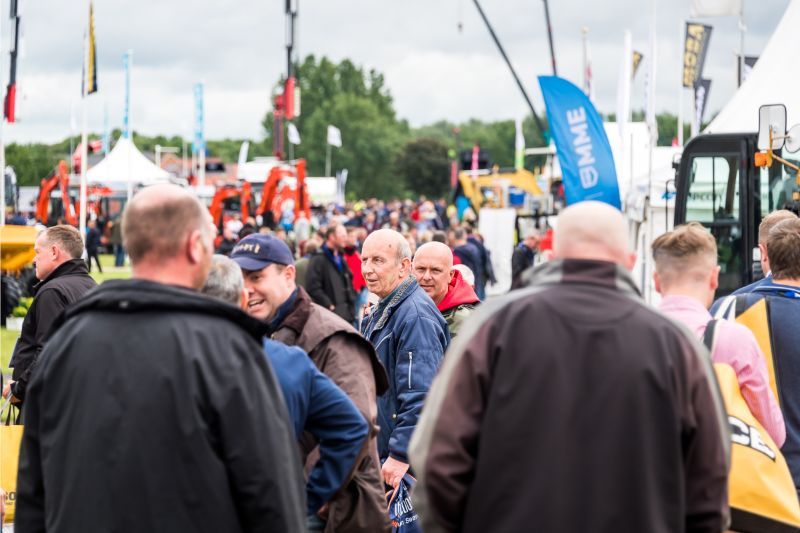 In conclusion, Plantworx and the new Railworx addition to the show, were a great success – despite every attempt by the weather to dampen people's spirits.  The new 'all weather' showground, at the East of England Arena, Peterborough, proved to be suitably resilient to the harsh conditions. The Wifi signal and mobile telephone signals were efficient and both exhibitors and visitors reported that the show was a triumph!  The Plantworx and Railworx teams would like to thank exhibitors and visitors for their support and we look forward to hosting the 2021 event – dates to be confirmed.
Take a look at the exhibitors 'Show Reel' here. https://youtu.be/BM4Joq1EgcE Here's a general Plantworx 'Show Reel'. https://youtu.be/vN2yFq8B2pE

Source: Plantworx Press