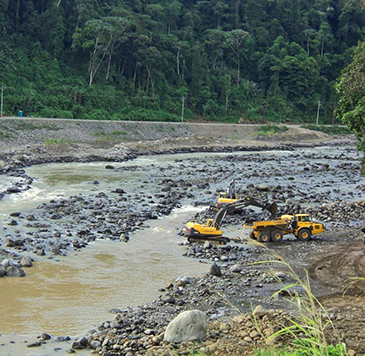 Government-owned power company, Costa Rican Electricity Institute (ICE), is building the largest hydropower development in Central America. It has also led to the country's largest ever order for construction equipment.
In the 16th century the famous explorer Christopher Columbus christened Costa Rica 'the rich coast' after meeting natives adorned in gold and jewels. The country, known for its environmental awareness, is bordered by Nicaragua to the north, Panama to the south and on either side by the Pacific Ocean and the Caribbean Sea.
Costa Rican Electricity Institute's (ICE) hydropower plant, with a completion date of 2016, is located south east of Siquirres city in the province of Limon and will provide electricity to more than half a million homes in the region – equating to some 11% of domestic demand. In producing 305.5MW of power, it will support the Costa Rican government's announced plans for it to become the world's first carbon-neutral country by 2021.
Digging around

With the help of 40 Volvo Construction Equipment (Volvo CE) A40F articulated haulers, 20 million m3 (706 million ft3) of soil will be moved during construction. The dam is being built across a spectacular 90 miles (145km) of the Reventazón River, which flows from the heart of the Talamanca mountain range through tropical forests to the Caribbean Sea. In its upper segments, the Reventazón River provides 25% of the drinking water for Costa Rica's largest metropolitan area and is already important for power generation.
The dam will be 537 meters (1762ft) wide and 130 meters (427ft) tall. A one mile (1.68km) water tunnel will be built between the dam and the powerhouse with its four turbines, as well as a network of roads and supporting infrastructure.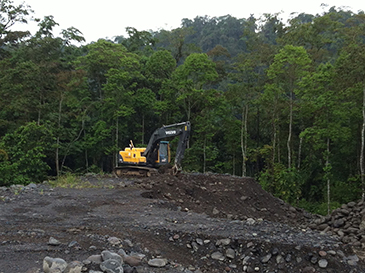 To date, over a quarter of the soil at the worksite – some five million m3 (177 million ft3) has been excavated and moved. As part of the deal, Maquinaria Agricola de Costa Rica (Macori) – Volvo CE's regional dealership – has established a temporary branch on site, consisting of a service workshop and parts inventory to support the fleet of Volvos working on the project.
"ICE already knew a lot about our Volvo A40F haulers before we won the contract," says Alvaro Ochoa, Volvo CE's area manager for Central America and the Caribbean, who joined the company in 2007. "Our machines already have a good reputation in the region but one of ICE's key on-site contractors is a big customer of ours and he was already using Volvos. This made it easy for ICE to monitor the machines' performance and fuel efficiency before placing a large order. Another key factor was how happy the operators were with the machines."
In total, there are about 250 construction machines currently working on the project, around a third of which are Volvos, including some large excavators owned by sub-contractors.
Famous for being beautiful
The country has a good record in terms of human development, social equality and environmental sustainability. Costa Rica's international reputation for being environmentally friendly stuck in 2012 when it produced more than 90% of its electricity through renewable sources, with 80% coming from hydro-electric installations.
This kind of economic efficiency goes hand in hand with ICE's main choice of construction equipment used on its job site. The power company chose Volvo CE machines because of its core values of quality, safety and environmental care, which proves to be a perfect fit between client and contractor.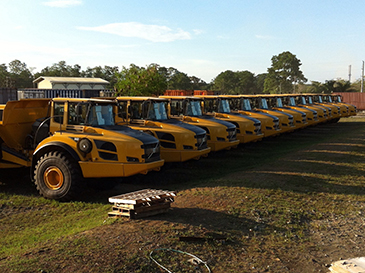 Environmental care has been at the forefront of the plans from the very start. The local population was consulted long before the actual work began, ensuring that no resettlement of the local population would be required. New schools, streets and homes are also being built as part of the scheme, as well as the provision of subsidized electricity for the area and guaranteed water supplies for local fruit plantations. Local people have also been fast-tracked into the 3,000-strong workforce working on the dam, while measures have been drawn up to protect the surrounding area, from the area's wild cats – right down to its flowers and grass.
An earlier tender put out by ICE for 18 backhoe loaders was won by Volvo CE Macori, with its BL70 backhoe, but more was to come. "The purchase of 40 Volvo A40F articulated haulers is the biggest single purchase order for construction equipment ever seen in Costa Rica, and a huge success for Volvo CE's Central American sales area," says Alisson Brandes, Volvo CE's director for Mexico, Central America and the Caribbean. "There won't be anything to match it for at least 10 years."
Source: Volvo Construction Equipment