Despite rapid growth, the industry is held back by the same factors which have angered millions of protesters – corruption, an unwieldy tax system and poorly planned infrastructure spending.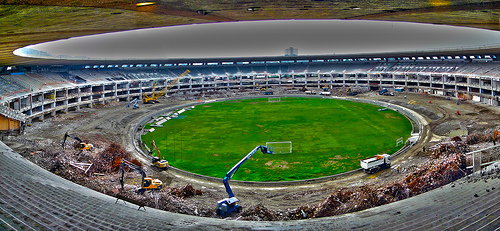 Photo: Rodrigo Soldon
The recent street protests of millions of Brazilians against their Government's alleged incompetence highlighted the deeply paradoxical nature of the South American giant's economy. Despite spectacular growth, which has seen millions of Brazilians move into the middle-class, the country's infrastructure is still pathetically inadequate. The newly enfranchised middle-class protesters demand a better deal for the high taxes they pay.
The Brazilian construction industry is at the heart of the country's paradoxical nature. Protesters angrily complained that billions of dollars in public money was being spent on gleaming new stadia for the World Cup 2014 (and billions more on stadia for the Olympics 2016), but the Brazil's basic infrastructure has not significantly improved despite endless promises from the Government. Banners in the street protests complained about, "first-world stadiums, but third world schools".
The steep growth in the Brazilian construction industry has brought good opportunities for foreign companies, but there can be frustrations at a lack of efficiency, according to Mark Davies, Managing Director with FTI Construction Solutions. Davies has a deep knowledge of the industry having worked in Brazil since the mid-1990s. Though based in Miami, he works half of each month on two multi-billion-dollar projects – a power plant and an Integrated Steel Plant – near Fortaleza, in North Brazil.
"Make no mistake – since I started coming to Brazil 20 years ago, I've seen tremendous advances in both the country and the construction industry, but there are some major issues Brazil has to deal with properly before the country can really take off," he said. "With the World Cup, for example, public expectation was that money would be spent in two ways – firstly, on the stadia which everyone knew had to be upgraded. But the public also expected upgrades to the general infrastructure in the cities involved, much of it supposed to be used to feed people into those stadiums. They were expecting better trains, roads, drains and power, and that has not happened on the scale promised."
There is also a deep anger that promises that private money would be used for the stadiums, and government money would be used on major issues such as health and education – promises that simply haven't been kept in many the opinion of many Braziians.
Most of Brazil would agree with Davies' analysis. Three quarters of the nation supported the mass protests. Their list of grievances was long, including the Government's failure to build adequate infrastructure, the corruption of the political elite, and the building of 'white elephants' for the World Cup and the Olympics at astronomical cost.
Yet the Brazilian Government and many commentators from outside Brazil were surprised by the scale of the protests. On the face of it, Brazil has emerged in recent years as an economic giant. It has overtaken the UK to become the world's sixth largest economy and is closing in on France in fifth place. Annual growth is around 5 per cent and millions have been lifted out of poverty. The construction industry has taken its share of growth. A new report by Timetric – Construction in Brazil – Key Trends and Opportunities to 2017 – says the industry recorded a CAGR of 13.16% from 2008 to 2012 to be valued at BRL398.5 billion (US$204.5 billion). Despite the slowdown in the global economy, Timetric says it will grow by CAGR 8.67% to reach BRL603.8 billion (US$309.9 billion) in 2017.
But Timetric's analysts reflect the views of Mark Davies on the ground by cautioning against over-optimism. There are many factors holding the industry back, they say, and to a large extent they are the same issues which have caused the mass protests.
Timetric's Brazilian analyst, Carlos Pallordet, said: "A lot of things are putting the brakes on and the Brazilian Government could do a lot more to help the construction industry. Problems include tax opacity, lengthy and bureaucratic processes, non-uniform tax regimes across the different federal states, poor road infrastructure, poor telecommunications and a lack of talent. All these things explain why Brazil is ranked 130 in the World Bank's Ease of Doing Business index."
Pallordet says that there have been some improvements to roads and airports as a result of hosting both the World Cup and the 2016 Olympics, but in a country the size of Europe only a small percentage of the population has felt the benefits.
"To some extent these massive sporting events have forced Brazil to address its infrastructure problems with no delay," said Pallordet. "But it's doubtful if these huge investments will have an effect on long-term growth as has been shown by studies of the effects of the World Games on previous hosting economies. On the plus side, it will still help to raise the global awareness of Brazil's brand and enhance its regional clout."
Pallordet's analysis of the factors holding Brazil back makes perfect sense to Mark Davies who is wrestling with the daily realities of life in the industry. "The Government has big plans for infrastructure development, but as so often in Latin America, the execution falls down," he said. "The contradictions of modern Brazil are obvious here in the city of Fortalesa. I stay in world-class accommodation, yet when I drive to the construction site 50km outside the city, the one-lane road each way is in an atrocious condition.
"When you consider that it's a major industrial site with a large power station and other factories being built, you might expect a decent road leading to it. After all, we are building an US$7 billion dollar steel plant. A new road has long been planned, but it has not materialised."
The Government has actually begun building a second parallel road out to the site to allow two lanes of traffic in both directions, but work has all but ceased and no one knows if it will begin again. "It's amazing how quickly they cleared the bush and put down the bedrock, but then it all ground to a shuddering halt. So we now have 50km of bedrock in place, but no road," said Davies. "Then you realise it stopped just after the elections. The politicians needed to spend money to show the public they were men of action, but once in power, it appears that there's no will to finish the job. The bedrock and layered sand now has weeds going on it. It's an example of the massive inefficiency at Government level."
Davies says that an understanding of the daily realities of life in Brazil tempers enthusiasm about growth in the construction industry. "The statistics for growth don't tell the full story of how much money is wasted on unfinished projects," he said.
The byzantine complexity of the tax system is another bugbear for foreign contractors. "The tax system is incredibly complicated. Depending on how you route construction equipment from the ports to your sites, you could see a 2 or 3 per cent difference in the taxes you pay. When you're dealing with billions of dollars of equipment to be installed, it adds up," he said.
"We've also seen rises in workers' salaries. When the economy was booming, the unions saw their opportunity and pushed for better condition and higher salaries. Of course, that is a good thing in many ways as it improves their quality of life, but from our perspective we have not seen any rise in productivity, or any major improvement in skills."
Another one of the criticisms from Timetric analyst Carlos Pallordet was of "a lack of talent" in the construction workforce. This is borne out by official Government figures showing that Brazil trains less than 40,000 engineering graduates and architects a year, whereas the industry requires 60,000. "The shortage of skilled labour is at all levels. It's not just about graduates. We have a major problem just getting qualified welders on both the power plant and the steel plant," said Davies. "Many major projects set up their own training schools for welders only to have them leave soon after qualifying for more lucrative jobs in major cities like Sao Paulo or Rio where the salaries and work conditions are better."
One temporary solution might be to take on more well-qualified foreigners, but public opinion in Brazil opposes this option. In an Economist Intelligence Unit study of the market openness of 30 countries Brazil placed 23rd. It has only one million legal immigrants, which is just 0.5% of the population, compared with 2% in Chile.
The Brazilian Government is attempting to tackle some of the country's problems. It has invested millions in addressing the shortage of technical workers and it recently introduced tax breaks for construction companies. Timetric expects to see an upsurge in the industry's fortunes from 2014.
The report predicts that some of the Government's plans for infrastructure will eventually come to fruition. It forecasts that the infrastructure sector will be the fastest-growing construction market in the period up to 2017, recording a CAGR of 9.32% to value BRL348.7 billion (US$179.0 billion).
Attempts to remedy the lack of good hospitals, rural clinics, school buildings and lack of affordable housing will cause these two sectors of the construction industry to accelerate, too. Investment in the educational buildings category will see a CAGR of 8.77% over the forecast period, to value BRL22.9 billion (US$11.8 billion) in 2017. And the residential construction market, which was valued at BRL66.9 billion (US$34.3 billion) in 2012, is projected to record a CAGR of 7.98% to 2017 to be valued at BRL98.2 billion (US$50.4 billion).
As far as the Brazilain construction industry as a whole is concerned, Timetric has made its predictions, but Pallordet admits there are still many unpredictable factors.
"Brazil's economy relies to a great extent in an improvement in the global economic climate and particularly in commodity prices. The strength of its domestic market has been crucial in making the economy resilient to episodes of global financial turmoil in the past few years, but the domestic market has been showing increasing signs of exhaustion. It is forcing Brazil to undergo the challenge of improving its competitiveness in order to foster a genuine integration of its economy in the global value chain," he said.
Author: David W. Smith