3 Steps to Get Ready Now
MILWAUKEE (March 12, 2019) – CONEXPO-CON/AGG 2020 is one year out, but it's not too early to make plans for North America's largest construction trade show for the asphalt, aggregates, concrete, earthmoving, lifting, mining, utilities and related industries.
"The show is shaping up to be one of the best ever; attendees and exhibitors will not be disappointed!"
said Mary Erholtz, CONEXPO-CON/AGG chair and vice president marketing for Superior Industries.
"AEM and our show committees of industry leaders are working to deliver an outstanding event focused on the latest innovations, technologies and best practices to succeed in our changing world."
At CONEXPO-CON/AGG 2020, big iron and tech will share the stage in Las Vegas, USA on March 10-14, 2020, with more new products, thousands of equipment and technology headliners, and hundreds of industry-driven education sessions. Plus, the Tech Experience returns with two locations.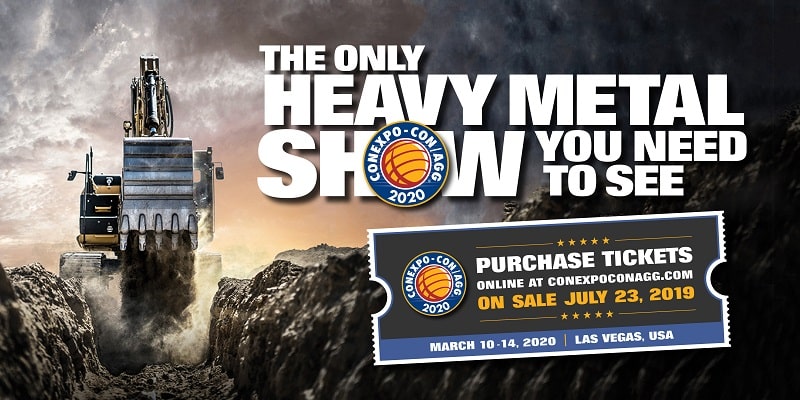 Take these 3 steps now to punch your ticket to success for your business and career.
"Our company has been attending CONEXPO-CON/AGG for three decades now and plans to continue due to the amount of knowledge we gain. CONEXPO-CON/AGG has provided us the resources needed to create greater efficiencies and synergies within our own company," said Chris Lane of Ronald Lane Inc.
CONEXPO-CON/AGG co-locates with IFPE, the International Fluid Power Exhibition for the fluid power, power transmission and motion control industries. Association of Equipment Manufacturers (AEM) is a show owner and producer.
CONEXPO-CON/AGG & IFPE 2020 will be held at the Las Vegas Convention Center and nearby Festival Grounds. The show connected campus will feature multiple registration areas and hotel and intra-show shuttles.
"The show is a critical piece to our workforce development efforts. We send somewhere between 30 and 40 company representatives to Las Vegas to see what's new and bring relevant information back to our company. It's a great way to build our team,"
said Jarrad Whissell of Whissell Contracting Ltd.
View introductory show video here.

Learn more at
www.conexpoconagg.com
.
Source: AEM Press