Visitors to this year's Bauma 2013 exhibition in Munich are in for a treat, as Volvo Construction Equipment looks at the bigger picture, showcasing a total 'rock to road' package of new machine and customer solutions that together help build our societies.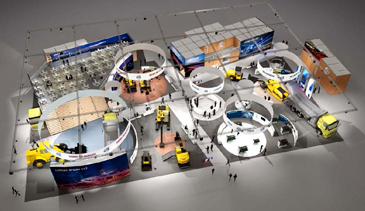 Whatever you do, don't call Volvo Construction Equipment's participation at Bauma 2013 as merely an exhibition stand – it's a live event! Wrapped up in the total solutions concept of 'Rock to Road', Volvo's indoor stand 319/719 in Hall 4C and outdoor stand at 512/514 will be a non-stop interactive performance of the company's complete package.
New products from the company will, of course, be the stars of the show, such as the ECR25D, ECR58D and ECR88D short radius compact excavators, as well as the P6870C asphalt paver. The high-reach EC480D demolition excavator will also be making a welcome appearance under the (hopefully) sunny skies of a Munich in springtime. But that's far from the end of the show. Not overshadowed by new products will be a clutch of supporting Volvo-branded attachments, such as a new range of excavator buckets, a comprehensive selection of tools for the company's C-Series skid steer range and a new hydraulic breaker range for backhoe loaders and compact excavators. And that's before you start talking about financing solutions, rental, Approved Used Equipment, Genuine Volvo Parts, Customer Support Agreements and fleet management solutions…the list goes on…
City slickers
The 'Volvo City' concept embraces the entire product and service portfolio in one arena. From extracting raw materials, creating roads, installing utilities and infrastructure and helping build a city's built environment, Volvo has the haulers, excavators, wheel loaders, pipelayers, utility machines and road equipment needed to create a modern metropolis.
The Volvo indoor and outdoor exhibition spaces at Bauma will arrange machines by customer use and application, demonstrating how Volvo products are designed to work together as a total solutions provider. These 'discovery zones' look at applications such as quarry & aggregates, utility and road construction and focus on important factors, such as safety, total cost of ownership, production, environmental care and quality of finished task.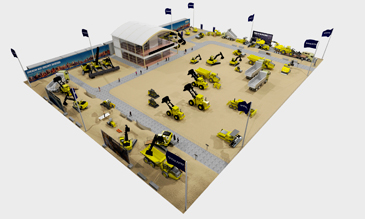 There is plenty of action too, from the outside area's (pictured) exciting musical machine show, operator competition, oil and gas pipeline demonstration and site preparation and road building displays. Inside, the excitement comes in the shape of events that prove that Volvo CE's success is as much about the excellence of its people as its machines. Throughout the day a professional master of ceremonies will conduct entertaining interviews (in German and English) with the company's 'star' product and service experts. This fun will be supported by video walls displaying a range of customer interviews, touch screens providing interactive information and 'prove it points' where dramatic statements are explained and defended by Volvo support staff.
Pat Olney, the company's President, will also host an international press conference during the show, in which he will highlight trading conditions, introduce new products and outline the company's future plans.
Demonstrating the breadth of the Volvo Group, Volvo Construction Equipment is joined at Bauma 2013 by sister companies, Volvo Penta – who is presenting its own advanced solutions to meet the requirements of the forthcoming EU and US emissions legislation – and Volvo Trucks, who will show its latest generation of construction-focused trucks.
If you were ever in doubt, Volvo Construction Equipment comes to the industry's biggest show in Munich this spring with the confidence to deliver total solutions that are designed to help customers discover a new way to work – from Rock to Road.
Source: Volvo News Room