The North American construction market has traditionally been difficult to crack for European manufacturers. Competing with the American construction giants on home turf is never easy.
But this year there will be a potent British presence at North America's largest equipment show, the ConExpo Construction Exhibition, which takes place in Las Vegas from March 4-8. The Construction Equipment Association (CEA) sold out its pavilion to 20 UK companies in record time. Meanwhile, a further 19 CEA members, including Hyundai, JCB and Terex, are exhibiting in other locations.
Joanna Oliver, the CEA's Director of Global Programmes, said: "US buyers historically don't travel as much as Europeans. They rarely get on a plane to go to the bauma shows in Germany and China. So, for manufacturers from the UK wanting to sell to the North American market, ConExpo is essential."
While not as large as the Munich bauma show, ConExpo is the largest event of its kind on American shores. The 2014 edition has booked 2,400 exhibitors and expects more than 125,000 visitors. The Las Vegas location also makes it accessible for buyers from Latin America and South America to make the journey.
Overseas exhibitors have grounds for optimism. The North American market has rebounded from the depths of the recession and presents more opportunities than it did, according to David Phillips, the MD of Off-Highway Research, a consultancy specializing in construction market analysis, which also has a presence in the British pavilion.
"It's a more attractive market than four or five years ago when there was a lack of financing from banks to purchase equipment," Phillips said. "Financing is the lubricant which accounts for around 80% of purchases in construction. Without it, sales dried up for some years. But we're now seeing a return to more realistic levels in line with demand."
Phillips said the North American market is drawing its dynamism from the need to replace machines bought between 2006 and 2008, just prior to the industry's downturn. "Companies are also increasingly looking to the rental market to get the precise machines for their requirements. These rental fleets need to be renewed and that is driving demand," he said.

Improvements to market conditions, however, do not necessarily translate into sales for British companies. "If you don't manufacture in the US, you're at an automatic disadvantage," said Phillips. "Americans tend to prefer American products. That's simply because they are more national-minded country than we are and don't just buy on price."
Distribution is the key to success, he said, in a country as large as the US. It also helps to manufacture on American soil. "JCB has been in the US for 30 years and has never been able to take on the high volume domestic manufacturers on an equal footing because of distribution problems. They have to compete in markets dominated by the very powerful American manufacturers such as Case, Caterpillar, John Deere, Genie and JLG. Another restraining factor is that on average British products are less competitively priced than their Korean, or Japanese competitors," he said.
Despite these disadvantages, JCB has had some successes in the US. "They manufacture skid steel loaders and have a large client in Savannah, Georgia. They used to manufacturer backhoe loaders in the US, too, but transferred that to Brazil. Like a lot of British manufacturers they have a good reputation for quality in North America, but the competition is huge," he said,
Joanna Oliver agrees with Phillips that life is not easy in the US for larger European manufacturers. She argues, however, that niche supplies of innovative products have a good chance to break into the market. "The CEA contingent at ConExpo falls into this bracket. For example, GKD Technik have produced tilt monitoring equipment and a proximity warning system for drivers. There's nothing else like these products on the US market," she said.
Another good example, Oliver says, is BSP International Foundations. This Suffolk-based firm manufactures heavy construction piling hammers weighing up to 40 tonnes. The originality of their method is the use of hydraulics to drop the weight. "It is significantly different to anything manufactured in the US," said Ray Ransome, BSP's senior sales manager. "There are few moving parts which means there is less that can go wrong and we are less inhibited by environmental conditions. A lot of piling equipment gets fouled up when it rains heavily, but ours doesn't."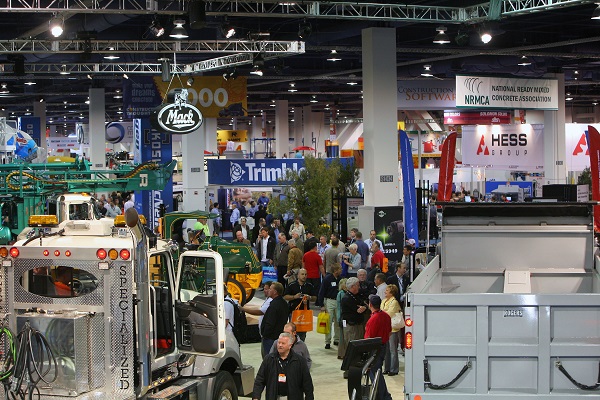 BSP  have a foothold in the US market with quite significant sales, but they believe there is scope for expansion. The company has hired an agent to promote its products and considers ConExpo a vital means of self-promotion.
"We can see 150 to 200 people in a few days, not just from the US, but also from Latin and South America," said Ransome. "If we weren't there it would be hard to get that kind of exposure. We're going to have some kit on display called the CXL 140, which is specially designed for the US market."
David Phillips says the smaller niche British companies have a better chance of success in North America than some of the larger manufacturers. "Some British companies are very innovative and have shown they can compete in non-price sensitive markets," he said. "In areas such as mining and hazardous areas, they have done well with sales based on low volumes but high margins. All the companies in the British pavilion fall into this category. None are competing in the large mass-volume market."
But Phillips cautions against going into the American market with anything less than full commitment. "It's a big market requiring big investments and you can't go into it half-heartedly. You have to make it a priority for the company or you won't succeed at all and you have to invest heavily in distribution. That's the key," he said.
Having a presence in the CEA's pavilion makes life easier for the British manufacturers. The cost of the pavilion is covered by sponsorship from the UK Trade & Investment (UKTI), the government agency tasked with supporting British companies abroad. The CEA takes on much of the time-consuming tasks of organization.
"For smaller companies wanting a 15-20m stand, it makes sense to come with the CEA as we take all the hassle away," said Joanna Oliver. "We provide the stands, carpets, electrics, furniture, lights and cleaning. Companies can just turn up and promote themselves."
Some manufacturers in the CEA pavilion already have a presence in the US market and are there to increase their market share. ATP, for example, is Europe's largest independent remanufacturer of transmissions, torque converters and machine electronics with factories in Ann Arbor, in Michigan, as well as China.
Meanwhile, Gate 7, which supplies decals and other components to the off-highway machinery market, has manufacturing plants in the US, in addition to the UK. The company provides screen print and digital solutions for rapid prototyping, design engineering, project management and research and development. It has long-term business partnerships with major clients in North America, Europe, and Asia.
Other examples of smaller niche manufacturers in the CEA pavilion include Amber Valley LLP, who make bespoke auto electrical safety equipment and will be showing their latest product Alarmalight; and Ashtree Vision & Safety, which manufactures mirrors and mirror arms for industrial and commercial vehicles.
The CEA will also use ConExpo to promote the UK's Plantworx construction equipment exhibition, at Bruntingthorpe Aerodrome, in June 2015. The first Plantworx exhibiton, which was a great success, was held in May last year.
Author: David W. Smith
Join us on https://www.facebook.com/ConstructionShows and https://twitter.com/constructshows