As one of the world's leading manufacturers of hydraulic piling and compaction equipment BSP International Foundations (BSP) will be exhibiting at Conexpo being held at the Las Vegas Convention Centre, Nevada, USA from March 4 to 8, 2014.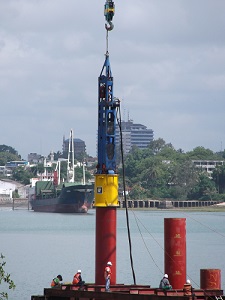 The company, headquartered at Ipswich in England, is using the exhibition to announce the launch of its long awaited new impact hydraulic piling hammer, the 100,000 ft.lbs Plus CXL140 model, especially developed for contractors working in the North American construction market. BSP says the CXL 140 bridges the gap between its highly successful CX110 and the heavy duty CG180 range of hydraulic hammers.
A look at the specification of the new hammer reveals a total weight of just 32,000 lbs (14,500kgs) and offering a massive power output of 103,000 ft.Ibs, (140 kN.m), exceeding the 100k benchmark, with a mere eleven tonne dropweight on board whilst still retaining the slim profile of the company's CX hydraulic hammer range.
With its excellent versatility the CXL 140 can be fitted with back-guides for European style leads, side guides for 32" (81cm) U-Leads, legs and inserts or a tube guide for crane suspended duties. It can be powered from a BSP hydraulic power pack or suitable leader rig and is capable of driving a whole range of bearing piles that includes steel tube, H-sections and reinforced concrete piles.
The new BSP hammer is being displayed on the Jinnings Equipment stand, BSP's long standing US partner, located in the Platinum Lot, on booth 7219.
In addition to the new hammer exhibit BSP will feature a pictorial display on its stand in the Central Hall, C1-C2 booth 40522, highlighting some of the many civil engineering projects on land and offshore where BSP's latest generation of piling hammers and rapid impact compactors (RIC) have made significant contributions in bringing these projects to a successful completion and on schedule.
Typical examples of recent high profile projects involving BSP equipment include the 2.28km long New Orleans surge barrier where piling contractor Traylor-Massman-Weeks used two BSP hammers, a CG240 and a CG300, to drive 600 steel batter piles, 91m long and 914mm in diameter, at a 45 degree angle on the landward side to support lateral loads applied to the barrier.
No less than three of BSPs heavy-duty CG240 piling hammers were supplied to Oderbrecht Infrastructure, Brazil's largest civil engineering organisation, for the foundations of the new R$2.91 billion Embraport terminal at the Port of Santos in Brazil. Here the hammers, each equipped with a 16t dropweight, drove some 2,000 concrete piles, 50m long and weighing about 45t.
In another earlier Brazilian project, a BSP CG300 hammer fitted with a 20t dropweight, was used to drive 1200 concrete and steel piles 47m long and 800mm in diameter into the sea bed through sand and layered clay. These formed the support for an access jetty nearly three kilometres long and 26.6m wide linking the coast to 10 berths for mooring large vessels at Porto Acu, some 175 miles north-east of Rio de Janeiro.
BSP Rapid Impact Compactors (RIC)
In addition to its impressive range of piling hammers, BSP has developed and manufactures a range of Rapid Impact Compactors (RICs). The RIC has become the preferred method for an increasing number of ground improvements projects around the world. In particular the concept has been successfully used in the Middle East to compact large areas of infill sites in Iran, Qatar and Dubai.
Available in five, seven, nine and 12t dropweight sizes, the RIC is based on BSP's hydraulic piling hammer technology and can be mounted on hydraulic excavators with operating weights from 30t to 65t. In operation the unit's 1.5m diameter foot stays in contact with the ground, ensuring efficient energy transfer to the ground at all times. Energy is imparted by dropping the weight through a relatively small height of up to 1.2m at a rate of between 40 to 60 blows per minute. In some ideal ground conditions good improvement has been achieved to a depth of 10m.