Demand from highly qualified visitors clearly evident
Exhibitors declare themselves highly satisfied
Many transactions completed at the trade fair
Lively post-trade fair business expected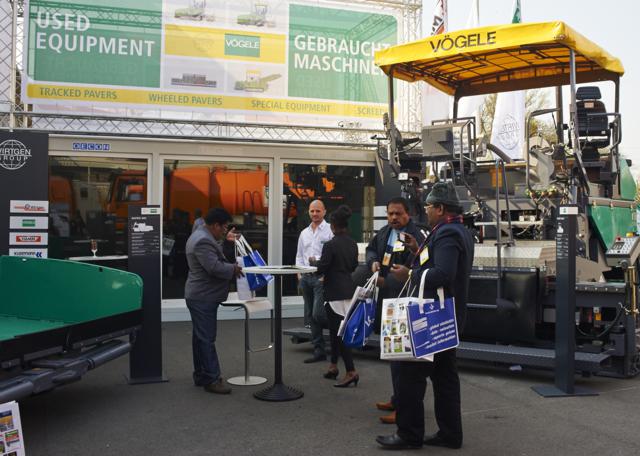 There were many satisfied faces among the nearly 400 exhibitors and 6,000 buyers* from 104 countries, many of whom felt their order books tingling with pleasure. In 2013, USETEC once again lived up to its reputation as the world's largest marketplace for used technology. As in previous years, the trade fair was extremely international. Two thirds of visitors travelled to Cologne from abroad. "This figure alone proves the effectiveness of the worldwide advertising activities organised by us and our partners," says organiser Florian Hess, Managing Director of Hess GmbH, Weingarten/Baden, explaining the reasons for this statistic. "And it underlines the high esteem in which USETEC is held in many regions around the world." Germany, the host country, provided the largest number of visitors followed by Turkey, Russia, Belarus, the Ukraine and India. North Africa was also strongly represented. "Second-hand sells – USETEC yet again offered impressive confirmation of this claim in 2013. Good deals, good networking and exhibitors who were highly satisfied with the event," explains Katharina C. Hamma, Managing Director of Koelnmesse GmbH. "USETEC has asserted its position as the international business platform for used technology.

USETEC's national and international partner associations described the trade fair as highly successful. "This year's USETEC was successful despite the difficult prevailing economic conditions," assesses Kurt Radermacher, Managing Director of the Trade Association for Machine Tools + Tooling (FDM) in Bonn. "In particular, the exhibitors praised the quality of the visitors." This was one reason why Radermacher believes many deals were concluded at the stands themselves – the FDM and its member companies are expecting further deals to be sealed in the period after the trade fair. "We were particularly pleased to see that demand extended beyond the traditional area of metalworking machines," notes Kurt Radermacher. "There was also an increase in the number of buyers looking for printing, packaging and textile machines."
Trade fair concept proves its worth in 2013
Other supporting associations such as the Federation of the German Export Trade (BDEx) and MTI from the United Kingdom were exhibiting in Cologne. Another important USETEC partner, the European Association of Machine Tool Merchants (EAMTM) in Brussels, described the response as the best it has experienced in recent years. "We had a large presence at USETEC 2013, with 46 exhibiting member companies from 13 countries," says Nigel Bongers, President of the EAMTM. "Our members also concluded a number of deals while participating in the trade fair. And they were very pleased with the numbers and high quality of the enquiries at the stand." The European Association of Machine Tool Merchants praised this year's concept at USETEC. "It clearly worked," adds Nigel Bongers. "The challenge now is to build on this in the years to come."
The Dutch used machinery association DUMA was also able to look back on the event with considerable satisfaction. "I was pleasantly surprised from the moment I arrived at the trade fair centre in Cologne shortly after nine o'clock," says Gerwin Klok, Managing Director of DUMA. "The place was packed with coaches of foreign visitors to the event. The police had to step in to regulate the traffic due to the sheer number of vehicles." He adds that many of the association's member companies were pleased about the origins and high quality of the buyers. Some of these arrived at the fair with detailed investment plans and were enquiring about very specific machines to implement them. "The international character of USETEC gives it a considerable advantage over other trade fairs," enthuses Gerwin Klok. "I do not know of any other event in this sector that attracts as many visitors from every corner of the world."
Barely time to breathe
One of the fastest deals at USETEC 2013 was agreed on the evening before the trade fair opened. The exhibitor ipros Industrie-Produkte-Service from Iserlohn sold a used steam cleaning machine to another exhibitor from Southern Germany. Another steam cleaning machine was sold the very next day. "To Romania for € 4,300," reports Willi Schneegaß, Managing Director of ipros. "At almost the same time, we were able to sell a metalworking machine to Dresden," he adds delightedly. Further deals were to follow at USETEC.
Business was extremely brisk at the Vögele stand in the outdoor area. "By the end of the second morning of the trade fair, we had sold all eight of the road pavers we were exhibiting," says Thomas Nessel, the highly satisfied Head of Used Machinery Sales at Joseph Vögele AG from Ludwigshafen. "The sales were worth a total of around € 500,000. That certainly made participating at USETEC a worthwhile exercise for us," he continues in his evaluation of the event. The buyers were from Russia, China, Turkey and Germany. In addition, the company presented a film that underlined the high quality of its repair service. After USETEC, Vögele will focus its energies on one very special enquiry from an exhibitor. "We were visited by a Russian businessman at the trade fair who is planning a major project with a budget running into millions," says Thomas Nessel. "For that, we will first have to do an on-site inspection in Russia."
The outdoor area was a good hunting ground
The outdoor area at USETEC was a good hunting ground this year. By the end of the first day, Fiorangela Schlösser, authorised signatory at Schmidt Kommunalfahrzeuge, could already be seen holding a thick clear plastic folder containing records of at least 40 conversations she had had at the stand. Before the trade fair was over, the company from Groß-Rohrheim was also able to enjoy the sunshine in the knowledge of a completed sale. "We sold a street cleaning machine, built in 1998, for nearly € 30,000 to Moldova," says a pleased Fiorangela Schlösser. "The new price would have been nearly 5 times that, around € 150,000." The buyer was a private public partnership project. USETEC exhibitor Amco Compressoren from Hendrik-Ido-Ambacht in the Netherlands was also very pleased. At times, its compressors were surrounded by crowds of people. In the end, the operation was rewarded in hard cash. "We sold six machines to quite different regions for over € 20,000," reports Teun de Haan. "The buyers came from Egypt, Bulgaria and Poland." After USETEC, the compressors will first be transported back to Holland before they can be delivered to their new owners.
Just like their colleagues in the outdoor area, many exhibitors in the hall also reported brisk business at their stands even during the first few hours after the opening of the trade fair. "We hardly had time to breathe," was the positive lunchtime assessment of Jörg Ludewig, Managing Director of Klaus Rosenboom Werkzeugmaschinen-Handel from Bremen. "The majority were well prepared trade visitors with a clear focus on their requirements. There were very few people just browsing." The company welcomed a number of Ukrainian visitors to its stand on the first day. "There was also a Russian businessman to whom we sold a machine after last year's USETEC," reports Jörg Ludewig. "We hope that history will repeat itself after this year's trade fair."
Signed and sealed at the trade fair
Thomas Trump reports large numbers of foreign visitors at USETEC. "Once again, we had Turkish and Russian speaking staff on our stand," explains the Managing Director of DMG Gebrauchtmaschinen from Geretsried, an exhibitor belonging to the Gildemeister group. "Bringing in native speakers certainly paid dividends." Trump expects sales to total around € 2.5 million at USETEC 2013. The company sold six machines on the first day alone. "These are sales for which the ground work had already been laid in advance and were signed and sealed at the trade fair." DMG is currently relatively unconcerned by the uncertainty over the world's economic prospects. As Thomas Trump says, "quality will always find a way". The company's partnership with Mori Seiki has turned out to be extremely useful as it attracted a new circle of customers who are admirers of Japanese machines. "We now have a large number of machines from Mori Seiki on offer as well."
Another Dutch exhibitor was well aware of how to use the "event" character of the trade fair. "Before the trade fair, we were in contact with an interested party from Germany," says Bastiaan Klein Herenbrink from Mach4Metal in Babberich. "This potential customer knew that we were taking the machine he had his eye on with us to USETEC in Cologne." This could have allowed another buyer at the trade fair to beat him to the purchase so he wasted no time and bought the radial drilling machine for use with cranes on the spot. Incidentally, Mach4Metall not only uses the trade fair as an opportunity to make sales but also as a chance to buy. "After all, we only sell machines we own ," says Bastiaan Klein Herenbrink explaining his company's philosophy. "This makes us different from other companies who also trade machines owned by other parties."
Wanted: Young machines
As in previous years, the large stand shared by the manufacturers Chiron, SHW, Siemens and Zeiss was one of the major attractions at USETEC. "We are currently noticing particularly strong demand from Italy and Russia," reports Michael Lücke, Head of Trade Fairs and Exhibitions at Carl Zeiss AG. "Primarily, they are looking for younger machines between three and five years old." This category includes the DuraMax measuring machine for manufacturing applications, built in 2010, which Zeiss presented at USETEC. Fully reconditioned and with a manufacturer's guarantee, the instrument cost € 39,000, which is a saving of € 15,000 on the original new price. DuraMax allows companies to perform measurements quickly and accurately – an absolute must in the machining and forming industries of today. At the same time, it gives companies the flexibility to respond rapidly to changes in requirements.
Not all successful sales at USETEC run quite as smoothly as these, as Agrar-Markt Deppe from Bad Lauterberg in the Harz region knows. "Last year, a visitor from Mali purchased two tractors for €12,000 and paid a deposit immediately," say Friedrich Deppe and Wilhelm Brandes remembering the events of last year. However, the agricultural machines have still not been exported out of Germany. "Possibly they underestimated the shipping costs or were put off by the political instability in their country." Awareness of the procedures governing the import of used machines is also low in other areas. "We were visited by a farmer from Belarus on the first day of the trade fair," say Brandes and Deppe. "We had to bring in an experienced friend and colleague, who explained the import procedures in his home country to him." Agrar-Markt Deppe hopes that development aid agencies will be able to provide more local training in this area of agricultural machines in future. "Dealers simply cannot do that." The exhibitor was involved in a number of intense discussions with potential buyers at USETEC 2013 and plans to contact these in writing 14 days after the trade fair in order to separate the wheat from the chaff.

Networking for the future

Very active exhibitors, in particular, were able to welcome large numbers of buyers. "We sent invitations with ticket vouchers to various visitors for USETEC," explains Sabine Lenau-Weilberg, the future Managing Director of Makutec from the Westerwald region. "And we were extremely pleased that these vouchers were downloaded and used." The company specialises in used plastic processing machinery made by Arburg. Makutec's invitation campaign played a key role in making a number of new customer contacts at USETEC. In addition, it attracted visitors to its stand through live demonstrations of the production of miniature stacking toolboxes. Other discussions had already taken place before the trade fair but were put under the microscope in Cologne. For example, there was a detailed enquiry for one machine from a well-known German maker of sports equipment. Makutec shared a stand at USETEC with the company PMH from Hennef. "The ranges of products we offer complement each other well," explains Jürgen Kinnart, Managing Director of PMH. "Together, we are able to offer a larger portfolio of plastic processing machinery." He, too, refers to conversations with international visitors and is hoping that one Egyptian buyer will place an order. "Essentially, our extrusion plants are too large and too complex to sell directly at the trade fair," explains Kinnart. "Any sales follow later."
The manufacturer Filltec Spezialmaschinen from Brüggen-Bracht was exhibiting equipment at USETEC, which it had accepted in part exchange deals and was pleased with the results of its networking efforts. "The demand for filling plants was extremely high," reports Stephan Zeller, Managing Director, as he leafs through his notebook. It contains the many business cards presented to him by potential buyers. During the fair itself, he even sold a tube filling machine to Egypt. This can be used to fill tubes of various sizes from 20 to 100 ml. "The customer will soon be sending us his sample tubes," says Stephan Zeller. "We will then manufacture the different form sets for him ." The boss of Filltec expects to make further sales in the wake of USETEC. Andreas Kemmerich of Kemmerich Werkzeugmaschinen from Langenfeld is also looking forward to the prospect of strong post-trade fair business. "At the same time, exhibiting at a trade fair like this is one way of making contact with new customers for the future." His stand was attended by, among others, visitors from India, Korea and Turkey. Although demand has softened since the beginning of December, this hesitancy in decision making is not solely due to prevailing economic conditions. "Medium-sized companies are also finding it more difficult to obtain financing from banks," observes Kemmerich.
Potential for significant savings
Lauer Ecotec, a specialist in decommissioning and the remediation of contaminated sites, from Schkopau firmly believes in one of its guiding principles. "Any company should participate in at least one trade fair every year," advises Erhardt Lauer, Managing Director. "For us, this one trade fair is USETEC – even though it does not coincide 100% with our target group. We will be back in 2014." The company principally uses its participation in Cologne to build customer loyalty, for example by inviting representatives from large scale industry to its stand. Lauer is pleased to report receiving "more enquiries than last year" and points out the interest in his company's highly durable valves as an example. With a new price of € 2,500 and a used price of € 250, the savings soon add up. "For instance, if you need 100 valves for your plant, you could save over € 200,000," says Erhardt Lauer, calculating the potential advantage. "We do not have every valve in stock but as we stock enormous quantities, there is a good chance of finding many products." In other words, it can pay to look and ask.
Some potential buyers adopt another fruitful strategy. They explain their needs to a machinery supplier saying, "we have the following problem…." This is where the difference between the service ethics of USETEC exhibitors and pure internet suppliers becomes clear. "It is important that customers are given good advice," emphasises Manfred Stein, Managing Director of WST Stein from St. Ingbert in the Saarland region of Germany. This includes aspects such as installation and commissioning of machines and plants on the customer's premises. And naturally, the future users of the equipment also require instruction. Manfred Stein did not have to wait long for his first successful sale at USETEC 2013. "We sold a metal drilling machine, built in 1997, to Austria for € 5,500." This is about one third of the new price and also represents a considerable saving.
Palestinians attend USETEC for the first time
Hudhud Trading from Amman in Jordan once again contributed to the highly international character of USETEC by organising delegations to the trade fair from Middle East. "120 entrepreneurs travelled to the event from the Iraq alone," says Hisham Hudhud. "A further 65 came from Lebanon and Jordan, 20 from Egypt and 10 from Libya." Visitors from the region were principally interested in plastic processing and construction machinery and primarily ordered the latter. "15 businessmen from Palestine also attended USETEC," explains a smiling Hisham Hudhud. "This is the first time that a Palestinian group has come to Cologne for the used technology trade fair," he adds with the expectation of winning more visitors for the trade fair from the region in future. This vision could even become a reality in USETEC 2014.
USETEC is the world's largest trade fair for used machinery. The range of products on offer at USETEC includes used machinery and equipment for every sector and branch of industry. Further information is available at
www.usetec.com
.
Source: USETEC News Room