386 exhibitors from 23 countries
Machines for all sectors of industry
Many machines on display
Buyers expected from more than 100 countries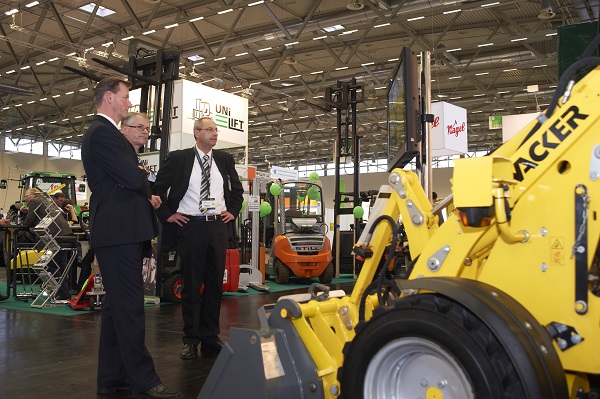 Only one week to go: From 22 – 24 April 2013, the world trade fair for used technology will once again open its doors in Cologne. 386 exhibitors from 23 countries will present their equipment for every sector of manufacturing industry at USETEC 2013. The organisers, Hess GmbH and Koelnmesse, expect a strong influx of visitors from over 100 countries.
At USETEC 2013, one will find used technology from all well-known providers and brands. All leading industry associations are present. Approx. 70% of exhibitors are from Germany, 30% from abroad. The strongest foreign exhibitor group in 2013 comes from Italy (22 companies), followed by the United Kingdom (17), Switzerland (14), the Netherlands (13) and France (12 companies). Exhibitors from the following countries are completing the spectrum: Spain, Belgium, Romania, Poland, Sweden, USA, Slovakia, Czech Republic, Denmark, India, Jordan, Lithuania, Norway, Austria, Russia, Ukraine and Hungary. The leading industry associations are present with information stands and individual stands of their members: FDM (stand no. E-158/F-159), EAMTM (B-142/C-143), AIMUU (C-126), DUMA (A-152/B-153), BDEx (D-173), gtai (C-172), LandBauTechnik (C-163), EARA (D-104), as well as the MTI Pavilion (stand A-138).
Most of the exhibitors at USETEC 2013 show metalworking machines (65% incl. multiple responses), followed by professional services (21% of exhibitors), plastic processing machinery (15%), robotics and automation (11%) and woodworking machinery (10%). Also strong are the following offer sectors at USETEC: measurement and testing equipment, lifting appliances and conveyors, tools, construction machinery, packaging machines, agricultural machinery and food processing equipment. Commercial vehicles, chemical engineering, power plant equipment, process heating/cooling, equipment for waste disposal and recycling, as well as printing and textile machinery complete the range at USETEC 2013.
Numerous visitor groups from near and far will be travelling to USETEC 2013. Amongst them are delegations from the Balkan states, Turkey, from Russia, Belarus, Ukraine, Jordan, Egypt, Nigeria, Cameroon, Iran, Iraq and Sri Lanka. Strong visitor interest has been recorded from more than 100 countries from around the globe, many individual travellers are expected from: India, Turkey, Indonesia, Pakistan, Tanzania, Congo and Ethiopia. Most buyers however will be coming from Germany (approx. 30-40%). Many visitors from neighbouring countries, e.g. the Benelux states, are also expected.
USETEC 2013 will open one day after the end of bauma/Munich. It will take place from Monday, 22 to Wednesday, 24 April 2013 at the trade fair site in Cologne. Hall 6 and adjacent outdoor area, access via Entrance Mitte of Koelnmesse. USETEC features a comprehensive range of used machinery and equipment for every sector and branch of industry. Further information is available at www.usetec.com.